Home > Top 10 > Undiscovered Lisbon > Where to stay? > Costs > How long? > 24 hours > 3 Days > 1 Week > Day trips > Beaches
Lisbon to Fatima by Car, bus and Train
Fatima is an important religious site that is situated 125km to the north of Lisbon. The town is a popular destination for the Portuguese either as a pilgrimage location or day trip, therefore there are excellent public transport links between Lisbon and Fatima. This guide will detail now to travel from Lisbon to Fatima by car and by public transport.
Lisbon to Fatima By Car
Traveling from Lisbon to Fatima by rental car is the quickest option, as Fatima lies on the main A1 toll expressway that connects Lisbon to Porto. By car the journey takes 1 hour 15minutes but the route involves the over complicated and expensive toll road network. If traveling by rental car, ensure the process for paying for tolls is known as fines can be very expensive.
Fatima has ample car parking during a normal week but during major religious festivities car parking can be difficult to find and it is advisable to catch the bus. There is no need to hire a car to travel between Fatima and Lisbon, as there is an excellent and inexpensive bus service.
Why not the train to Fatima?
The train from Lisbon to Fatima is not a recommended choice as the railway station referred to as Fatima (Chão de Maçãs) is actually 20km to the east of the main town. To travel from Fatima station to Fatima town requires a taxi ride (€25-30) or a long regional bus ride.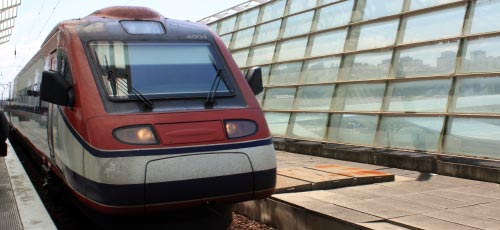 It's a very long walk from Fatima station to the town, just 20km!
Lisbon To Fatima By Bus
Intercity bus travel in Portugal is inexpensive, safe and it is the suggested means of travel between Lisbon and Fatima. Rede Expressos are the largest coach operator in Portugal and they operate modern and clean bus with a punctual and reliable service. The journey from Lisbon to Fatima takes 90 minutes.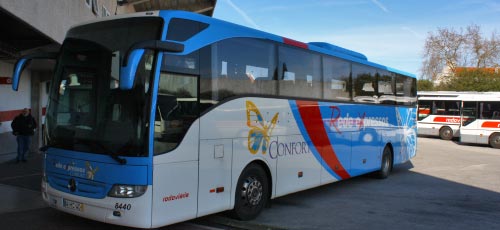 The intercity buses are modern and comfortable
Bus tickets must be purchased before the journey and can be bought from Sete Rois bus station or from the internet at www.rede-expressos.pt. On-line tickets can be purchased up to thirty days in-advance and passport information must be entered to process the transition. The Rede Expressos website has an English section and details the latest timetable, which often has seasonal variations. This is a major bus route and there are typically more than 25 departures per day but seats do sell out when demand is high, especially around major festivals and religious holidays.
A single ticket costs €11.40/€6.00/€9.60 (adult/child/senior), a day return costs €20.40/€12.00/€18.00 (adult/child/senior), and a round trip return (returning on a different day) cost the same as a day return €20.40. It is possible to visit Fatima as a day trip from Lisbon but it is a very long day with two 90-minute bus journeys, we recommend staying one night in Fatima.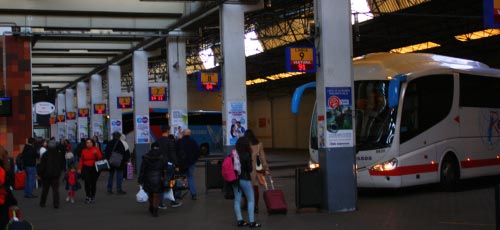 Sete Rois is the main terminal for Rede Expresso buses
Each bus ticket is allocated a seat on the bus and the ticket will clearly display the seat number. It is possible to travel along this bus route with suitcases, as large or heavy items will be place in the luggage compartments on the side of the bus. All seats have seat belts and coach travel is safe in Portugal.
The Lisbon to Fatima bus departs from the Sete Rios Bus Station, which is the largest and busiest bus station in Lisbon, with intercity services depart across Portugal. Sete Rois is connected to the blue metro line by Jardim Zoológico metro station, the bus station is well signed from the metro and is close to the main entrance. In Sete Rois bus station there is a large ticket and a selection of cafes and small shops. The intercity buses depart promptly so it is advisable to get to the bus station at least 15 minutes before the departure time.