Igreja Sao Domingos Church, Lisbon Guide
The Saint Domingos Church (Igreja Sao Domingos) is macabre church that makes for a strange and creepy tourist attraction. The dim interior is painted a haunting orange, with ruined sections of old fire damaged church jutting out from the walls. Hidden in the small alcoves are gruesome and disturbing depictions of Jesus' death and decaying body.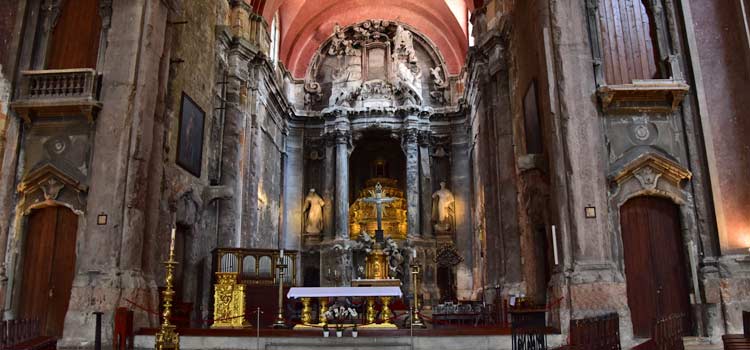 The Sao Domingos Church of Lisbon
The massive stone pillars are scorched from the fire that ravaged the church and there is still a lingering smell of burning in the air. No other church in Lisbon has this chilling yet morose atmosphere and the Igreja Sao Domingos is a truly unique sight of Lisbon.
Igreja Sao Domingos, Lisbon Toursit Information
No other church of Lisbon was pitted against so many natural disasters; the earth quake of 1531 and 1755 (which destroyed most of Baixa) and a major fire in 1959. Sections of the original Igreja Sao Domingos church which survived the two earthquakes are combined with later reconstructions, the ancient church arches and walls seem completely out of place against the smooth orange plastered walls.
This strange combination of ancient and more modern architecture adds to the over sinister atmosphere of the church, as if the orange walls are hiding some dark ruined secrete. The somber atmosphere is in the Igreja Sao Domingos stark contrast to the congregation who fill the Igreja Sao Domingos on Sundays and feast days which are predominantly African ex-colonialists who wear powerful coloured clothes and have a constant cheery disposition.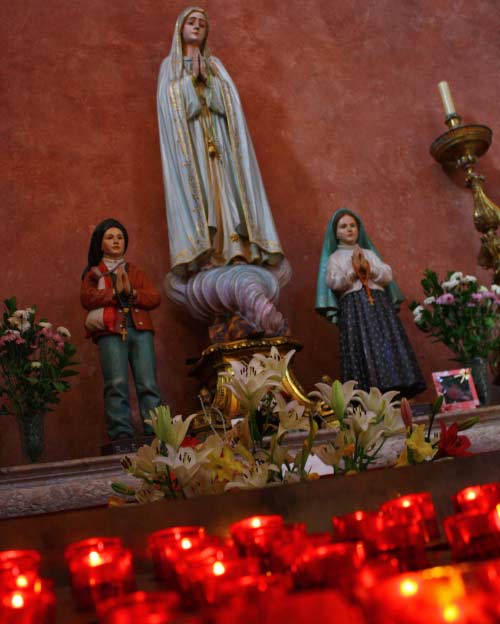 Fatima and the shepherds statue in the Igreja Sao Domingos
The small square in front of the Igreja Sao Domingos, the Largo de Sao Domingos, is a popular meeting area for the Portuguese African population. The Igreja Sao Domingos has always had a strong African connection as traditionally, the priest originated from African and was able to support new immigrants during their transition into Portuguese life style.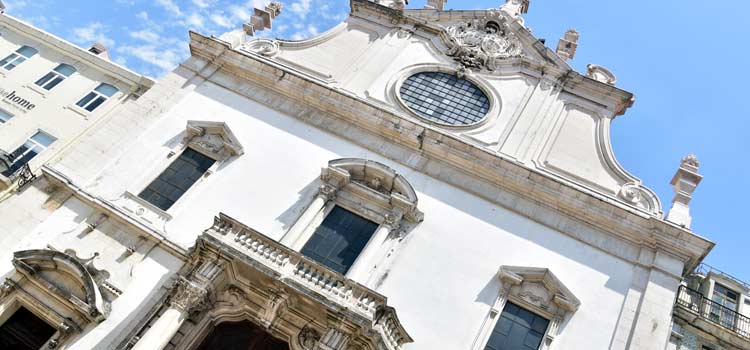 The Fire of the Igreja Sao Domingos Lisbon
The third devastation to hit the Igreja Sao Domingos occurred in 1959 when fire completely gutted the interior of the church. Much of the ornate artifacts were destroyed which included the gilded altars, valuable pictures and paintings. Traces of the fire can be still seen on the pillars which have scotch marks and the smell of burnt wood still lingers within the musty air.
How about a small group tour?
One of the best ways to discover Lisbon and to meet fellow travellers is to join a guided tour. We have worked with Getyourguide.com for the last six years, and some of the best tours of Lisbon include:
Discover more of Lisbon with our most popular guides