Introduction > Where to stay? > 3 Days > 1 Week > Sights > Day trips > Beaches > Families > Site Map
Cost of a Holiday to Lisbon
Lisbon can offer exceptional value for money as a holiday destination, especially when compared to other important capital cities. Hotels and accommodation costs are marginally cheaper than other Western European countries but the real value of Lisbon is discovered when purchasing food, enjoying entertainment and traveling by public transport.
Accommodation and flights will always be the largest holiday expense but there can be major reductions if booked well in advance or traveling outside of the peak summer season. For a guide to visiting Lisbon on a budget please click here. This guide will provide an overview of the common costs for a holiday to Lisbon and then suggested a typical budget for low cost travellers and mid-price tourists.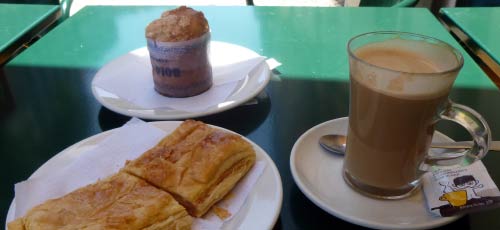 A traditional Portuguese breakfast, two cakes and a very strong coffee!
Common costs for a holiday to Lisbon
Taxi transfer from the airport to the Rossio district, with 1 piece of luggage – €12 - €15.
A single metro ticket (€1.45) and a 24 hour ticket public transport ticket (€6.30).
Tram ticket from Baixa to Belem €2.909 and a single bus ticket €1.80.
An evening meal in a tourist restaurant with a glass of wine €25.00 - €30.00.
A light meal in a café or shopping centre €4-5.
A super strong espresso (€0.60) and a cake (€0.90) for breakfast.
An average bottle of wine or a beer in the tourist centres €10 and €3, while the same items in a super market €3 and €1.
The entrance fee to Lisbon castle €8.50, Jeronimos Monastery €10 and the Torre de Belem €6.
Medicines tend to be more expensive in Portugal and sunblock is twice the price at home!
Daily Costs for a Holiday to Lisbon
The two charts above provide typical daily costs per day for a stay in Lisbon. The data assumes that the visitor is travelling as a couple therefore the accommodation price is shared between two people. Unfortunately, a visitor travelling on their own will encounter much higher accommodation costs.
Flights to Lisbon
A large portion of the holiday budget will be spent on the flights to Lisbon from your home country. These will obviously vary depend on the starting destination but the early the flight is booked the cheaper the ticket. Last minute deals may provide for great value hotels but flights generally get more expensive close to the departure date. TAP air the national carrier of Portugal and their tickets are often comparable to low cost airlines. Lisbon airport is an important international airport and is well connected to Europe and the rest of the world. Always have travel sufficient travel insurance, even when travel on the tightest of budgets, accidents and illness can never be planned for and the bills can run into the thousands.
Cost of a Holiday to Lisbon