Lisbon food; what meals and dishes to eat in Lisbon
Lisbon is a fantastic destination for food and eating out. The Portuguese are passionate about food, with a style of cooking that is distinctive to their country.
The regional dishes of Lisbon tend to be centred around seafood and fish, but the city's history of seafaring means there are additions of spices, chilli and influences from around the world.
One item you will frequently see on any menu is Bacalhau (salted sundried codfish), which supposedly can be cooked in 365 different ways!
Portuguese cuisine has not travelled the world as famously as other European countries, and many of the dishes listed on menus may be completely unfamiliar to you.
This article will detail the best traditional meals of Lisbon, which are definitely worth trying!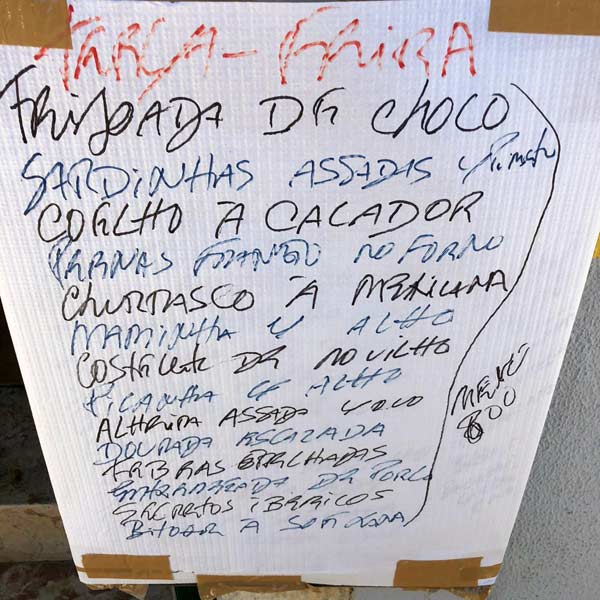 Tasca restaurants provide great value traditional food, but their menus are not always that clear. Sometimes it better to go in with a bit of knowledge and ask for a couple of specific dishes.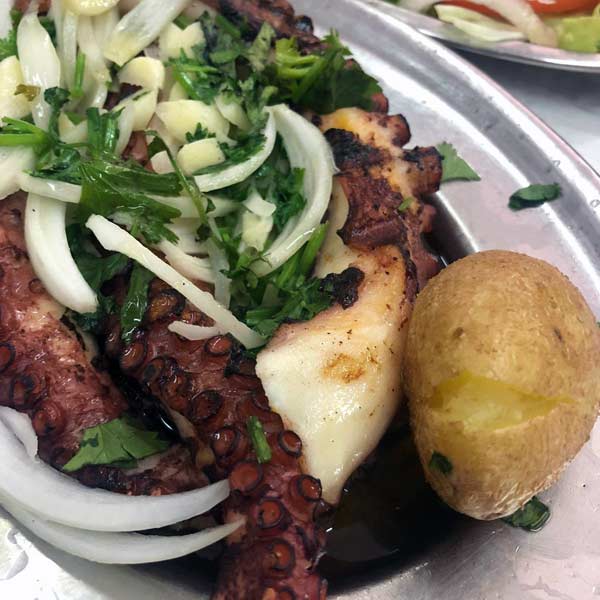 Many Lisbon dishes are grilled seafood or fish with simple accompaniments – Octopus (polvo) is one thing Portugal does very well at
Bacalhau à Brás - Lisbon's comfort food
A truly unique Portuguese dish based around Bacalhau, eggs, and thinly cut potato crisps (Pála-Pála). This meal of high salt and high fat, is regarded as Lisbon's comfort food, and is absolutely delicious.
The base of Bacalhau à Brás is a rich onion and garlic sauce cooked refogado style (similar to a béchamel sauce), with thinly flaked Bacalhau and egg yokes to provide the golden colour. Into this mix, potato shard crisps are added, which absorb the flavour, and then it is oven-baked until golden.
Insight: This dish is so closely associated with Lisbon, that Spaniards refer to it Bacalhau à Lisbonense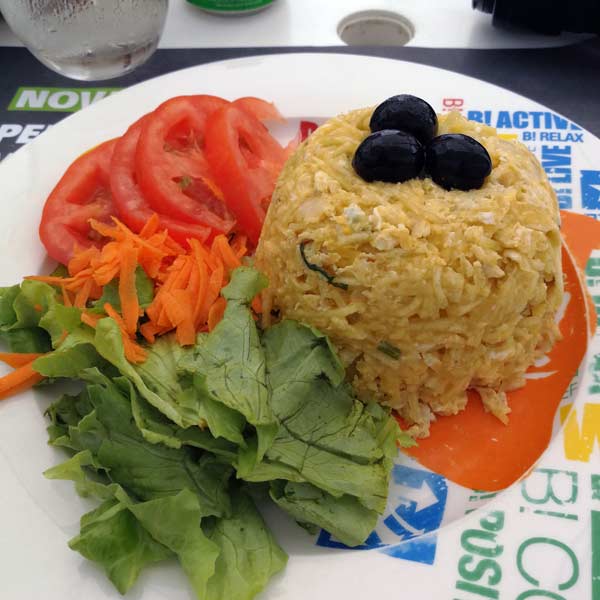 Bacalhau à Brás
Sardinas Asadas - Lisbon's favourite fish dish
If there was one food to characterise Lisbon, it would be grilled sardines. Even Lisbon's main festival, the Festas dos Santos Populares, is centred around these flavoursome fish!
Sardinas Asadas is grilled sardines, which have a light salt coating to make the skin crispy, and cooked over hot charcoals to give a smoky aroma.
Eating grill sardines is a messy affair, where hands are the only way to pick the rich fish from the many small bones. The accompaniments are light in flavour with boiled potatoes and a salad drizzled with olive oil.
An alternative is to serve the sardine in a Papos Secos (crispy bread roll, with soft inside), which absorbs all of the rich fish oils.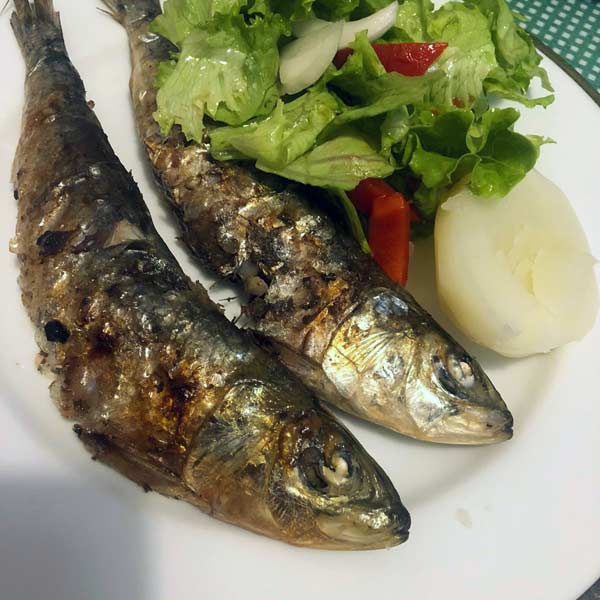 Grilled sardines a simple meal, but delicious.
Arroz de Marisco
Sumptuous and full-flavoured Arroz de Marisco (Seafood Rice) is a speciality throughout Portugal. The Lisbon coastline boasts outstanding shellfish, due to the cold and iodine-rich seawaters of the Atlantic Ocean, and the best dish to sample them is in Arroz de Marisco.
Arroz de Marisco could be compared to a Spanish Paella, but the Portuguese version is much more moist, almost stew-like. Into the broth, clams, prawns and mussels are added, with the Carolino Rice absorbing the intense flavours.
Bacalhau com Natas - Lisbon's Christmas meal
Bacalhau com Natas translates to "Bacalhau with cream", and the dish is as rich and filling as the name implies!
This is an oven-cooked dish, with layers of Bacalhau and sliced fried potato, smothered with lashings of double cream and an optional bechamel sauce. In typical Portuguese style, this incredibly filling meal is served with chips rice and salad.
Bacalhau com Natas was only first devised in 1932, but the addition of cream to a savoury dish is unique to Portuguese cooking, and made it a favourite throughout the whole of Portugal. So much so that it is now commonly served on Christmas eve as a tradition.
Bitoque - Lisbon meals
A staple meat dish of Portugal and is served in every restaurant throughout the country.
The meal comprises of a fried steak served in a sauce (olive oil, red wine, garlic) and topped with a fried egg and along with the customary chips, rice and salad. The sauce varies significantly between restaurants; some serve the steak almost dry, while others provide lashings of the garlic sauce, used to fry the meat.
Bitoque makes for a great value lunch and is rarely more than €8.
Frango a Piri-Piri (Frango Assado)
The Portuguese have always loved their spicy food, but it was only in the 1970s that Frango a Piri-Piri was brought to Portugal with refugees fleeing the violence of Mozambique. The spicey chicken was instantly loved by Lisboetas who adopted it as their staple takeaway food (similar to Pizza in other countries).
Frango a Piri-Piri or Frango Assado (grilled chicken) has the chicken smothered in an incredibly spicey Piri-Piri sauce and is then flame-grilled. As you are eating in Lisbon, the chicken will be served with customary rice, chips and salad.
Insight: This is a spicy dish, but you can always ask for extra "Piri-Piri", a mind-blowing chilli oil. This oil can always be asked as an accompaniment to other dishes.
Historic insight: The Portuguese explorer Vasco da Gama and the 16th-century Portuguese traders who followed, introduced chillies to India and Asia.
Carne de Porco a Alentejo
A unique dish which combines pork and calms, in an intense white wine and garlic sauce.
The white wine sauce, which also marinates the pork, is infused with garlic and paprika. The clams are added to the stewing broth, during the final few minutes of cooking. Frequently fried potato cubes are also added to the dish
Carne de Porco a Alentejo is named after the Alentejo region of Portugal, which is famed for its acorn-fed black pigs, but the dish originates from the Algarve.
Cozido à Portuguesa - Lisbon dishes
Cozido à Portuguesa is the most rustic meal in this article, and was originally a meal eaten by peasant farmers. It is a slow-cooked meat stew, with the slow cooking breaking down the tough and off-cut meats historically added to the dish.
Today, Cozido is slightly more refined but the stew still contains an assortment of meats including, Farinheira (pork smoked sausage), Morcela (black/blood sausage) pork, beef, ribs and vegetables (carrots, cabbage and potatoes). Cozido à Portuguesa is a traditional meal that many older Portuguese grew up on, and is still loved by the older generation.
Being a slow-cooked meal, it will only appear on a restaurant's menu as a daily special, when a large vat is cooked.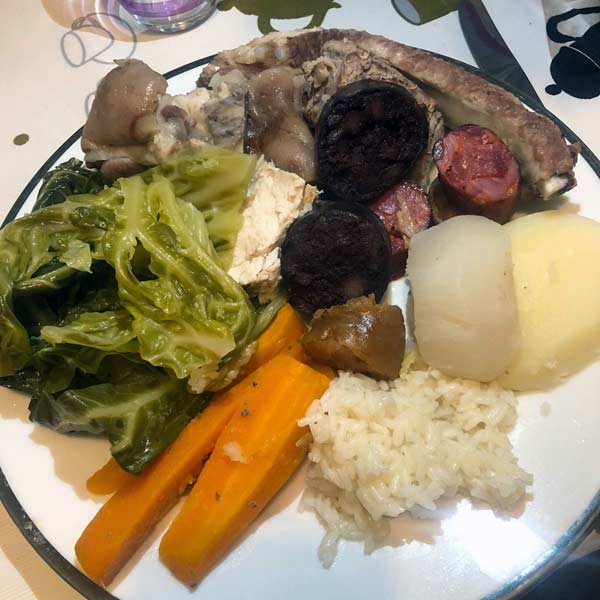 Cozido à Portuguesa is a meal often cooked in Portuguese households
Feijoada
Feijoada is a bean and meat stew, which is often considered as the national dish of Brazilian, but it originated from Portugal.
The Portuguese version uses white or kidney beans, instead of black beans, so it is not the distinctive black colour as the Brazilian variance. Into the Feijoada a variety of meats can be added, such as chouriço, Morcela, beef and pork.
Feijoada is hearty and filling meal, ideal if you are hungry after a long day of sightseeing.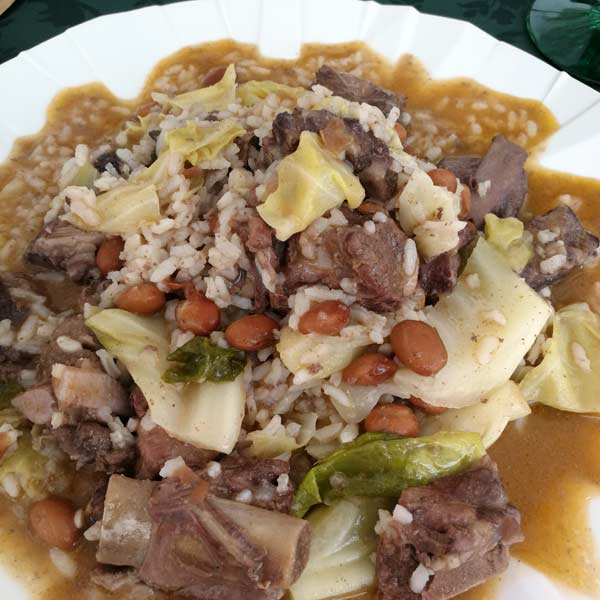 Arroz de Pato - Lisbon meals
Delicious duck rice.
This is another genius Portuguese dish, which is adored by locals but almost unknown by foreigners. Arroz de Pato is an oven-baked dish, with the duck shredded and the rice cooked in the water used to boil the duck.
The rice is baked to crispiness, but the fats ensure it is moist and delicious. The dish is often cooked with a top layer of chouriço (Portuguese chorizo).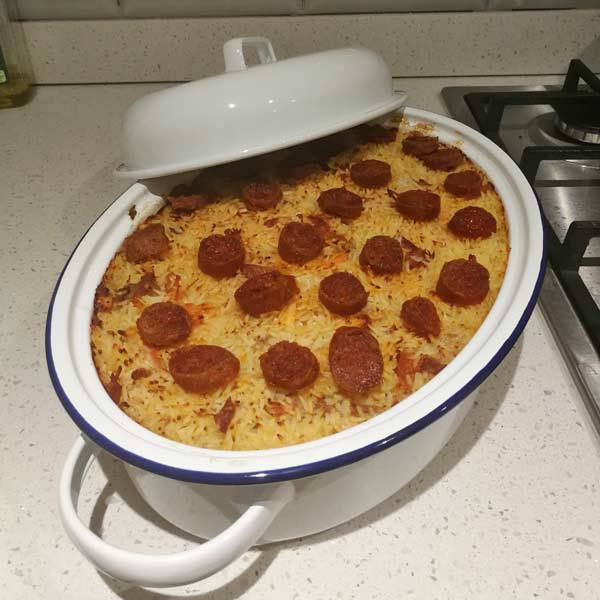 Alheira
Alheira is a traditional Portuguese sausage, which is either grilled or fried and served with the chips, rice and salad combination. Unlike all other meals the rich flavoured sausage is served with no sauce or in a stew – this may appear a bit disappointing if other dining companions have extravagant fish dishes!
Historically, Alheira were filled with all meats except for pork, as they were first created by Portuguese Jews in the 15th century.
Discover more of Lisbon with our most popular guides