Lisbon Nightlife - Drinking, Bars and Clubs
Lisbon has a great and sociable nightlife that starts very late in the day and continues well after the sun has risen. There are three main nightlife regions in Lisbon each distinctly different; Bairro Alto offers small underground bars and street drinking, Parque das Nações is purpose built providing themed bars while the Santo Amaro Docks area caters for the more trendy.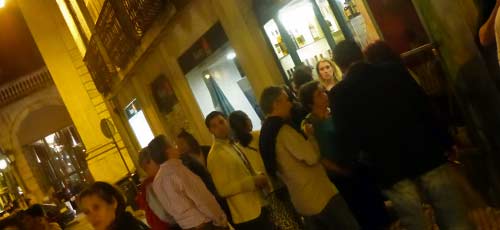 The small bars of Bairro Alto spill out onto the streets
Lisbon Nightlife Overview
Dotted through Lisbon are the cities super clubs, with Lux and Kremlin being the most famous, which unfortunately can have difficult and inconsistence door policies. Generally Lisbon's residents are not massive drinkers preferring to talk more than drink and tourists who get excessively drunk will find few places open for them.
Friday and Saturday nights in the Bairro Alto district are amazingly fun with patrons spilling out from the small bars and socializing on the narrow cobbled streets. There is always a jovial carnival atmosphere but as the setting is amongst residential streets the bars are forced to close at 2am just as the big clubs are only just starting to open.
Inside one of the major clubs of Lisbon
Mid-week Nightlife
For mid-week nightlife head to Parque das Nações where there is always one bustling club on the long strip which ranges from Salsa through to karaoke. The purpose built row of bars conveniently has restaurants and bars on the ground floor with clubs on the upper level Expo's issue is that is very pricey, little cheaper than back home and is on the very eastern side of the city so will involve metro there and taxi back to the hotel.
The Santo Amaro Docks are massive warehouses that have been converted into a strip of bars, clubs and restaurants which only attracts the creme of Lisbon's nightlife. The bars of the docks are less gimmicky and commercial than Expo and the area tends to attract a more mature and moneyed crowd.
Getting into Lisbon's Clubs
Club door prices reflect how much a club (or bouncers) want you in there. A respectable dressed couple may only pay €5-10, while an all male group who look worse for wear will find the same entrance fee inflated beyond the €50 mark. Always dress for the place you want to finish up in, the bars of Bairro Alto have no dress code and are relaxed about most things but no shoes, shirt or sober face will prevent entrance to the super clubs of Kremlin or Lux.
Discover more of Lisbon with our most popular guides