Lisbon Airport; a tourist guide, updated for 2023
Lisbon has a single airport, which handles all international and domestic flights. Despite being rather aged in appearance, the airport is well organised and has all of the amenities expected of a major international airport.
The airport is located within the city limits and is only 6km from the historic centre. There is excellent public transport from the airport and the majority of visitors, who are staying within the city, take the metro for onward travel.
Lisbon airport has two terminal buildings; Terminal 1 handles all arrivals and most international departures, while Terminal 2 is the departure terminal for the low-cost airlines. This guide will provide an overview of Lisbon Airport and will provide information on transport to/from the terminals, facilities and important travel tips.
Related articles: Airport to the city centre – metro guide – taxi guide
Two important pieces of advice when departing from Lisbon Airport
There are two quirks to Lisbon airport which we would like to emphasise to you for your depart from Lisbon Airport.
1- Portuguese airports have passport control after the duty-free shops. Many visitors have nearly missed their flights by spending too long in the duty-free area and then getting caught in the long queues for passport control. If you wish to shop, always leave plenty of time.
2- Most of the low-cost airlines depart from Terminal 2. This terminal is 1km from the main airport and has no direct connection to the metro or public bus services. There is a free shuttle bus from Terminal 1 to Terminal 2 that departs every 10-20 minutes from the bus stop in front of the departure hall.
Advice: Always confirm your departure terminal before heading to the airport; you may have arrived at terminal 1 but you may leave from terminal 2.
Info: the IATA airport code for Lisbon airport is "LIS"
Related articles: Lisbon airport Terminal 2
Travel from Lisbon Airport to the city centre
Lisbon Airport is located 6km from the city centre and there is excellent public transport for onward travel. There are three methods for onward travel; the metro, public bus (called the Aerobus) or a taxi (or Uber)
Metro
For most visitors, the metro provides the best option as it is inexpensive, safe and the stations cover the entire city. Metro services depart every 5-15 minutes and the airport is connected to the Red Line. A single ticket to anywhere in the city costs €1.50 and is charged to the re-useable Viva Viagem card, which costs €0.50 for the initial purchase.
Note: Most tourists have accommodation close to the historic centre of Lisbon (the Baixa, Alfama and Chiado districts); to travel here, you will need to change to either the blue or green metro line. The single metro ticket covers the entire journey and the connections are well signed and hassle-free.
Related articles: Lisbon Metro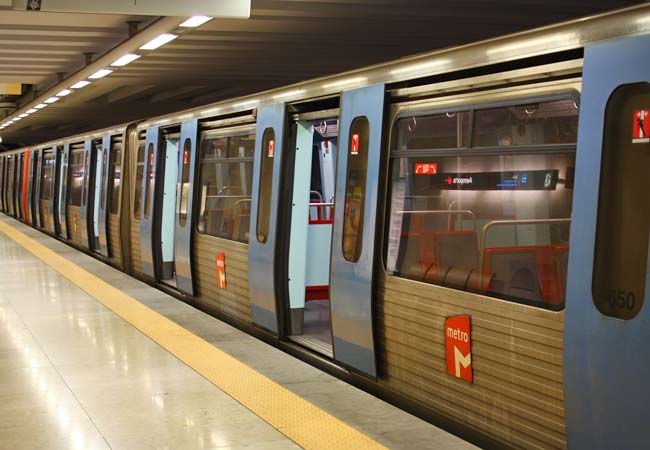 Lisbon metro is clean, safe and inexpensive
Taxi
For visitors in a hurry, a taxi transfer provides the fastest means of transport and Lisbon's taxis have some of the cheapest fares in Europe. Unfortunately, taxi drivers have a reputation for overcharging tired or unsuspecting tourists. All fares should be based on the taxi-meter, but some drivers insist on a set fare. If the driver insists on a set fee, make sure this is agreed before leaving the airport.
The basic Lisbon taxi fare is €0.47 per km, and there is a minimum fare of €3.25. The taxis charge €14.80 per hour for waiting (or €0.25 per minute stuck in traffic!) and there are additional supplements for luggage (€1.60). At night (9pm-6am) the fares increase by 20% (€0.56 per km) and 7-seater taxis are 20% more expensive.
Expect to pay between €10-15 to travel from the airport to the historic centre (such as the Baixa district) in a 4-seater taxi and at the day rate.
Advice: If you have problems or are grossly overcharged, note the taxi number and demand the (legal) complaints book (Livro de Eclamacoes). Asking to see this red book will often resolve most issues. If you do wish to file a complaint it can be completed online at: www.livroreclamacoes.pt
Advice: if you are travelling outside of the city limits a taxi will be very expensive a pre-booked private transfer is a better option.
Related articles: Lisbon's taxis
Facilities at Lisbon Airport
Lisbon airport is managed by ANA (which is part of the Vinci group) and details of flights, arrivals, delays can be found on their website: https://www.ana.pt/en/lis/home
The facilities of Lisbon Airport are typical of a major international airport, with numerous duty-free shops, overpriced restaurants and decent (paid) lounges. It should be noted that there is a huge difference in services and quality between Terminal 1 and the low-cost terminal 2.
Car rental: All major car rental companies are at Lisbon Airport and the offices are located within the Terminal 1 arrival hall. Some of the low-cost car rental companies have shuttle buses to their offices.
Advice: The car rental car park exits onto one of the busiest junctions in Lisbon, and it is advisable to be confident with your new car before exiting the car rental area.
Inside tip: A rental car in Lisbon is often more hassle than its worth, especially if you plan to be in Lisbon for the whole time.
Currency Exchange: This is located in the Terminal 1 arrivals hall if cash is urgently needed. It is much wiser to exchange currency back at home for better rates or within Lisbon city centre. The currency in Portugal is the Euro.
ATMs: If cash is needed there are ATM's in the Terminal 1 arrival hall.
Left luggage facility: There is a reasonably priced left luggage facility at Lisbon Airport, this is very usefully if you have checked out of your hotel but do not wish to lug heavy suitcases around. The 24-hour charge is €3.36 for up to 10kg, €4.98 for 10-30kg and €9.87 for 30kg+. The facility is near the P2 car park.
Duty Free: There is a good duty-free area in Terminal 1, but Terminal 2's shopping area is very limited. Generally, alcohol and cigarettes are much cheaper in supermarkets.
Vat refund: If you reside outside of Europe, you may be entitled to a VAT refund (23% !!) on items costing more than €50 (such as camera, phone or expensive gifts) from shops which participate in the scheme (called Tax Free Shopping). Further details can be found on the ANA website:
https://www.ana.pt/en/lis/services-shopping/essential-services/vat-refund
Airport lounges: There are three airport lounges in terminal 1 and none in terminal 2. The three options are ABC Airport Business Centre (before security), ANA Lounge and Blue Lounge (both after security). The entry for them is €30 and the ANA Lounge has shower facilities for €35.
Flight transfers from terminal 1 to 2
Warning: There is no airside transfer from Terminal 1 to Terminal 2, always plan sufficient time when connecting flights.
To transfer from Terminal 1 to Terminal 2 you must; pass through immigration, collect luggage, pass through customs, ride the bus from T1 to T2, check luggage in, pass through security and then immigration. This can be a very long and slow process, so always allow plenty of time for flight connections. If you miss your flight the low-cost airlines will not put you on the next flight, but expect you to purchase another ticket.
Airport expansion
Lisbon airport is the main international and domestic airport of Portugal and handles 14 million passengers a year.
Lisbon is one of the most congested airports of Europe and one of the only major airports to have a landing flight path directly over the city. There have been plans for a new airport on the opposite side of the Tejo Estuary at a disused airbase near Montijo for years but barely any progress has been made.
Discover more of Lisbon with our most popular guides