Home Page > When to visit? > Where to stay? > 24 hours > 3 Days > 1 Week > Day trips > Beaches > Museums
Lisbon Airport Guide – Updated for 2018
Despite being rather aged in appearance, Lisbon Airport is well organised and has all of the amenities tourists in transit need. Importantly, the airport is close to Lisbon city centre and well connected by both metro and bus services.
The Airport comprises of two terminal buildings; Terminal 1 which handles all arrivals and most international departures, and Terminal 2 that services all low-cost airline departures. This guide will provide an overview of Lisbon Airport and will provide information on transport to/from the terminals, facilities and important travel tips.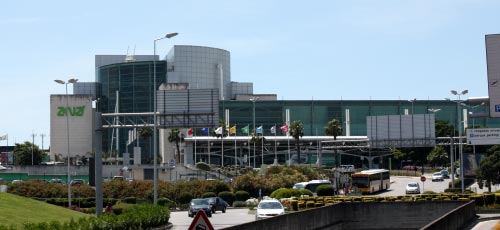 The international terminal at Lisbon airport
Important Travel Advice when Departing Lisbon Airport
There are two important travel tips for passengers departing from Lisbon Airport:
At Lisbon Airport passport control is located after the duty-free shops. Many visitors have nearly missed their flights by spending too long in the duty-free shops and then getting caught in the long queues for passport control. For tourists wishing to shop always leave plenty of time.
The low-cost airlines all depart from Terminal 2. This terminal has no direct connection to the metro or public bus routes. Terminal 2 is connected to the main Terminal 1 building by a free shuttle bus service that departs every 10-20 minutes and takes around 10 minutes. If running late for a flight, it is recommended to get a taxi (5 minute journey) to avoid delays. Taxis coming from Lisbon can also drop passengers off directly at Terminal 2 to save time. It is always wise to confirm the departure terminal, outlined on tickets or boarding documents, in the event of any service alterations.For a complete guide to Terminal 2 please click here.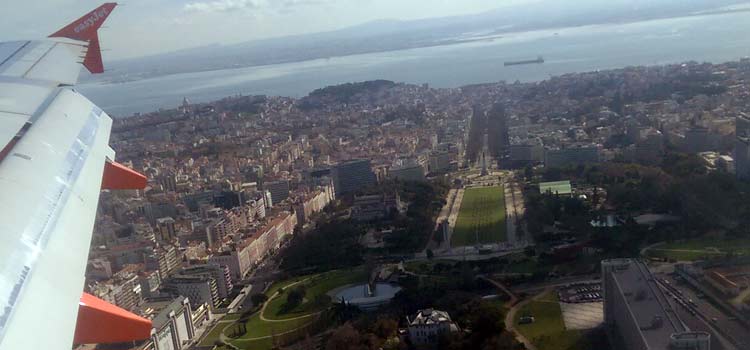 A flight on the approach to Lisbon airport
Travel From Lisbon Airport
Lisbon Airport is located just 6km from the city centre and is well served by public transport. Visitors can travel to/from the airport by the metro, the special Aerobus service, or taxi.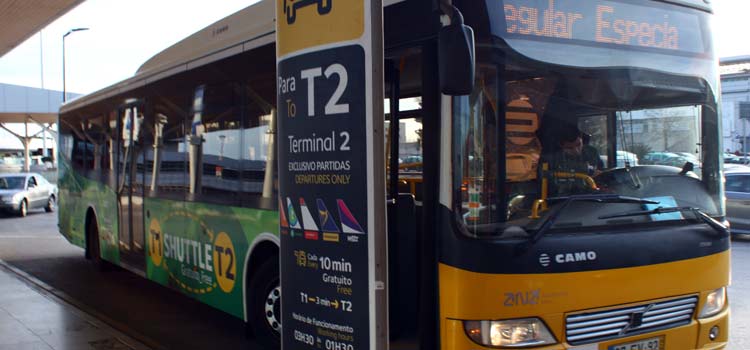 The terminal 2 free bus
For most visitors, the metro provides the best option as it is inexpensive, safe and has stops around the entire city. Metro services depart every 5-15 minutes and the airport is reached by the Red Line. Please note that tourists looking to access the main sightseeing areas of central Lisbon will need to make onward connections with the Blue and Green Lines. A single ticket to anywhere in the city costs €1.45. When initially purchasing, a Viva Viagem card needs to be bought (this costs an additional €0.50) and this can subsequently be topped up. For a guide to Lisbon Metro please click here.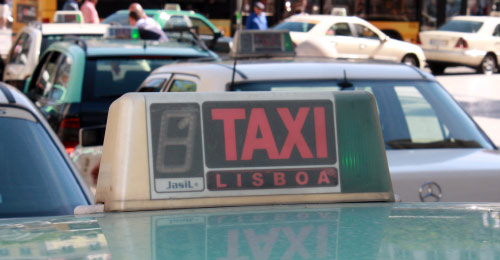 There are always lots of taxis at Lisbon airport
For visitors in a hurry, taxi provides the fastest means of transport but drivers have a reputation for overcharging unsuspecting tourists. All fares should be based on the meter reading but some drivers insist on a set fare. If the driver insists on a set fee make sure this is agreed at the outset. For tourists seeking transport for distances beyond Lisbon, it is advisable to pre-book transfers as taxi journeys can get very expensive.
The Aerobus provides a direct bus service to central Lisbon and, because of this, is slightly faster than the metro. If travelling with heavy luggage or needing a connection to Cais do Sodré train station, then it is recommended to take the Aerobus instead of the metro. The Aerobus fare costs €4.00 (or €6.00 for two adults) and there are departures every 15-20 minutes. The Aerobus departs from in front of the Terminal 1 arrival hall. More information abou the Aerobus can be found on their website: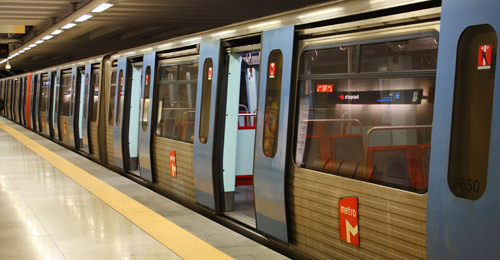 Lisbon metro is clean, safe and relatively modern
Facilities at Lisbon Airport
The facilities of Lisbon Airport are quite standard for an international airport:
Internet access: There is free WIFI throughout the airport buildings but this is limited to 30 minutes and an email sign-up process is required.
Car rental: All major car rental companies service Lisbon Airport and offices are located within the Terminal 1 arrival hall. It is worth noting that the rental car park is located on the busiest road in Lisbon and drivers should be comfortable with their vehicle before exiting this area. For tourists holidaying within the Lisbon region a rental car is not necessary as public transport is inexpensive and convenient.
Currency Exchange: This is located in the Terminal 1 arrival hall if urgently needed, but it is much wiser to exchange currency within the city centre for the best prices. The currency in Portugal is the Euro.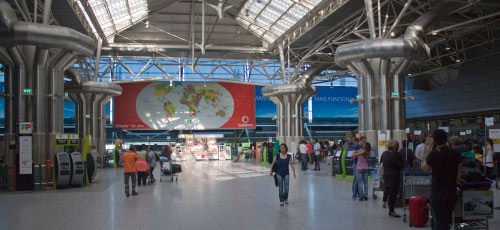 The international terminal at Lisbon airport
ATMs: If cash is needed there are ATM's in the Terminal 1 arrival hall, but large bank notes (greater than €20) cannot be used to pay for public transport.
Left luggage facility: There is a reasonably priced left luggage facility at Lisbon Airport, this is very usefully for tourists who have checked out of hotels but have late departures and do not wish to lug heavy suitcases around. The 24 hour charge is €3.26 for up to 10kg, €4.83 for 10-30kg and €9.57 for 30kg+. The facility is near the P2 car park.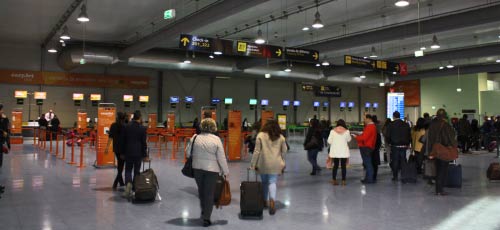 Terminal 2 is much smaller than terminal 1
Duty Free: There is a good duty-free in Terminal 1 but Terminal 2's shopping area is very limited. Terminal 2 also has very limited facilities in general. For a complete guide to terminal 2 please click here.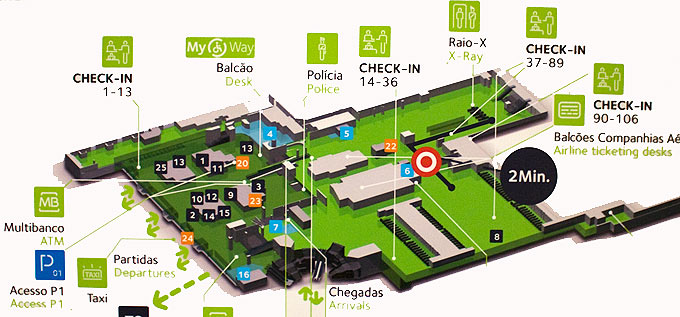 Map of Lisbon airport terminal 1
Lisbon airport is the main international and domestic airport of Portugal and handles 14 million passengers a year. The number of visitors to this airport is limited by the terminal facilities not by the number of flight departures. This means passengers can expect few departure delays and should always arrive on time.