Lisbon shopping - Where to shop in Lisbon?
Lisbon is a wonderful city for shopping.
It is a city that embraces high-fashion and the latest chic trends, while still holding dear to family-run businesses and traditional markets.
Lisbon boasts gleaming shopping centres and international designer stores, but it is also a city with a blossoming artisan and creative scene, with independent shops and bespoke gifts.
This article will provide a guide to the many different and varied shopping areas in Lisbon.
Related articles: Lisbon top 10 - Undiscovered Lisbon
Where to head to for my Lisbon shopping trip?
Being a large and cosmopolitan city, Lisbon offers a huge variety of different shopping areas and shopping experiences.
To help identify the best shopping area for you, we have grouped them into four categories; shopping streets, shopping centres, markets and unique shopping experiences or venues.
The interactive map below shows the best of these shopping streets(red), centres (blue), markets (green) and unique experiences or venues (yellow).
The best shopping areas: 1) Avenida da Liberdade 2) Rua Garrett (Chiado) 3) Alfama 4) Rua Augusta
The best shopping centres: 1) Colombo 2) Centro Vasco da Gama 3) Amoreiras Shopping 4) El Corte Inglés (department store) 5) Armazéns do Chiado
Lisbon's best markets: 1) Feira da Ladra 2) Feira do Relógio 3) Mercado da Ribeira
Unique shopping experiences in Lisbon: 1) LxFactory 2) Embaixada 3) Timeout Food market 4) Campo Pequeno
The next section will provide details about them and links to relevant information.
Avenida da Liberdade (shopping street)
The Avenida da Liberdade is the swankiest shopping street in Lisbon, lined with high-end shops and designer boutiques.
This tree-lined Boulevard is home to many of Portugal's most exclusive stores (Rolex, Louis Vuitton, Cartier) and the location of many fine restaurants and bars. The Avenida da Liberdade is also a characterful street to wander, with grand 19th-century architecture and shaded formal gardens.
Our opinion: If you are after designer shopping in Lisbon, this is the street to head to.
LxFactory (Unique shopping)
LxFactory is the urban and creative hub of Lisbon. Within this once abandoned industrial area, independent shops, stalls and cafes have taken to create an artisanal shopping experience.
Everything about Lxfactory is unique, from the bookshop housed a former print-press to the massive urban art adorning the drab industrial buildings. If you enjoy creative and artisan shopping, Lxfactory is the place to visit.
Official website: https://lxfactory.com/
Colombo (Shopping centre)
Colombo is the largest shopping centre in Lisbon and offers an extensive choice of mainstream fashion stores and international chains. Colombo is similar to many other modern shopping centres around the world; light, airy but soulless.
Every conceivable type of store is here, but the high rents mean that there are few independent shops or anything truly unique. Within Colombo is a massive food court, a cinema complex and plenty of car parking. If you are after a "shopping centre" shopping experience, then Colombo is the biggest in Portugal and won't disappoint.
Travel: Blue metro line and the Colégio Militar station.
Colombo website: https://www.colombo.pt
Embaixada Concept Store
Embaixada provides high-end artisanal shopping in an elegant converted palace.
Inside this former grand residence are independent stores selling, bespoke gifts, exclusive fashion and unusual art. The stores in Embaixada tend to sell items of timeless class, whereas LxFactory caters for urban cool, and hipsters.
Embaixada is situated in the Principe Real district, one of the most exclusive areas of Lisbon.
Offical Website: https://www.embaixadalx.pt
Feira da Ladra (market)
The Feira da Ladra is a twice-weekly flea and antique market, held in the Alfama district. The market hosts an eclectic range of stalls, selling vintage items and old furniture through to old junk – but one person's junk may be another's treasure!
The better items sell early in the morning, while later in the afternoon, bargains can be found.
Our opinion: The Feira da Ladra is a very relaxed market to browse around, and is an enjoyable shopping experience.
Centro Vasco da Gama (Shopping centre)
The Centro Vasco da Gama is a modern shopping centre set within the Parque das Nações district of Lisbon. Vasco da Gama offers a similar range and style of shops to Colombo, but is slightly smaller.
The Parque das Nações is the ultra-modern side to Lisbon, with its striking architecture and water-themed gardens. The Centro Vasco da Gama is a good choice for shopping, if you want to combine the shopping trip with seeing a different side of Lisbon
Centro Vasco da Gama: https://www.centrovascodagama.pt/
Related articles: The Parque das Nações
Rua Garrett (Shopping street)
Feira do Relógio (Market)
The Feira do Relógio is the largest market of Lisbon and is a chaotic mix of food stalls, cheap clothes and local produce. The market is an authentic slice of modern Portugal; a thriving market economy based locally source goods, and patrons struggling to survive on the minimum wage of €740 per month. The Feira do Relógio is hosted every Sunday morning, and is reached via the Bela Vista metro station on the red line.
Our opinion: If you want to go beyond the glossy images of Lisbon and want to experience real Portugal, visit the Feira do Relógio.
Amoreiras Shopping (shopping centre)
Amoreiras was the original shopping centre of Lisbon, and though it may feel like stepping back into the 1980s, it does have a decent selection of fashion and designer stores (over 200 different stores). One of the unique aspects of the Amoreiras complex is the viewpoint (€5) with panoramic views over central Lisbon.
Offical website: https://amoreiras.com
Timeout food market (unique experience)
The Timeout Food market celebrates the best of Portuguese food, by bringing together many respected restaurants and chefs, in a relaxed dining experience. Within the food-market are over twenty different stands, serving modern Portuguese food, with a communal and social seating area in the centre. The Timeout market is a great place for lunch and discovering how good Portuguese food can be.
Website: https://www.timeoutmarket.com/lisboa/
Alfama (Shopping street)
Campo Pequeno (Unique shopping area)
Armazéns do Chiado (Shopping centre)
Armazéns do Chiado is a small shopping centre that lies in the heart of the historic centre of Lisbon. Armazéns really should be considered as an extension to the shopping streets in the Chiado and Baixa districts.
The food court on the top floor provides some of the best value eateries in the overpriced tourist district.
Website: http://www.armazensdochiado.com/
Mercado da Ribeira (Market)
The Mercado da Ribeira is the traditional food and fish market of Lisbon. The market struggled for many years with the growth of supermarket shopping but has been reinvigorated with one half of the Mercado da Ribeira being converted into the Timeout food market.
The Mercado da Ribeira is the only remaining fish market in Lisbon, and is a great location to purchase fresh fruit and veg.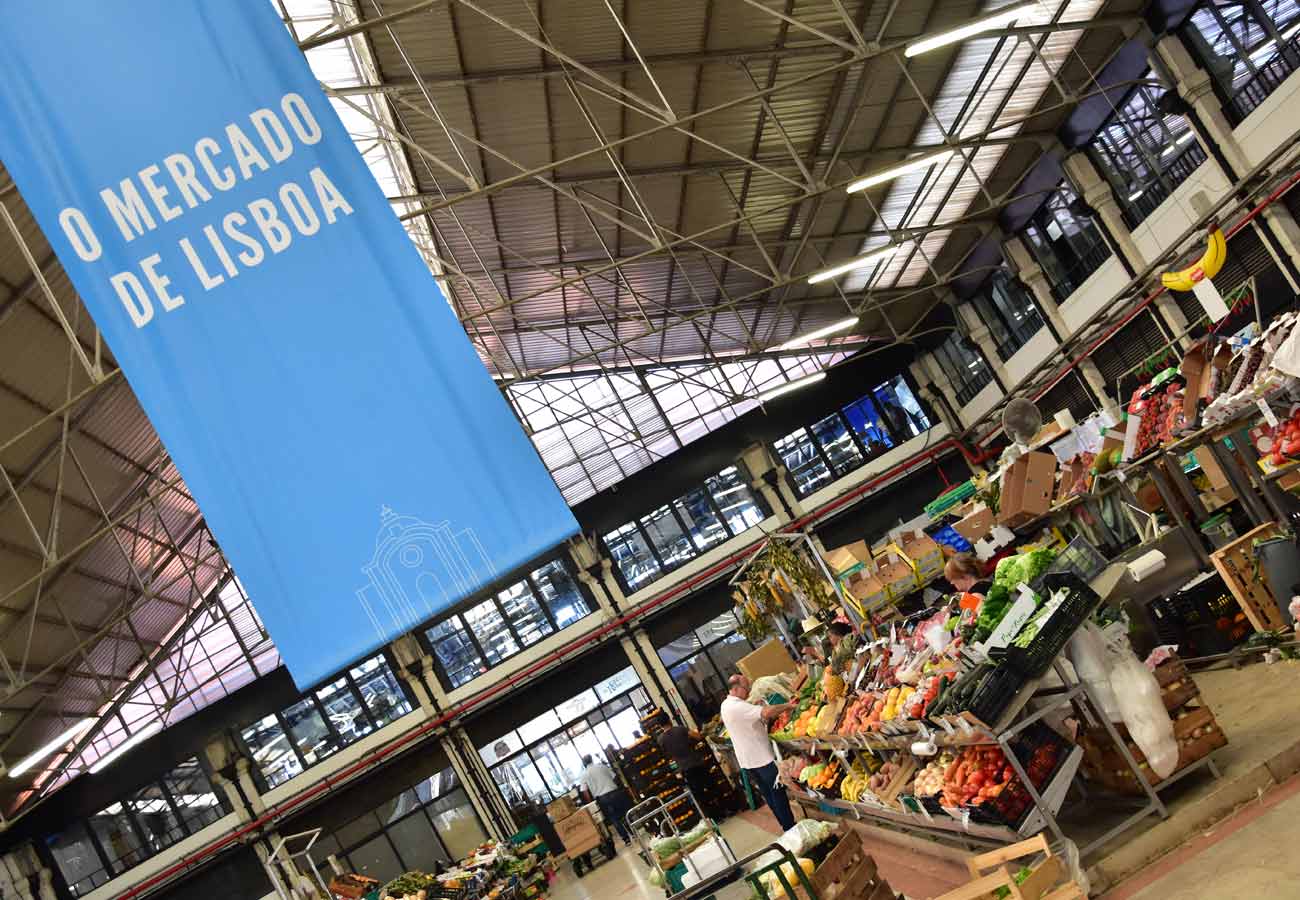 El Corte Inglés (Department store)
El Corte Inglés is the premier department store in Lisbon, and within the store are numerous boutique stands and fashion outlets.
Website: https://www.elcorteingles.es/centroscomerciales/en/eci/centros/lisboa
Discover more of Lisbon with our most popular guides