Why visit? > 3 Days > 1 Week > Sights & Activities > Day trips > Beaches > Alfama > Belem > Baixa > Expo Park > Site Map
Lisbon for Families, Children and Kids
Lisbon is a fantastic destination for families who are looking for a city break within Europe. Families who visit Lisbon will discover that the city is great for children and has a wide selection of suitable sights and activities. Portugal as a whole is very supportive and understanding of families, especially if traveling with young children. This guide will provide an introduction for families who are considering visiting Lisbon and will list many of the children friendly activities within the city.
Lisbon is a fantastic family destination
Not what you are searching for? How about these related articles:
Lisbon Introduction - Best sights & activities - 3 days in Lisbon - 1 week in Lisbon - Lisbon day trips - Weather and when to go - Lisbon for budget holiday
Lisbon for Families and Overview
One of the underlining fundamentals of Portuguese life is the importance of the family, and this belief makes Lisbon an extremely welcoming and accommodating destination for families traveling with children. Many hotels have family rooms and children will be welcome in all restaurants, where it is common for Portuguese children to stay up late when dining out.
As a destination Lisbon is significantly cheaper than many other European capitals with good value accommodation and inexpensive food. Public transport is safe and reliable but taxis are surprisingly cheap and often easiest/quickest means of travel when kids are in tow.
Challenges Visiting Lisbon with Children
The main issue for families visiting Lisbon is the intensity of the sun during the tourist season (May-September) which can be very strong for children. Daytime temperatures in central Lisbon can exceed 35°C.
• Tip - Sun block and sun protection solutions are very expensive in Portugal so always bring them from your home country.
Lisbon is spread over seven hills so expect to be walking up and down hills a lot during a visit to Lisbon. The streets of Lisbon are lined with distinctive cobbles and this can make it difficult for prams with small wheels.
• Tip – All cafes will have free tap water (which is safe to drink) always ask for a "copo de agua", when ordering coffees drinks
• Tip – There are few public toilets in Lisbon but all cafes will have toilets for emergency stops.
Don't Forget the beaches
Many visitors to Lisbon do not realise that there glorious beaches just a short train ride from the centre of the city. Many of these beaches are ideal for families and offer soft golden sands and calm, clean sea waters which are supervised by lifeguards. The most easily accessible beaches are on the stretch of coastline between Lisbon and Cascais and are served by the regional railway that departs from Cais do Soder train station. For a guide to the beaches of Lisbon please see this website, LisbonBeaches.com.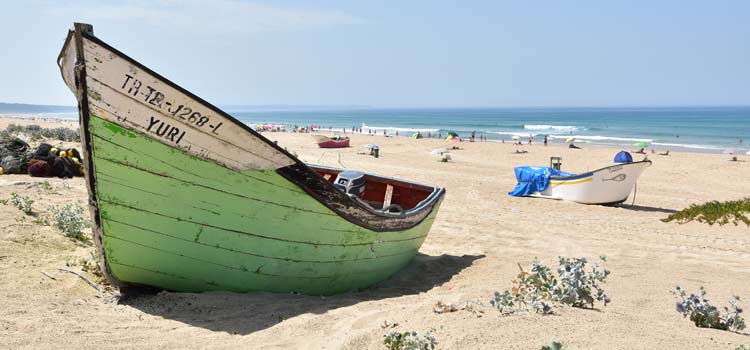 The great beaches near Lisbon
What to do in Lisbon for Children?
Lisbon has a wide range of activities which will entertain children of all ages, popular activities including Lisbon Zoo, the Oceanarium, the Parque das Nações and a ride on the yellow tram. The next section details the popular child friendly activities of Lisbon.
Lisbon Oceanarium
Lisbon Oceanarium is considered as one of the best aquariums in Europe and is a place that will simply enthral children. Lisbon aquarium is known as the Oceanarium as the four huge tanks represent the different oceanic regions of the world and each one is crammed full with marine life. .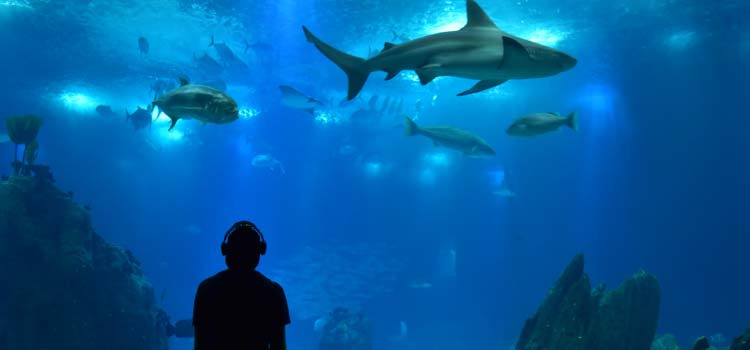 The Lisbon Oceanarium is great for children
Each of the tanks can be viewed from submerged tunnels, through giant glass walls or from above the water level. Families tend to spend 2-3 hours in the Oceanarium but the only downside is the relatively high-ticket price (€16.00/€11.00 adult/ child). The Oceanarium is best avoided at the weekends when it can get very busy during the summer months. To read more about Lisbon Oceanarium click here.
Lisbon Zoo
Lisbon Zoo is a popular location for visiting families. Lisbon zoo is modern with excellent facilities and well cared for animals. The stand out attraction is the large water pool which provides dolphin and sea lion shows. Other areas include the reptile and snake house, aviaries that can be walked through. There is a petting farm for younger children who can interact with the animals. The zoo is a day long activity and ticket prices are; children (3-11) € 12.50 and adults (12+) € 17.50. The amusement park side of the zoo, called Animax, lies outside of the main zoo so visitors can enter without buying a zoo ticket.
A ride on the number 28 Tram
Children love to ride on the classic trams, which screech and clatter through the narrow streets of the Alfama district. The tram can get very busy during the day so travel either early in the day or in the evening. A tram ticket costs €2.90 for a single ride, but a better option is the 24-hour unlimited tram/bus/metro, which costs 6.00 and includes all of the funiculars and the Elevador de Santa Justa lift. For a guide to the 28 Tram please click here.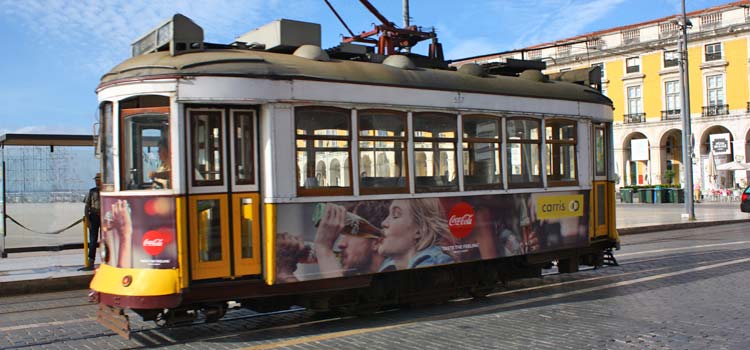 The number 28 tram in Praça do Comercio
Parque das Nações
The fourth area suitable and designed for children is Expo Park (Parque das Nações). The large area has numerous children friendly activities including; a cable car that runs the length of the park, interactive outdoor features and bike hire. Also in Expo Park is the Lisbon Oceanarium (see above) and the Pavilion of Knowledge. The Pavilion of Knowledge is an interactive science/technology museum which is good value (adult € 7.00, child (6-17) €4.00) and has many exhibits to engage children.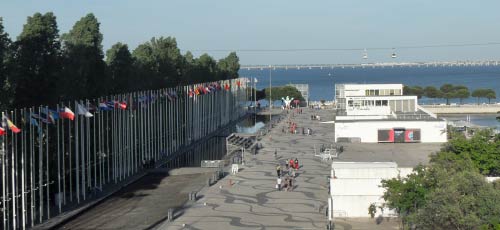 The cable car in the Parque das Nações
Lisbon Cinemas
For slightly older children visiting Lisbon is a trip to the cinema. Many other European countries dub the latest movies into their native tongue, but due to Portugal's small size many movies just have subtitles leaving the original English sound track. Cartoons and movies for young children are often dubbed but most major releases are rarely dubbed, just ask before buying tickets. A popular Cinema is in the Vasco da Gama shopping centre on the edge of Expo Park.
Other Suggestions
All children enjoy traveling on the old trams of Lisbon as they clatter along the tight and twisting streets. The trams leave from Praça Comércio and head up to the castle or head west to the Belem district. Another transport option that entertains children is to catch the ferry that heads across the River Tagus. The ferry leaves from Terreiro de Parco.