Lisbon for children and families; a guide for 2023
Lisbon makes a great destination for families who are seeking a child-friendly city break location. Lisbon is very welcoming and supportive of families, with the city offering a varied selection of sights and activities suitable for children of all ages.
These attractions include a wonderful oceanarium, a modern zoo, the colourful trams and a series of engaging museums, such as Quake and Ciencia Viva.
This article will provide a guide for parents who are considering taking their children to Lisbon. It will first help you to determine if the city is suitable for your family, then takes a closer look at some of the best sights and activities.
Note: For details of sights and activities for children, please skip to the end of this article.
Related articles: Lisbon top 10 - Lisbon's beaches
Is Lisbon good for families?
Lisbon is a fantastic location for a family holiday that is based within a city. Portugal is a very family-oriented country, and everyone who works in tourism will be supportive and understanding of children.
Families will be made to feel welcome in all hotels, restaurants will be understanding and patient, while all major tourist attractions are designed to accommodate children.
The downside to Lisbon is that it is a hectic and bustling city, which can be very draining in the summertime heat. Much of the historic centre comprises of very narrow streets and steep hills. Lisbon can be a wonderful destination for families, but can be very demanding on parents if you are travelling with younger children.
Advice: A family city break will always be much more demanding (on the parents!) than a relaxed beach holiday. Before embarking on a city break to Lisbon, do consider if it is for you, how suitable it is for your children, and - most importantly - that you all will enjoy it.
A family holiday to Lisbon; common questions
When parents plan a holiday to a new destination, they often ask similar questions. This section will provide answers to the most common queries.
Is Lisbon safe?
For the size of Lisbon, it is a very safe city - so long as you use the same common sense as you would back at home.
Crime is relatively low for a major city, but - as with all cities - there are desperate and unscrupulous people, however these tend to appear late at night or on the fringes of the tourist areas. The only real issues tourists may face are from pickpockets and opportunistic thieves.
Related articles: Is Lisbon safe?
What about language issues?
Everyone who works within tourism speaks a good level of English. All restaurants have menus in English, and English is the second language for signs and information.
Summary: Communication and personal safety should never be a concern when planning a family holiday to Lisbon.
What about nappies, baby food, milk and specialist food, etc?
Lisbon has an extensive selection of shops, supermarkets and pharmacies, which sell all common branded goods.
Some of these items will be more expensive than back home, but they will not be difficult to find. Pingo Doce is a major supermarket chain, and in central Lisbon there are two stores (GPS: 38.712103, -9.135234 and GPS: 38.71366, -9.14022).
Lisbon has a surprising number of pharmacies, almost one on every street.
Health cover and hospitals
Portugal has a good standard of health services. Pharmacies should be used as the first point of contact for all minor ailments.
Advice: Always have sufficient travel insurance for medical emergencies or to cover the cost of a cancelled holiday..
When to visit Lisbon as a family
The best time of year for families to visit Lisbon is late spring or early autumn. This sadly does not align with school holidays, so Easter is often the best time of year to visit.
During the summer (June to August), Lisbon basks under the intense sun, and this makes the city very hot. This heat is a dry heat (low humidity), so if you drink enough water, start early in the day and stay in the shade, it is possible to sightsee with children.
The winter months can be wet and chilly, but it rarely drops below 14C.
Related article: When to visit Lisbon?
Where to stay?
For your first trip to Lisbon, we'd suggest being based within the Baixa district or close to the Avenida da Liberdade – this area is close to the historic centre, but there are no major hills. Popular tourist areas that are not really suited for families are Alfama (too many hills), Bairro Alto and Cais do Sodré (nightlife hotspots) and Belem (too far from the city centre).
Related article: Where to stay in Lisbon?
Are there lots of hills?
Lisbon is spread across seven hills, and unplanned sightseeing can feel as if you are endlessly walking uphill. This can be very draining if using a pushchair or lugging around tired children. The district of Alfama and the route up to the castle has some of the steepest hills, along with narrow cobbled streets.
Related article: Is Lisbon walkable?
Lisbon airport and travelling onwards
Lisbon Airport is within the city limits and is only 7km from the city centre. For onward travel from the airport with children, it is suggested to take a taxi or Uber. If travelling without children, the metro is a cheaper option.
Related article: Travel from the airport - Metro Guide
A rental car?
A rental car may sound like a good idea, but for a city break in Lisbon it is more hassle than it is worth. Driving in central Lisbon is demanding and difficult, with erratic drivers, confusing road layouts and limited car parking. For the majority of a trip to Lisbon you will be walking, and for longer distances you can take the metro or taxis.
Is food safe?
Food quality is of a high standard in Lisbon and Portugal. There is as much risk of encountering food-related issues in Lisbon as there is at home. Again, use the same common sense that you would back at home.
Is it safe to drink the water?
Lisbon tap water is safe to drink, but the pipework in older buildings may be dirty or contaminated. Water from the tap in a café will be safe to drink, whereas water from a tap in a hotel room should be avoided.
Tip: All cafes provide free water, just ask for a "Copo de água"
Forget bedtimes……
Children in Portugal stay up very late, and it is not uncommon to see children in restaurants past 10pm. The evening meal is usually started between 7pm and 8pm.
There are beaches close by
Many visitors to Lisbon do not realise that there are glorious beaches just a short train ride from the centre of the city. Many of these beaches are ideal for families and offer soft golden sands and calm, clean sea waters that are supervised by lifeguards.
The most easily accessible beaches are on the stretch of coastline between Lisbon and Cascais and are served by the regional railway that departs from Cais do Sodre train station.
Related article: Lisbon beaches
Rental apartment or hotel?
A rental apartment will offer more flexibility for meals and bedtimes, but they will often cost significantly more when all the hidden fees are included. If you are happy to cook your own meals, then you can make a significant saving.
Have you booked your hotel yet?
Lisbon is a popular tourist destination, and there is always a very high demand for accommodation.
We always advise booking your accommodation as early as possible to secure the best locations and prices.
The map below shows the best accommodation in Lisbon. If you adjust it to the dates of your holiday it will show current prices and availability.
Child-friendly activities and sights in Lisbon
Lisbon has a wide range of activities and sights that will entertain children of all ages. The most popular activities include Lisbon Zoo, the Oceanarium, the Parque das Nações district, and a ride on the yellow trams. The following section will detail the best child-friendly activities that the city has to offer.
Oceanário de Lisboa
The Oceanário de Lisboa is considered one of the best aquariums in Europe and focuses on the world's oceans.
It comprises of five massive tanks, with four of them representing the different oceans, and a central tank containing a multitude of sea life. The whole experience is ingeniously laid out, with visitors seeing the tanks above and below the water level, making it seem much larger than it actually is.
Children of all ages will be enthralled by the diversity of fish and animals, which includes rays, sharks, penguins and cute sea otters.
A visit to the Oceanarium can easily last longer than two hours, but the downside is the relatively high entrance fees of €22/€15 (adult/child (3-12)). The Oceanário de Lisboa is also one of the most popular tourist attractions in Lisbon and can get very busy at the weekends or on wet days.
Location: GPS: 38.763481, -9.093555
Travel: Oriente metro station on the red line
Official website: https://www.oceanario.pt/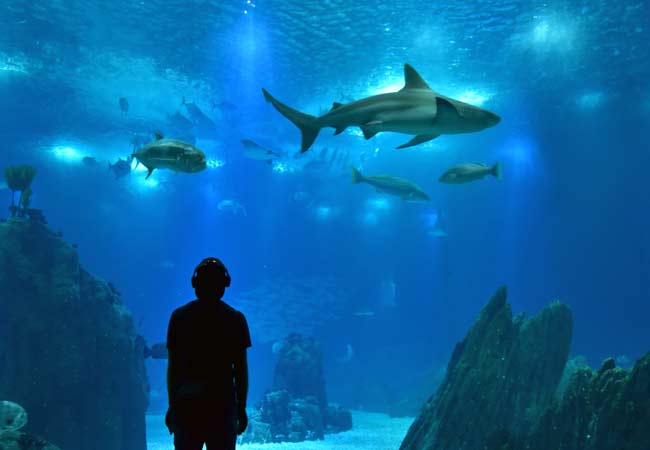 The central tank will mesmerise you
Jardim Zoológico de Lisboa
Jardim Zoológico de Lisboa is a modern and well-run zoo that has a wide selection of well-cared-for animals.
The zoo is home to over 300 animals, and one unique attraction is the cable car that provides a tree-top view of the zoo. Another stand-out attraction is the large water pool that provides dolphin and sea lion shows.
For younger children, there is a petting farm where kids can handle some animals. The zoo is excellent, and a day-long activity, with ticket prices reflecting this at €27.50/€17 (adult/child).
Official website: https://www.zoo.pt/
Travel: Jardim Zoológico metro station on the blue line
A ride on the number 28 Tram
Children love to ride the classic yellow trams, which screech and rattle through the narrow streets of Lisbon.
The most popular route is the E28, which crosses the historic centre of Lisbon from the Alfama district to the Estrela district. The only downside is that this route can get very crowded, and it can be difficult to get a seat.
An alternative, quieter route is the E24 from Praça Luís de Camões to Campolide.
A tram ticket costs €3 for a single ride, but a better option is the 24-hour unlimited tram/bus/metro ticket, which costs €6.60 and includes all of the funiculars, trams and the Elevador de Santa Justa Lift.
Related articles: Tram 28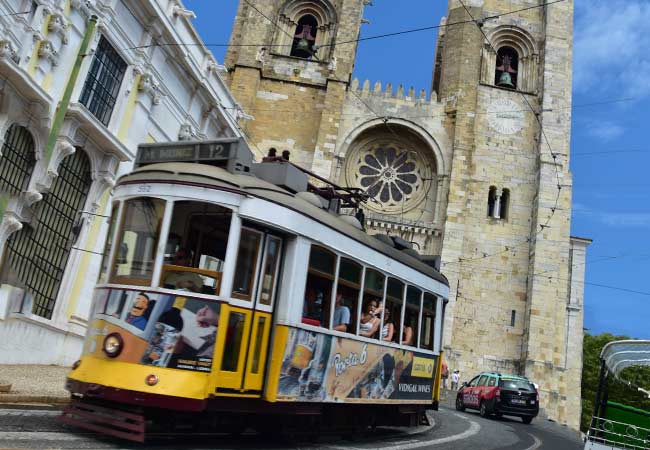 The number 28 tram as it passes the cathedral
Quake
Quake Museum is an immersive museum that details and simulates the earthquake that struck Lisbon in 1755. This fantastic museum is ideal for older children, with interactive displays, rooms that actually shake, and in-character staff.
The museum is a truly unique experience and an engaging way to learn the turbulent history of Lisbon.
Official website: https://lisbonquake.com/
The Pavilhão do Conhecimento - Ciência Viva
The Pavilhão do Conhecimento is an outstanding science museum and one of the best attractions in Lisbon for primary school-aged children (5-11). There are many engaging and interactive exhibits, and this is a great activity for a wet or intensely hot day.
Official website: https://www.pavconhecimento.pt/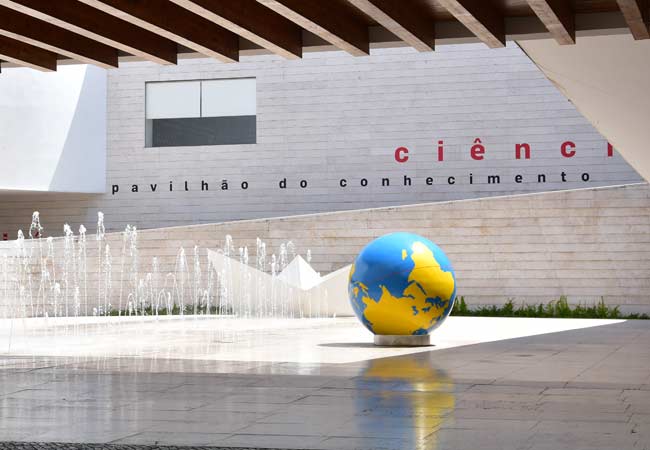 The Pavilhão do Conhecimento
Parque das Nações
The Parque das Nações district is the ultra-modern side of historic Lisbon, which extends along the northern side of the Tagus Estuary.
This area was constructed for Expo 1998 and comprises large plazas, water-focused exhibits and striking architecture.
Parque das Nações is a peaceful, open area that is traffic-free (a novelty for Lisbon) and contains many child-friendly activities. These include a cable car, water-focused gardens and colourful exhibits. Also located in the district are the Pavilhão do Conhecimento and Oceanário de Lisboa, which makes the Parque das Nações ideal for a whole-day trip with children.
Related articles: The Parque das Nações
Travel: Orient metro station on the red line.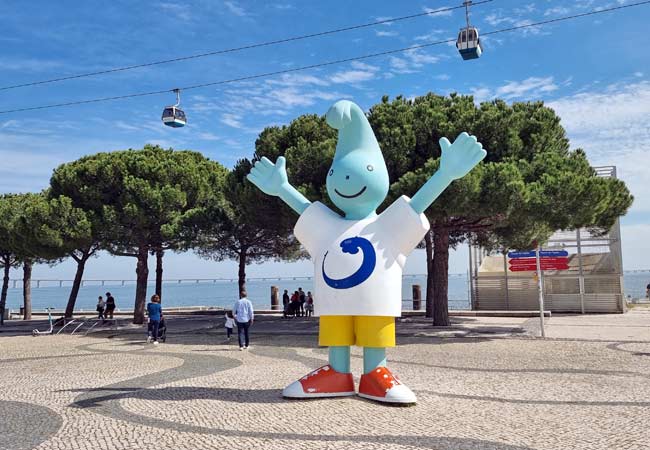 The Parque das Nações sits along the Tejo Estuary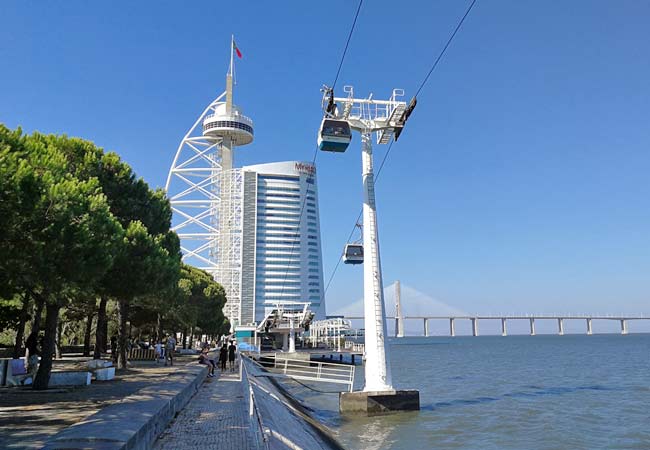 A cable car extends along the waterfront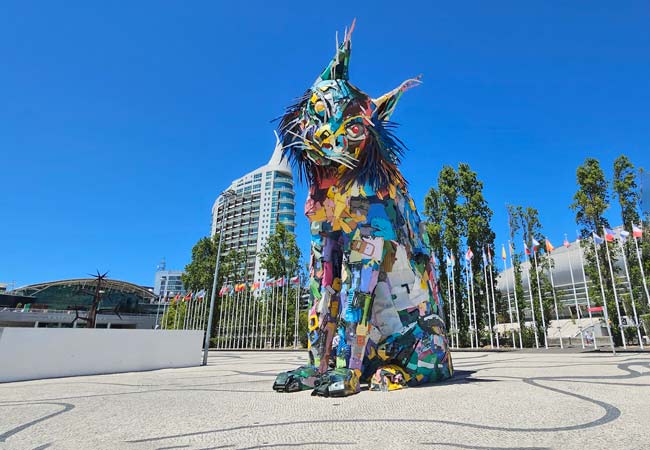 The colourful Iberian lynx statue
A Ferry Ride to Cacilhas
A ferry ride across the Tagus Estuary is an enjoyable and relatively inexpensive activity for younger children. The best ferry route is from Cais do Sodré to Cacilhas, which takes 10 minutes to cross and passes close to the suspension bridge.
Once at Cacilhas, you could visit the beautifully restored Fragata Dom Fernando II e Glória sailing ship and then take a bus or taxi up to the Cristo Rei statue. The only issue with the ferry ride is that there are no outside decks, and it can get very busy during rush hour.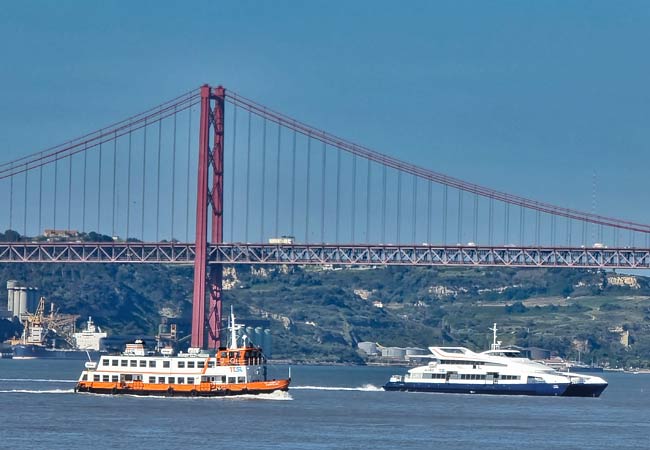 The ferry as crosses to Cacilhas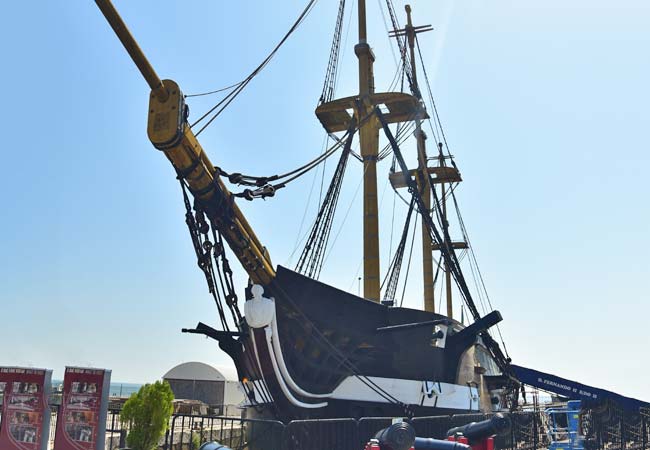 The Fragata Dom Fernando II e Glória
Beach day trip
There are many sandy beaches close to Lisbon, and these are ideal for a beach day trip. Some of the best beaches for families are at Carcavelos, Oeiras, Cascais and Estoril, and these can be reached by the train that departs from Cais do Sodre. During the summer, the beaches are supervised by lifeguards.
Related article: Lisbon beach guide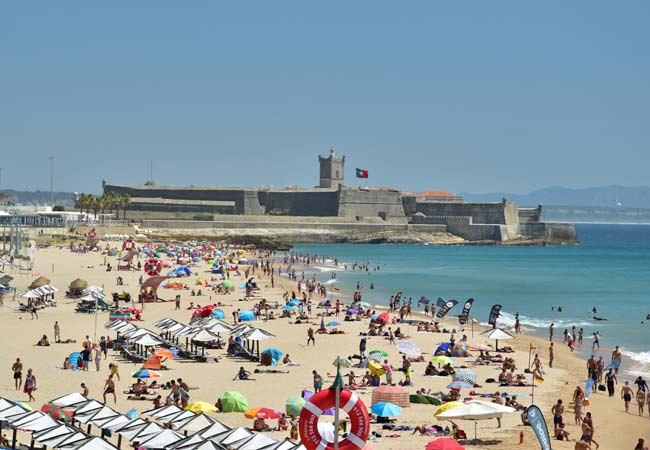 The massive beach at Carcavelos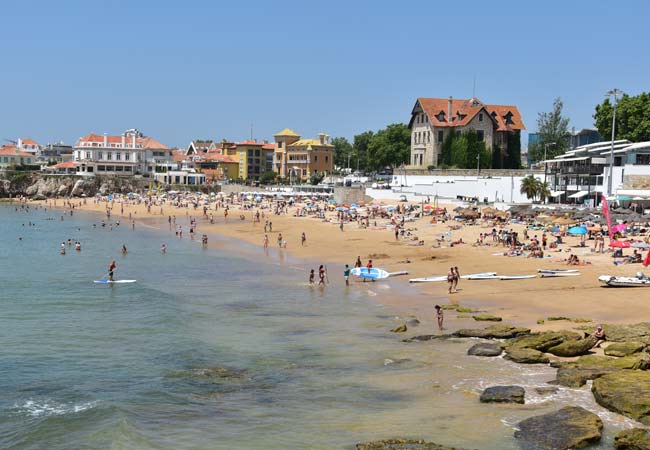 The sheltered and family-friendly beaches at Cascais
Adventure Park
Adventure Park is a forest-based adventure course that includes zip lines, rope bridges and tree climbing, which has children of all abilities scrambling around the three courses. The park is near Algés to the west of Lisbon.
Official website: https://adventurepark.pt
A Tuk-tuk tour
A ride on one of the tuk-tuks is a memorable child-friendly activity. The tuk-tuks are exciting for children as they weave through the narrow streets of Alfama, and the guides are always overly enthusiastic. However, this can be an expensive activity, with typical prices at €70 for 90 minutes.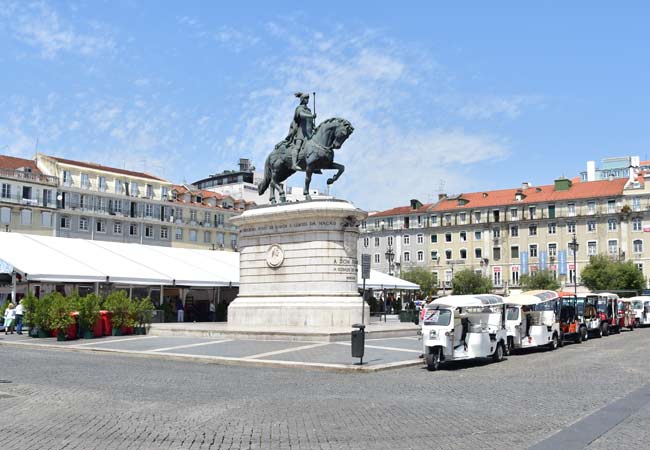 Tuk-tuks waiting in the Praça da Figueira
Cinema
A trip to the cinema can be a great activity for children on a wet day. Many movies shown in Portugal have subtitles in Portuguese and retain the original English soundtrack.
Cartoons and movies for young children are often dubbed, but major releases are rarely dubbed; just ask before buying tickets. A popular cinema is in the Vasco da Gama shopping centre in the Parque das Nações.
Discover more of Lisbon with our most popular guides