Lisbon to Porto by train or bus
Lisbon and Porto are the two largest cities in Portugal, and each boasts their own distractive character and unique appeals. Lisbon is the pulsating and vibrant capital city, while Porto is more traditional and easy-going.
Both are amazing cities to visit, and can be easily combined in a single trip. Connecting Lisbon and Porto is frequent and inexpensive public transport, and this article will detail this journey by bus and train.
Related articles: Porto guide - Lisbon guide
Porto to Lisbon transport options
Porto is 310km to the north of Lisbon, and the journey takes approximately 2.5hours by car. Driving is the fastest option, but the toll road network is comparatively expensive and driving in both cities is very challenging (lots of traffic, no parking and confusing road layouts.)
For most visitors, the best option for travel is by train. Train travel is much faster than the bus, but it is more expensive. The express train (Alfa Pendular) takes 2h40min, and costs €31.70 (single adult), whereas the express coach costs €19.00, but the journey ranges from 3h30min to 4h25min. There are slightly cheaper trains (called Intercidades) which have longer journey time (due to more stops) but are cheaper at €25.10.
Advice: There are many third-party websites that sell train and bus tickets, but it makes sense to book them directly with the transport companies to avoid booking fees. The national train operator of Portugal is Comboios de Portugal (CP), and the main inter-city coach company is Rede Expressos. Both companies have user-friendly websites where tickets can be safely booked:
Comboios de Portugal - www.cp.pt/
Rede Expressos - www.rede-expressos.pt/
The remainder of this article will discuss travelling from Lisbon to Porto by train and bus, and includes details of the stations and an overview of the different services.
The Alfa Pendular trains are the fastest way to travel around Portugal
Lisbon to Porto by train
The railway between Lisbon and Porto is fast, safe and modern. There are two different train services between Porto to Lisbon; the express Alfa Pendular and the Intercidades (intercity).
The Alfa Pendular service is faster and offers a high standard of comfort and facilities, such as free WIFI and more legroom. The Intercidades have a longer journey time as there are more stops along the route.
Both Alfa Pendular and Intercidades provide direct routes from Lisbon to Porto and depart/arrive at the same stations. A summary of the train service between Lisbon and Porto can be seen on the CP website:
www.cp.pt/StaticFiles/horarios/longo-curso/comboios-alfa-pendular-intercidades-lisboa-norte-sul.pdf
This link is a PDF, so it may download on certain mobile phones
The Alfa-Pendular train journey takes 2h40min while the intercity train service takes 3h10min. A single ticket on the Alfa Pendular train from Lisbon to Porto costs €44.60/€31.90 (Conforto class/ Turística class) while the Intercidades costs €37.15/€25.10 (first class/second class).
Return fares are, Alfa Pendular €80.00/€57.50 (Conforto/Turística class), and the Intercidades is €67.00/ €45.50 (first class/second class).
Train tickets for the Porto-Lisbon route must be purchased before boarding the train, either from a ticket office or from the CP website. Popular train services do sell out, especially during the peak season, and it is advisable to book tickets are as far in advance as possible: Comboios de Portugal website
All tickets are allocated a seat, and the carriage/seat number is clearly displayed on the ticket. The carriage number will be shown on the outside of the train.
Warning: There is no standing room on the Alfa-Pendular or Intercidades, when all of the seats are sold there is no way to travel on the train. Always book well in advance important journeys during the peak season!
Insight: There can be significant savings on pre-booking tickets, last summer there were 50% savings on tickets purchased two weeks in advance.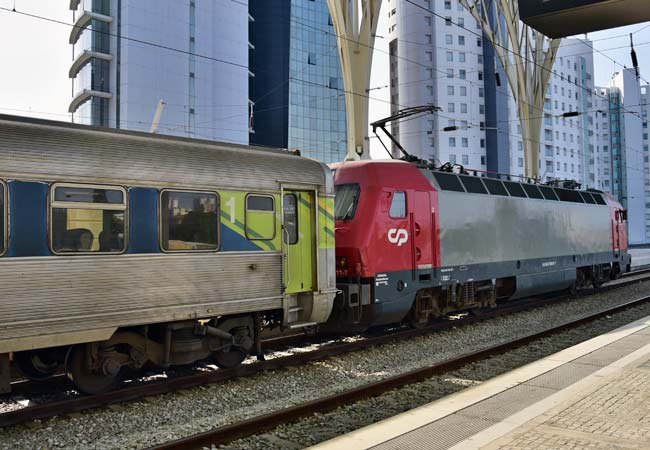 The Intercidade train to Porto
Train stations in Lisbon and Porto
In Lisbon, all departures pass through the Estação do Oriente station, and most (but not all!) depart from the Santa Apolonia train station.
In Porto, all services stop at Campanhã train station, but no express services continue through to São Bento (the main station in the historic centre).
Important note: The two Algarve-Lisbon-Porto express train services do not stop at Santa Apolonia in Lisbon – always confirm your departure station on your ticket.
Important note 2: The express trains do not stop at São Bento (Porto), a second train must be caught from Campanhã (Porto) to São Bento, and this journey is included in the fare.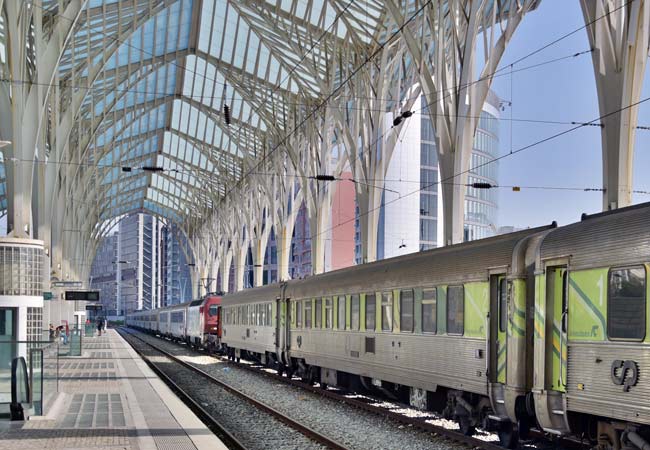 The Estação do Oriente was inspired by gothic architecture and was constructed for Expo '98
Lisbon's train stations
The Estação do Oriente located to the northeast of Lisbon and is situated in the Parque das Nações district. The station is connected to the Red Metro Line by the Oriente Metro Station and is convenient for passengers who are travelling from Lisbon Airport.
Santa Apolonia Train Station is on the edge of the Alfama District and is close to the historic centre of Lisbon, where most tourists are based. Santa Apolonia is the final stop on the Blue Metro Line and is served by the Santa Apolonia Metro Station.
For tourists, there is no discernible difference between the two stations; they are both easy to navigate and depart from.
Related articles: Estação do Oriente - Santa Apolonia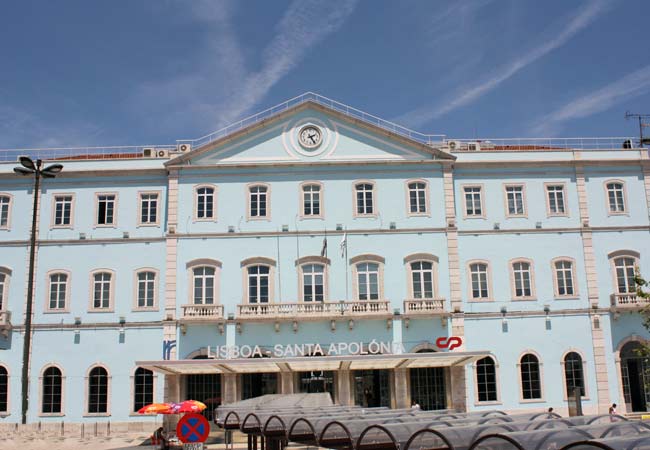 The Santa Apolonia station is on the edge of the Alfama district and is convenient for most tourists
Porto's train stations
In Porto, all express train services stop at the Campanhã train station. This station is 2.5km to the east of the historic centre of Porto.
Most tourists are based close to the historic centre, and this area is served by the Sao Bento train station, which the express trains do not stop at. There are regular trains from Campanhã to Sao Bento, and this 10-minute journey is included in your ticket.
Vila Nova de Gaia (referred to as V. N. Gaia on timetables) is on the southern side of Porto and the Douro River. This station should only be exited if your accommodation is very close to it. Generally, it is easier to leave the express train at Campanha and catch the first service to Sao Bento.
Lisbon to Porto by Bus
The main intercity coach company of Portugal is Rede Expressos, and they provide multiple express coach services between Lisbon and Porto. Bus travel in Portugal is safe and efficient, and the intercity Rede Expressos buses are modern, clean and well-maintained.
There are twenty daily departures between Lisbon and Porto, with more at the weekend when there is a higher demand. For the latest timetables and ticket purchase, please visit the Rede Expressos website:
www.rede-expressos.pt/
A single ticket from Lisbon to Porto costs €20/€20/€15 (adult/child/senior), and tickets can be purchased up to thirty days in advance.
Tickets must be purchased before travel and cannot be bought from the driver. Each passenger is allocated a seat, that will be clearly indicated on the ticket. Heavy or large luggage will need to be stored in the luggage compartment on the side of the bus.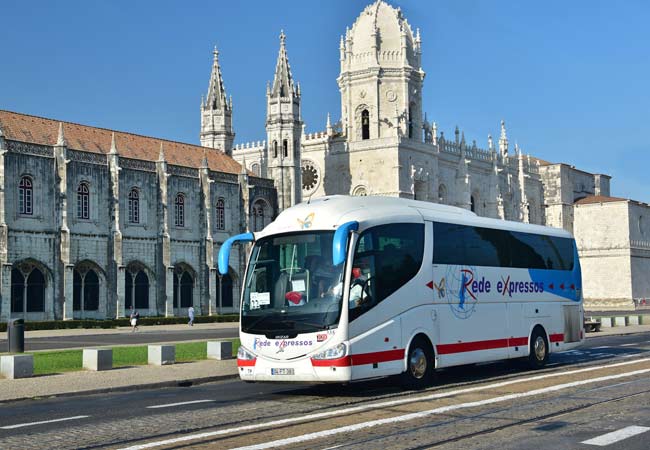 A Rede Expressos coach passing in front of the Mosteiro dos Jerónimos in Belem
Lisbon and Porto Bus Stations
All Rede Expressos services depart from the Sete Rios Bus Station in Lisbon. This bus station is connected to the Blue Metro Line by the Jardim Zoológico Metro Station. Sete Rios is a major transport hub with bus routes to the whole of Portugal, the station itself is modern and clean with a large ticket office and multiple snack shops and cafes.
Related articles: Sete Rios bus station
In Porto, the intercity buses terminate at the Terminal Rodoviario on the Campo 24 de Agosto. This northeast of the historic centre and is served by the 24 de Agosto metro station.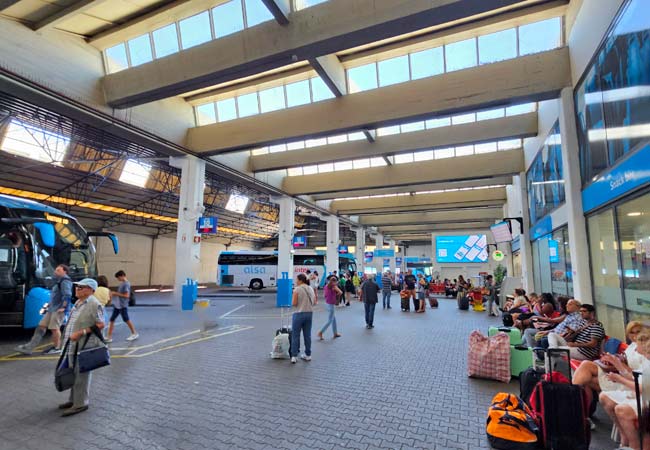 Sete Rios is a busy bus station, always give yourself enough time to find the departure bay
Discover more of Lisbon with our most popular guides