Is Lisbon walkable?
Lisbon is a very walkable city, as long as you're willing to contend with some steep hills.
The city is very easy to explore on foot if you're in good health, but the narrow, cobbled streets and many steep inclines can make it challenging if you have limited mobility or reduced fitness.
Lisbon is famed for being spread across seven hills, and while sightseeing you will feel as if you are constantly climbing or descending these. With a little planning, it is possible to plan a route that completely avoids the hills and stays within the valleys, following the banks of the Tejo Estuary – details of this route are provided later.
If this is your first trip to Lisbon, the main tourist area is relatively compact, covering the Baixa, Alfama and Cais de Sodre districts. It may feel much larger due to the maze of narrow streets within the Alfama district, which are so easy to get lost in. The Belem district is also a popular tourist area of Lisbon and is a short tram ride to the western side of the city.
Because of the hills, you will want to bring some decent walking shoes, while high heels can be particularly dangerous on the uneven, cobbled streets. Flip-flops and open-toe shoes may be tempting in the hot summer weather, but they aren't really recommended for exploring the city.
If you'd prefer not to explore the city on foot, there are many other options - including tour buses, tuk-tuk rides, river cruises and the colourful, traditional trams. Lisbon has excellent public transport, with a modern metro system and many bus routes. Travelling by taxi or ride-hailing app (Uber or Bolt) is also inexpensive and often the best way to travel around the city.
Insight: If you have limited mobility or health conditions, you should not be deterred from visiting Lisbon because of its hilly landscape. There are flat areas to explore and lots of additional ways to get around the city.
Flat areas of Lisbon
Lisbon is a hilly city, but there are many districts that are flat and easily accessible if you have limited mobility or endurance.
The Baixa district lies in a valley between the hills of Alfama and Barrio Alto and is relatively flat. This is a great area to explore, as in addition to being flat it has wide pathways and grand plazas. To the north side of Baixa is the Avenida da Liberdade, a gently-sloping avenue that is the location of many of Lisbon's high-end hotels. This is a great area to be based in if you want to avoid Lisbon's hills.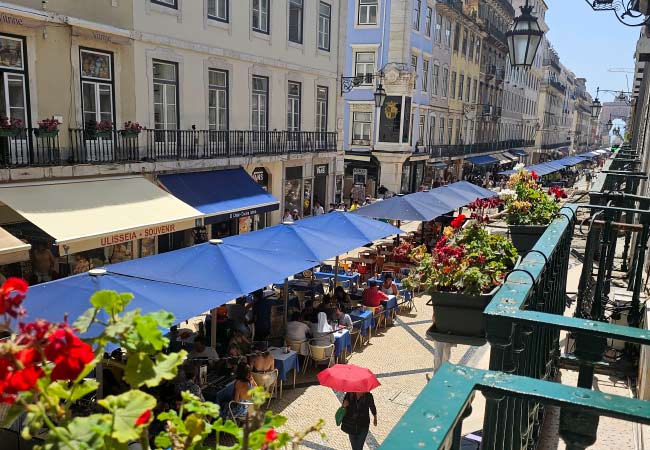 The Rua Augusta at the heart of the Baixa district
To the southern side of Baixa are the banks of the Tejo estuary, and again this riverside region is flat. Walking west along the riverside leads to the Cais do Sodre district, where you will find the TimeOut food market and Pink Street - one of the nightlife centres of Lisbon. The eastern riverbank skirts around the edge of the Alfama district and passes the cruise ship terminal, but to see any of Alfama you will need to climb some steep hills.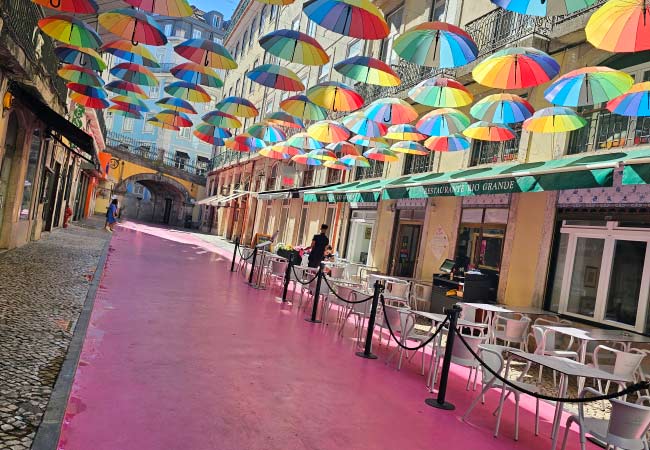 Pink Street in Cais do Sodre
The Belem district is another flat area of the city, which contains many fascinating tourist attractions. Found within Belem is the Torre de Belém, Mosteiro dos Jerónimos and the Pastéis de Belém - the traditional home of the Pastel de Nata. Belem can be easily reached by an Uber or taxi. There is also the E15 tram, but this can get very busy.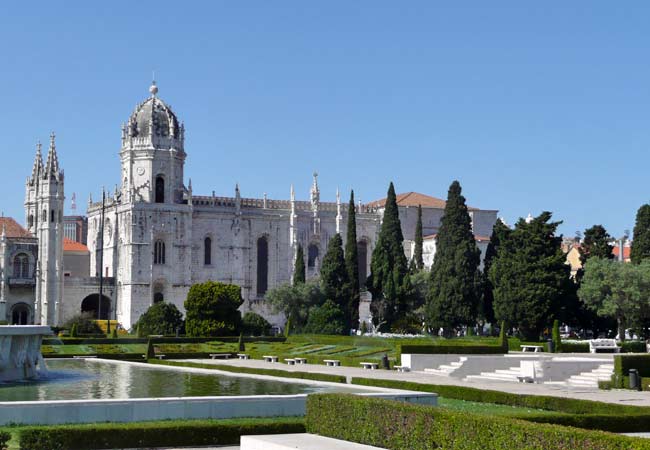 The Mosteiro dos Jerónimos
Lisbon's Calçada cobblestoned streets
Every street in Lisbon is lined with decorative 'Calçada' pavements that use white (limestone) and black (basalt) stones to create mosaic patterns. These pathways are beautiful to admire but are very slippery in wet conditions – and it does rain a lot in Lisbon during the winter! The cement that holds the stones in place can become worn away on old streets, creating a very uneven surface. This is why high heels are never recommended in Lisbon.
Rossio plaza, with its distinctive tiled pavements
Travelling around Lisbon
Lisbon has excellent public transport, but for most visitors Uber or Bolt are the quickest way to get around the city. These ride-hailing apps are cheaper than regular taxis (about 25%) and are much more convenient than figuring out bus routes or being jammed on a tram. It is suggested to download either the Bolt or Uber app before you start sightseeing in Lisbon.
Lisbon metro is excellent but does not have any stations in Alfama or Belem, so is of limited use for visitors. The metro is the best form of public transport to travel from the airport.
If you are solo travelling or want to use public transport, the €6.60 unlimited 24-hour ticket is exceptional value and can be purchased from any metro station.
While you are sightseeing, you will be constantly offered tours or rides on tuk-tuks. These are fun, but will be much more expensive than a taxi, Uber or Bolt. As these are purely designed for tourists, the prices will reflect this.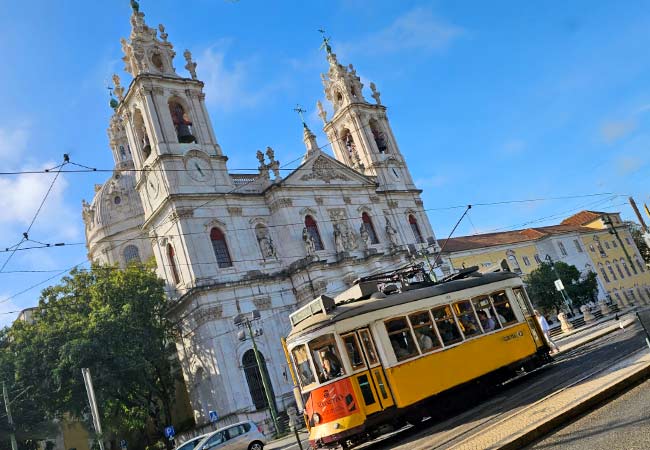 The 28 tram in front of the Basílica da Estrela
You do not want to have a car while you are in Lisbon, as it will be much more hassle than it is worth. There is very little parking in the centre of Lisbon and the roads are frequently congested. A car could be useful when you come to explore the region surrounding Lisbon, but you definitely won't need one while in the city.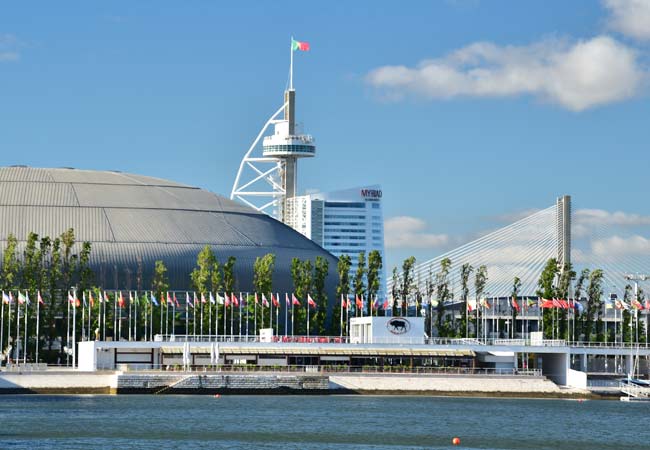 Parque das Nações is the modern side of Lisbon
Discover more of Lisbon with our most popular guides