Home Page > When to visit? > Where to stay? > 24 hours > 3 Days > 1 Week > Day trips > Beaches > Museums
Rossio Train Station, Lisbon Guide
Rossio train station is the Lisbon terminus of the Lisbon to Sintra railway line. This railway connects the pretty and popular tourist town of town of Sintra to Lisbon. Rossio train station itself is a wonderfully ornate structure, which from the outside does not resemble a train station. This guide will provide an overview of the Lisbon to Sintra railway including travel information & fares and then will describe the history and interesting facts about Rossio train station Lisbon.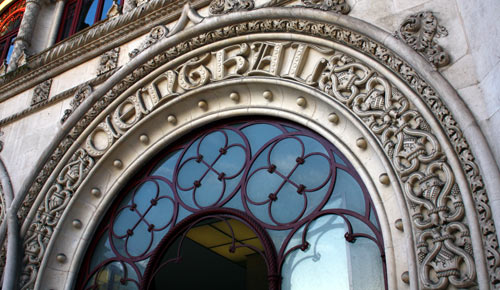 Lisbon to Sintra and Rossio Train Station, Lisbon
Sintra lies 25 km to the west of Lisbon and the railway is the recommended means of transport. The train journey takes 30 min and the historic centre of Sintra is the final station on the railway. Sintra requires a four zone ticket which costs €2.15/€1.10 (adult/child) and tickets are charged to the Viva Viagem card (€0.50). During daylight hours there is a service every 20 min.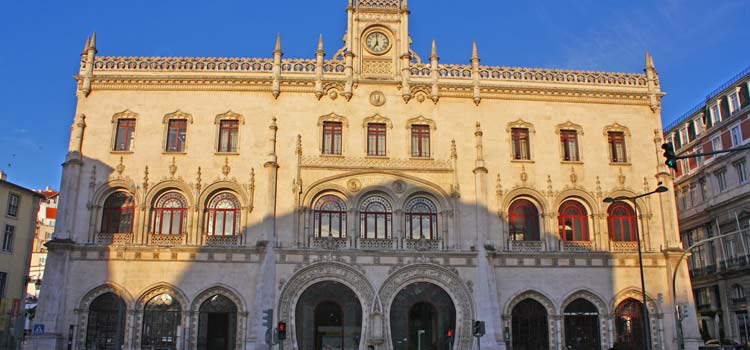 Rossio train station's ornate front
For a guide to Sintra click here or to read Sintra is a day trip from Lisbon click here. Rossio train station is situated in the centre of Baixa district, to the northwester side of Pedro IV Square, which is often referred to as Rossio. The station is connected to the green metro line by the Rossio metro station.
Rossio Train Station Lisbon History and Interesting Facts
The outside facade of Rossio Train Station Lisbon more closely resembles a temple than that of a train station. The entrance is via large horseshoe shaped stone doorways and the roof topped with small turrets and a clock tower.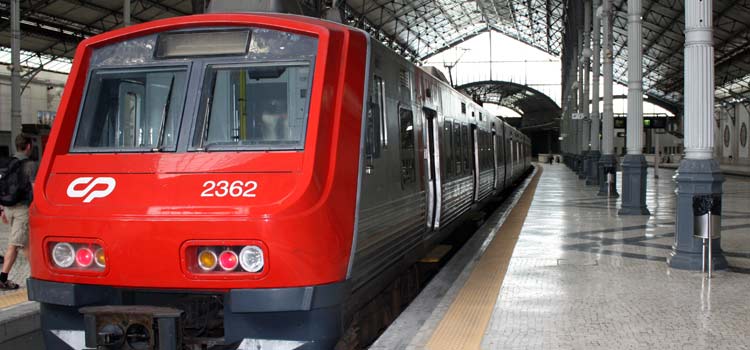 Rossio station platform and the train to Sintra
Rossio Railway Station funded by Portuguese Royal Railway Company who employed José Luís Monteiro as the architect. His design was influenced by the 16th century Portuguese Manueline style and construction of the railway and station was completed in 1888.
Rossio station was the main passenger terminus of Lisbon until 1957. Rossio Railway Station was constructed in the side of a steep hill with the train line passing through a 2,500m long tunnel regarded as one of Portugal's major engineering feats of the 19th century.