Why visit? > 3 Days > 1 Week > Sights & Activities > Day trips > Beaches > Alfama > Belem > Baixa > Expo Park > Site Map
Sete Rios Bus Station, Lisbon
The Estação rodoviária de Sete Rios (Sete Rios) is a major bus stations in Lisbon, which handles many of the important intercity coach routes of Portugal. Sete Rios bus station is the main hub for the largest coach company of Portugal, Rede Expressos, who operate coach services to all important cities of Portugal.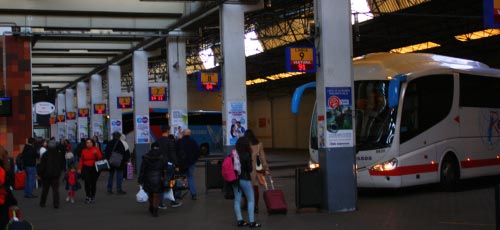 Sete Rois is the main terminal for Rede Expresso buses
Tourist Guide Sete Rios Bus Station
Sete Rios bus station is located to the north of Lisbon and is approximately 6km north of the Baixa district where most hotels are. The bus station is conveniently located close to Jardim Zoológico metro station on the blue line metro line.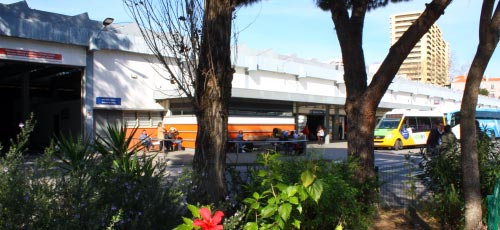 The main building of Sete Rios bus station
The bus station is also served by many local bus routes which connect to the reminder of Lisbon. Sete Rios is a busy bus station with many departures per hour, always arrive early to confirm the departure bay.
Important or useful bus routes from Sete Rios bus station include:
Please click on the above links for further information
The ticket office of Sete Rois is open every day from 7:00 until 23:30 and tickets to the whole of Portugal can be purchased from here. Rede Expressos bus tickets can be purchased up to 30 days in advance and this is recommended for popular routes, especially during the summer season. Rede Expressos tickets can be purchased from the website www.rede-expressos.pt.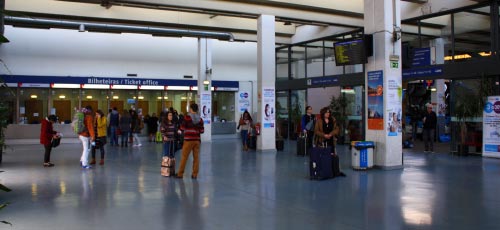 The ticket office and concourse in Sete Rois
Lisbon's second bus station is the Gare do Oriente is part of the Parque das Nações complex to the east of Lisbon, click here for a guide to the Gare do Oriente station. Gare do Oriente is a much nicer bus station complex to depart from as it is more modern, cleaner and has better facilities but no Rede Expressos depart from there.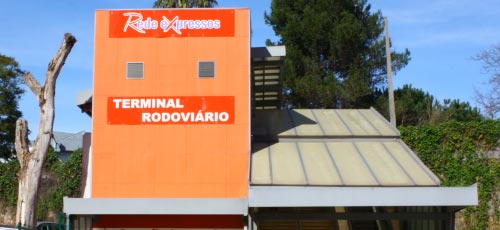 The entrace to the bus station as exiting from the metro/train station
The nearest metro station to Sete Rios Bus Station is Jardim Zoológico which used to be called Sete Rios until 1998 when the metro station was renamed Zoo. Jardim Zoológico metro station is on the blue line which connects Sete Rios bus station with the historic centre of downtown Lisbon. Sete Rios translates to seven rivers, but there are no rivers close by....