Sete Rios bus station, Lisbon
Sete Rios is a major bus station in Lisbon, serving as the primary hub for Rede Expressos, Portugal's main intercity coach company. Departing from Sete Rios are express bus services that cover the whole of Portugal, and if you are planning to explore the country via public transport, then you will probably pass through Sete Rios.
Fortunately, the bus station is not that bad (when compared to other European city bus stations). It is easy to navigate and has good connections to Lisbon's public transport.
This article provides an independent tourist guide to Sete Rios bus station, along with useful travel advice.
Related articles: Lisbon top 10 – The best day trips from Lisbon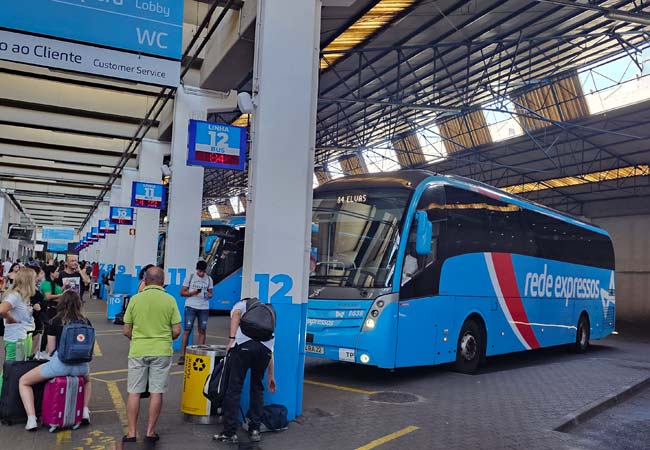 Sete Rios is a busy bus station, with buses heading all over Portugal
Where is Sete Rios bus station?
Sete Rios is located to the north of Lisbon (GPS: 38.74136, -9.16567) and is 3.8km from the Baixa district (central historic Lisbon) and 4.2km from the airport. The bus station is connected to the Jardim Zoológico metro station, which is on the blue metro line. Above the metro station is the Sete Rios train station, which has useful departures to Sintra and Setubal.
Note: Sete Rios is for exclusively for Rede Expressos (and its subsidiary companies), all other inter-city and international bus services depart from the Estação do Oriente.
Buses to Setubal and Sesimbra also leave from Sete Rios. These are operated by Carris Metropolitana and depart from the main road near the bus station. More details about these routes are provided later in this article.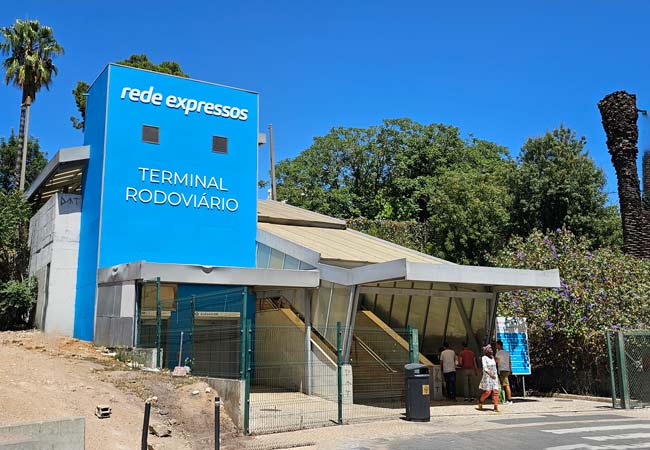 The entrance to Sete Rios bus station when leaving the train or metro station
What facilities are there at Sete Rios?
Sete Rios has the expected facilities of a major bus station; there are rows of ticket offices, a busy café, a shop and clean toilets (€0.50). Between the metro/train station and the bus station is a second café which serves a selection of sandwiches and sweet pastries.
Within the ticket area, there are hundreds of timetables boards, but it is often easier just to go the ticket office and ask for a printout of the relevant timetable. The ticket offices are open from 7:30am-10:00pm. All bus times are available on the Rede Expressos website, which is listed in the next section.
Note: All tickets must be purchased from the ticket office, as the bus drivers do not sell tickets.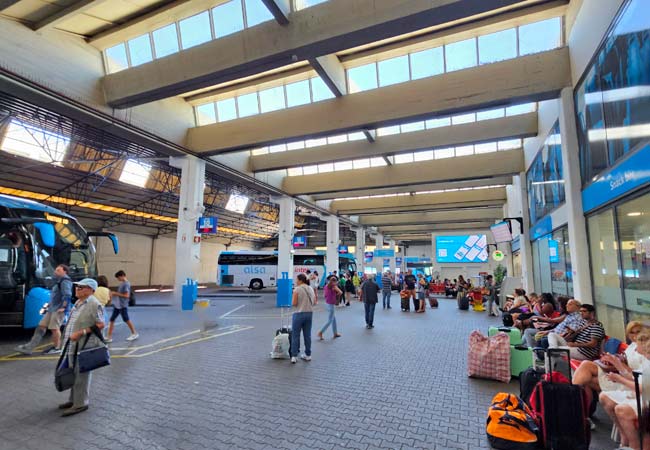 Warning: Bus stations always tend to attract weirdos and desperate people. In general, they are kept out of Sete Rios, but always use the same common sense that you would back at home; never leave luggage unattended, hide valuables and don't place wallets in back pockets. Be extra vigilant if you are catching a late service or travelling late into Lisbon.
Terminal Rodoviário Sete Rios or Sete Rios?
Sometimes "Terminal de Rodoviário" (Road Terminal) is added to the name Sete Rios; Google maps (correctly) refers to it as Terminal Rodoviário Sete Rios – do not get confused this is the same location. All coach stations in Portugal are referred to as Terminal de Rodoviário; it is the English equivalent of stating "Bus Station".
Which is my departure bay?
Sete Rios is a hectic bus station that serves many thousands of passengers per day. There are over 20 bus bays within the bus station, and the actual departure bay is not identified until 10 minutes before the assigned departure time.
The signage, unhelpful, only every displays the final stop of the route, and there can be other bus services departing at the same time. Always leave yourself enough time to find the departure bay, as buses always leave promptly.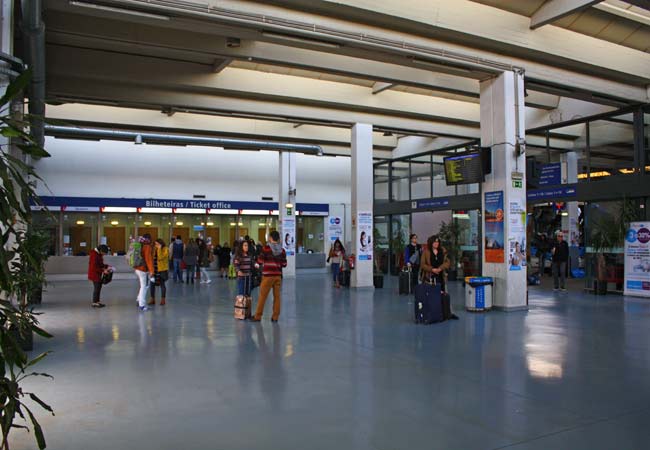 The ticket offices on a cold winter's day, it wont be this quiet in the peak summer months!
Travel to and from Sete Rios
For travel to or from the Sete Rios, it is recommended to take the metro, and the nearest metro station is Jardim Zoológico. A single metro ticket costs €1.65 and the network operates from 6:30am-1:00am. The bus station is not directly connected to Jardim Zoológico metro, and there is a short walk between them.
To reach the metro station from Sete Rios bus station
Exit via the main entrance (which is through the ticket hall) cross the minor road and head down the covered stairs (and escalator) to the right of the café. At the bottom of the stairs, enter Sete Rios train station and the metro is on the lowest level of the station.
A taxi to or from Sete Rios is a good idea late at night or if you are weary from a long bus journey. A taxi from Sete Rios to central Lisbon will cost between €10-15 (depending on traffic) and there is a €1.60 surcharge for luggage. Always insist that the meter is used, to prevent overcharging. The nearest taxi rank to the bus station is on the Rua Professor Lima Basto, (GPS: 38.74053, -9.165863), and is under the railway tracks, close to the entrance to Sete Rios train station.
If your final destination is Sintra, then catch the urban train service that departs from Sete Rios train station. There are also train services to Setubal from Sete Rios train station, and these are operated by Fertagus (https://www.fertagus.pt/)
Related articles: Lisbon taxi guide - Lisbon metro – Lisbon to Sintra guide
Rede Expressos
Rede Expressos is the main intercity bus company of Portugal, and their network of intercity buses covers all of Portugal. They operate modern, safe and clean coaches, and services are punctual, reliable and surprisingly inexpensive.
If you are planning long-distance bus travel within Portugal, their website is the best place to identify routes, calculate fares and purchase tickets. The Rede Expressos website has an English section and is found here:
https://www.rede-expressos.pt/en/
Bus tickets can be purchased up to 30 days in advance and popular routes (especially at the weekend) do sell out.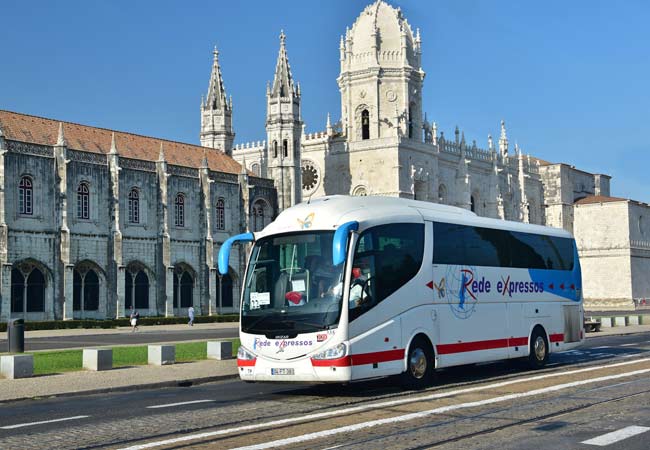 A Rede Expressos coach passing in front of the Mosteiro dos Jerónimos in Belem
Insight: There are many third-party bus booking websites, but often their tickets are for Rede Expressos (or associated companies) routes and may include additional booking fees. It makes more sense to purchase the bus tickets directly from the bus company.
Also following the same advice, the national train operator of Portugal is Comboios de Portugal (CP), and their website is www.cp.pt/.
Carris Metropolitana buses
Sete Rios is also the primary departure location for buses heading to Sesimbra. The Lisbon to Sesimbra bus service is route number 3721 and it is operated by Carris Metropolitana. There is at least one departure every hour, with many more at rush hour and the latest timetable can be seen on the Carris Metropolitana website: www.carrismetropolitana.pt/
The Carris Metropolitana buses do not depart from inside the Sete Rios bus station but from the Avenida das Forças Armadas – the street to the north of the bus station that lies below the IP7 expressway.
Additionally, this site offers Carris Metropolitana bus services to Setubal (routes 4725 and 4730). However, the 'Fertagus' train from the Entrecampos train station is a better way to travel from Lisbon to Setubal.
Note: Buses to Costa da Caparica used to depart from Sete Rios, but they now leave from Areeiro GPS: 38.74320,-9.13365.
Related articles: Sesimbra guide – Setubal guide – The Costa da Caparica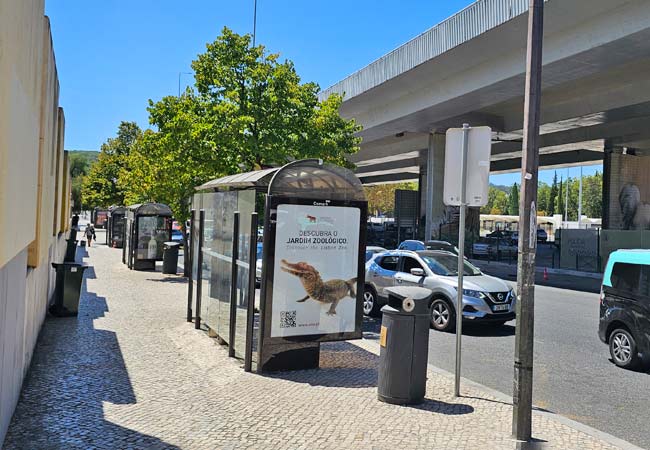 The bus stop for buses to Sesimbra is outside of the Sete Rios bus station
Rede Expressos subsidiary companies…
In recent years Rede Expressos has acquired numerous competitors, and within the same company are Eva (the main bus company of the Algarve), Citi Express (intercity services of northern Portugal) and Renex (expresses coaches from Lisbon to the Algarve).
If you are travelling by one of these companies, you will be departing (or arriving) at Sete Rios. The only exception is Renex which historically departed/terminated from Oriente bus station, but these Renex services still pass through Sete Rios. Intercity bus tickets for these three companies can be purchased on the Rede Expressos website or from the Sete Rios ticket offices.
Lost property: If you do lose something on a Rede Expressos coach, their lost property form is found here:
https://www.rede-expressos.pt/en/lostproperty
Intercity coach travel – advice
Each ticket is assigned a seat number (the seat number next to the word "Lugar"), although on quieter services it is acceptable to move seats, as their booking system fills up seats from the front.
Heavy and bulky luggage is stored in the luggage compartments beneath the coach. This is safe, but it is not advisable to leave expensive valuables here. Portuguese coaches rarely have toilets, so on longer routes there will be a bus station where the bus waits for 10 minutes. Most modern coaches have free Wi-Fi.
I have a long delay, missed my bus or just stressed…
On first impressions Sete Rios appears surrounded by immense roads and towering apartment blocks, but actually, the area has a lot to offer. On the opposite side of the A2 expressway flyover is Lisbon Zoo (the Jardim Zoológico de Lisboa), tickets are €21.50/€14.50 (adult/child) and more information can be found on their website: https://www.zoo.pt
Lisbon's finest museum, the Museu Calouste Gulbenkian, is only a 400m walk from Sete Rios bus station, and even if museums are not your thing there are relaxing gardens that are free to visit.
Discover more of Lisbon with our most popular guides