Where to stay in Lisbon? The best area and district for your holiday
Lisbon is a wonderful city, full of characterful districts, outstanding tourist attractions and vibrant nightlife. On the initial inspection of a map, Lisbon appears a large and sprawling city, but fortunately the main tourist districts are contained within a relatively compact area.
These tourist districts are where the majority of visitors will want to be based for their holiday, and this guide will detail the best areas in Lisbon for your hotel and accommodation.
The main tourist areas of Lisbon central Lisbon
The following map shows the central area of Lisbon and highlights the popular tourist areas of the city.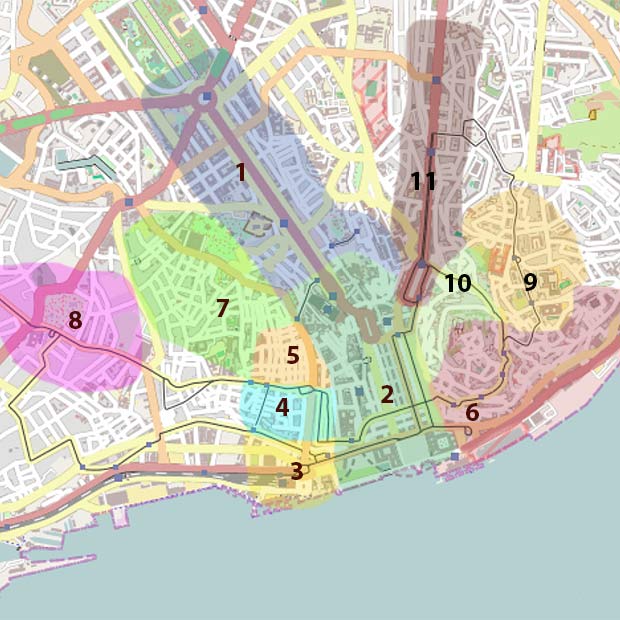 1.Avenida da Liberdade 2.Baixa 3.Cais do Sodré 4.Chiado 5.Bairro Alto 6.Alfama and Castelo 7.Principe Real and Santos 8.Estrela 9.Graça 10.Mouraria 11. Martim Moniz, Intendente and Anjos (green metro region)
The map below shows the location of hotels and rental rooms in Lisbon and by altering the date to your holiday, the map will display current prices:
Our top districts of Lisbon
The Most Popular Areas to Stay
• Baixa district (2) – The grand and historic centre of Lisbon
• The Avenida da Liberdade (1)– A smart and stylish shopping district, many high-end hotels are based here
• Chiado distrcit (4)– Central Lisbon, and bustling tourist area
• Alfama district (6) – Steep hills, narrow streets and bags of character, and lots of options for rental rooms and apartments.
For a nightlife and excitement-based holiday
• Bairro Alto (5) – Party district, don't expect much sleep
• Cais do Sodré (3) – Former red-light district and now nightlife hub where anything goes
Less touristy and more Portuguese atmosphere
• Graça (9) – Bustling local's district
• Estrela (8) – Peaceful and prosperous district
• Principe Real (7) – Smart, calm and Lisbon's most exclusive district
Alternative locations
• Belem district (GPS 38.6954, -9.2065) – Popular area as a day trip, but it is a long way from the city centre (Baixa)
• São Sebastião and Estefania (GPS: 38.73538, -9.153531) – North of central Lisbon but a good alternative location
For the business traveller
• Parque das Nações (GPS 38.7668, -9.0980) – The ultra-modern side of Lisbon, with many business-focused hotels
• Campo Pequeno (GPS 38.73931, -9.14615) – The original business district of Lisbon
It's my first visit to Lisbon, which district should I stay in?
If you're new to Lisbon, our recommendation is to be based within the Baixa district, the Chiado district or near the Avenida da Liberdade (map areas 1, 2 and 4). This area is designed for tourism, with a vast selection of restaurants, bars and shops, and is close to many of Lisbon's main tourist attractions. The area is also within walking distance of the vibrant nightlife of Bairro Alto or Cais do Sodré districts, but far enough from the late-night noise and ensuing chaos.
Alfama is one of the oldest districts of Lisbon, and has a wide selection of characterful apartments hidden within the warren of alleys and side streets which make up the district. Alfama is a popular choice to be based in, but be warned that there are many steep hills.
Note: The Baixa and Avenida da Liberdade area has significantly fewer hills than Alfama, Chiado and Bairro Alto.
Related articles: Alfama guide – Baixa guide
Last minute deals!
The following box details any last-minute accommodation deals for Lisbon and the price for late booked hotels:
Choose where you want to be based, before looking for accommodation!
Always choose the location in Lisbon you wished to be based in, before looking for accommodation. This may sound obvious, but it is all too easy to be sucked in by an amazing discount or outstanding reviews, without really considering which area you will be staying in.
From personal experience, I have selected a room for an unknown city, based upon the price and reviews, while completely neglecting where I'm actually staying in the city…… So, before you click around on a map full of prices (on popular room renting websites) or see an endless list of accommodation (on established booking websites), at least have a rough idea of the areas you do, and don't want to stay.
Tip: If you are to be based a little further out, always make sure you're close to a metro station.
Where for a more relaxed holiday to Lisbon?
The Baixa/Alfama/Bairro Alto area is in the heart of the bustling tourist centre, but you may wish a calmer location for your holiday. If this is the case, consider the districts of Estrela or Principe Real, which are prosperous and affluent neighbourhoods with classical houses, leafy streets and cafes filled with Portuguese.
As much as these areas may sound appealing, they may feel remote from the tourist buzz and will involve significantly more walking. An alternative is Graça which is characterful working-class Portuguese district.
For the business traveller
For a business trip, our suggestion is to be based around the Parque das Nações (GPS 38.7660, -9.0979). This area has numerous modern business hotels, and within the Parque das Nações are numerous restaurants and bars aimed at business travellers.
The district also provides excellent transport connections covering the whole of Lisbon; the airport is only a 10 minute metro ride away, while the historic centre 25minutes away. The main train station of Lisbon (the Estação do Oriente) is in the centre of Parque das Nações, and from here there are trains to Porto and the north or the Algarve and the south.
Partying, Stag or hen do, where to be based?
For a stag, hen or drinking trip to Lisbon you would want to be based within the Cais do Sodré district. Only a few years ago this was a seedy and tough neighbourhood, which was rejuvenated with the creation of the Pink Street. Now it is an urban trendy and socially relaxed district, and the only area of Lisbon which will tolerate stag and hen do's.
Honestly, Albufeira in the Algarve is a better location for Stag/hen dos, but is seasonal dependant (May till October).
Where to avoid in Lisbon?
Lisbon is similar to all major cities in that there are prosperous areas and deprived areas. A diverse, culturally rich and urban gritty district may appeal to one style of tourist, whereas may horrify another. When saying where to avoid it is very subjective and based on opinion.
Some of central Lisbon's tougher and less desirable districts, follow the green metro line, and include Intendente and Anjos. Mouraria is a multicultural area, and is enjoyable to visit, but again certain tourists may not prefer to have a hotel here.
Please note: A clued up, worldly traveller would be very happy in these areas, but I would never recommend Mouraria/Intendente/Anjos to my parents.
Further Afield
As general advice, do not be based further north than Campo Pequeno (GPS: 38.7419, -9.1471), or further west than the IP7 expressway (GPS: 38.73367, -9.16857). There is not much to see in the north-eastern side of Lisbon between Graca (GPS 38.7176, -9.1299) and Parque das Nações (GPS 38.7668, -9.0980), and is just nondescript residential estates.
If this is your first visit to Lisbon, avoid being based on the southern side of the Tejo Estuary (in Almada and Cacilhas), as these are just residential towns and travelling to the centre of Lisbon requires long bus or ferry rides.
A pleasant alternative to being based in Lisbon is the pretty resort town of Cascais.
Accommodation with a car
If you are planning a holiday purely based in Lisbon, with day trips to Sintra and Cascais, then there really is no need for a rental car. If you are hiring a rental car in Lisbon ensure the hotel has car parking, as it can be very difficult to find space within the historic centre.
Tip: Consider hiring a car when you intend to leave Lisbon and not for the duration you are based in the city.
Discover more of Lisbon with our guides