Lisbon for cruise ships passengers; a port and tour guide for 2023
Lisbon is arguably one of the finest cruise ship destinations in Europe.
It is a vibrant and diverse city with a rich history and fascinating tourist attractions, and it is sure to be one of the highlights of your cruise.
Lisbon extends along the northern banks of the Tejo Estuary, and this deep-water estuary allows cruise ships to moor directly in the city. The newly constructed cruise terminal lies on the edge of the historic Alfama district, and this is one of the best tourist areas of Lisbon.
Even the entrance to Lisbon is spectacular. Your cruise ship will pass beneath the Ponte 25 de Abril suspension bridge, and provides a waterside view of the pretty Belem and Baixa districts.
This article will provide a guide to Lisbon for cruise ship passengers and help you get the most from this wonderful city.
Related articles: Lisbon introduction – Top sights of Lisbon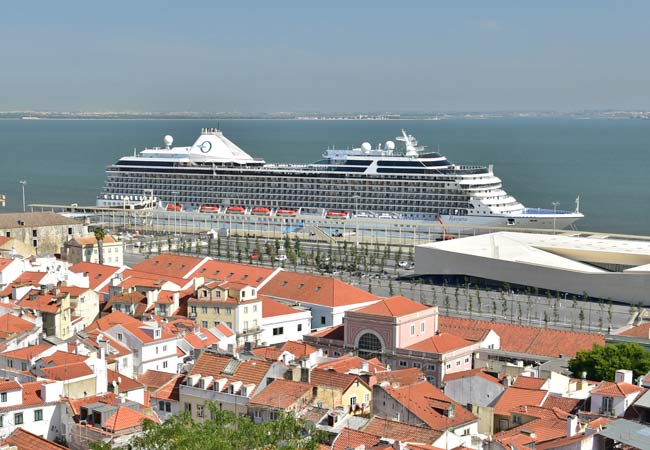 The Alfama district leading down to the cruise terminal (the modern building to the right of the image)
Lisbon and your cruise ship tour
Lisbon is a city which can be easily visited independently, and is probably the best destination during your cruise not to join a tour organised by your cruise company. Not only will this save you a significant amount of money, but it will also allow you to discover the city at your own pace without spending most of your time confined to a coach.
All cruise ships moor right in the heart of the city (see map later in this article), and many of Lisbon's main tourist attractions are within walking distance. As you are so close to the city centre, you probably won't need a taxi or any public transport for the whole time you're in Lisbon.
Personal insight: Visiting Lisbon independently (rather than on a tour provided by the cruise company) benefits the city and its people. The cruise companies make huge commissions from the tours they provide, with little money actually filtering down to the residents of the city.
If this is your first time in Lisbon, please be reassured that the city is safe and easy to explore independently. Lisbon has a low crime rate (so long as common sense is used), English is spoken by everyone who works in tourism, and it is relatively inexpensive, especially when compared to many of the other destinations on your cruise.
The top sights of Lisbon for a cruise ship visit
Lisbon is a city packed with many fascinating tourist attractions. Four of the best, which you won't want to miss during your visit, include: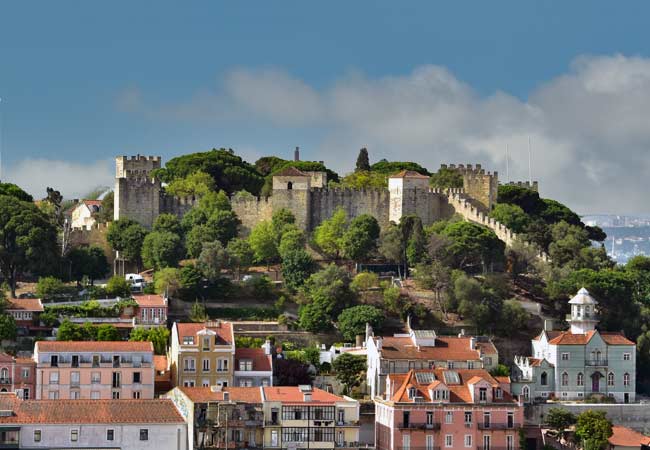 Castelo de São Jorge - The ancient castle of Lisbon that stands high above the historic centre, and provides wonderful views over central Lisbon.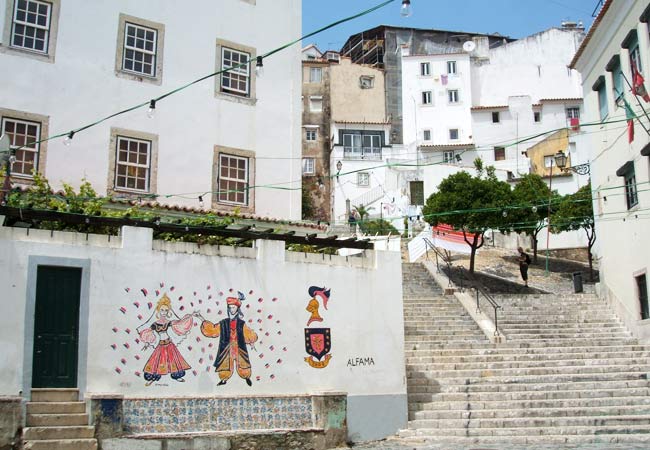 The Alfama district – The oldest and most characterful district of Lisbon, with a warren of narrow streets that climb uphill from the waterfront to the castle - Alfama guide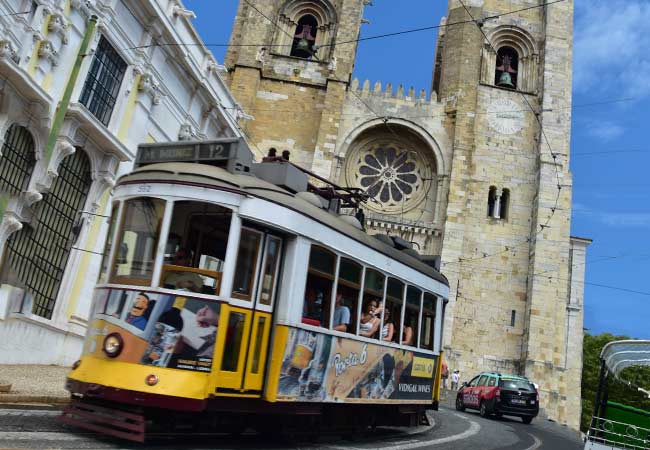 The number 28 tram – The delightful tram route that runs through the historic centre of Lisbon, with its traditional yellow trams – Number 28 tram guide.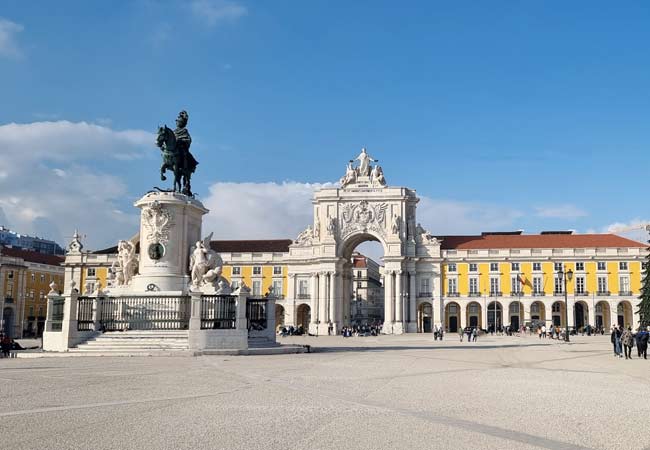 Praça do Comércio – The magnificent plaza that opens out onto the Tejo Estuary, and was historically the trading and commercial centre of Lisbon.
Other popular sights for a cruise ship day trip include the Elevador de Santa Justa, Se cathedral and Rossio plaza.
Insight: Depending on the amount of time you have in Lisbon, you may want to include the Belem district. Belem is 7km to the west of the cruise terminal, and this pretty district is the location of the Torre de Belem, the Mosteiro dos Jeronimos and the Padrão dos Descobrimentos.
A suggested tour route of Lisbon for cruise ship passengers
The following interactive map displays a suggested one day tour of central Lisbon.
The route begins from the Terminal de Cruzeiros de Lisboa (Lisbon cruise terminal), and covers 7.6km, which is around 5 hours of sightseeing. The yellow line displays a tour of Belem if you wish to include it in your day trip (Note: zoom out to see all of the points)
Key: 1) Cruise terminal 2) Alfama district 3) Praça do Comércio 4) Arco da Rua Augusta 5) Rua Augusta 6) Elevador de Santa Justa 7) Rossio 8) Praça dos Restauradores 9) Igreja de Santo António 10) Sé de Lisboa 11) Castelo de São Jorge 12) Igreja de São Vicente de Fora 13) Panteão Nacional
Belem: 14) Mosteiro dos Jerónimos 15) Padrão dos Descobrimentos 16) Torre de Belem 17) Pastéis de Belém 18) Museu Nacional dos Coches
Insight: If you have two days in Lisbon please see this guide – 48hours in Lisbon
Money-saving tip: There are many free walking tour companies operating around Lisbon. These tours often have enthusiastic and highly knowledgeable guides, as they earn their money via tips. The free tours leave from three locations - Praça do Comércio (3), Rossio plaza (7) or the Praça Luís de Camões - at a range of times between 10-11am and 1-2pm.
Accessibility: Lisbon is a hilly city, with many cobbled and narrow streets, but there is a pleasant flat route from the cruise terminal. Follow the waterfront from the cruise terminal (1) to the Praça do Comércio (3) and continue up the Rua Augusta (5) to Rossio plaza (7) and the Praça dos Restauradores (8). This area of Lisbon is flat and is mostly traffic-free, ideal if you have limited mobility.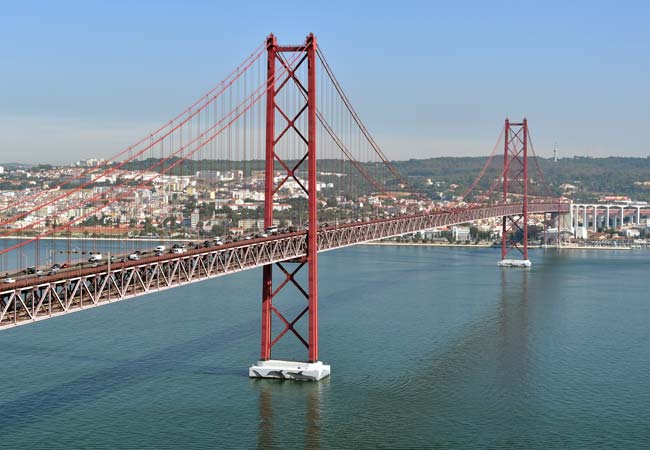 The Ponte 25 de Abril suspension bridge
How about a small group tour?
One of the best ways to discover Lisbon and meet fellow travellers is to join a guided tour. We have worked with Getyourguide.com for the last six years, and some of their best tours of Lisbon include:
Lisbon cruise terminal
Lisbon cruise terminal is situated within the city, and is only a short walk (less than 100m) to the Alfama district.
The Terminal de Cruzeiros de Lisboa is a modern facility designed to handle multiple cruise ships per day, situated to the south-eastern side of Lisbon (GPS: 38.7100, -9.1262). Opposite the terminal is the Alfama district, with its many restaurants, cafes and small shops. For larger shops and supermarkets (such as Pingo Doce), head to the Baixa district.
If you are joining a cruise at Lisbon, it is very easy to travel from the airport to the cruise terminal by public transport. Take the red metro line from the airport, change to the blue line at São Sebastião and exit the metro at Santa Apolónia metro station.
The Terminal de Cruzeiros de Lisboa was opened in 2019 and now handles most cruise ships. Outdated guides may refer to the old terminal in Alcantara, but this is incorrect.
Note: It is possible that some cruises may still dock at the old terminal in Alcantara when all berths in the modern facility are taken. Your cruise ship will inform you.
Insight: For information on which cruise ships are moored at Lisbon's harbours, please see the Administração do Porto de Lisboa (APL) website: https://www.portodelisboa.pt/en/navios-em-porto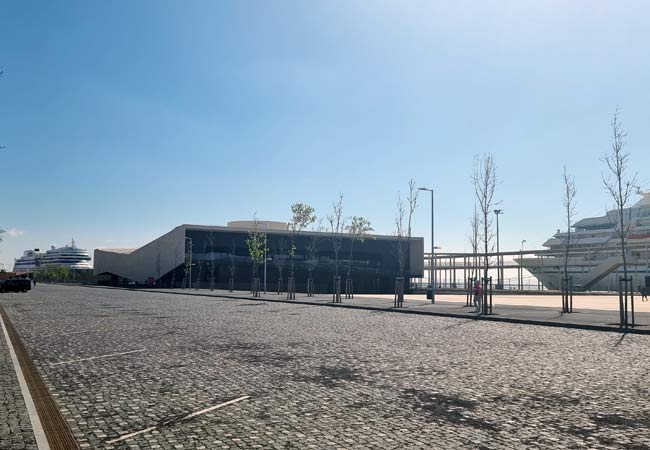 The modern cruise terminal building
Should I include Belem in my trip to Lisbon?
Belem is one of the prettiest districts of Lisbon. It sits along the banks of the Tejo Estuary and contains some of the most iconic monuments of Lisbon, including the Torre de Belem.
The Belem district is 7km from the cruise terminal and can be reached by taking the E15 tram (that departs from the Praça do Comércio) or taxi (7€). It is too much to include both a tour of the centre of Lisbon (the Baixa and Alfama districts shown in the previous map) and Belem in a single day of sightseeing.
You may prefer to visit Belem instead of Baixa and Alfama, but we would recommend exploring the centre of Lisbon if this is your first visit.
Related articles: Guide to Belem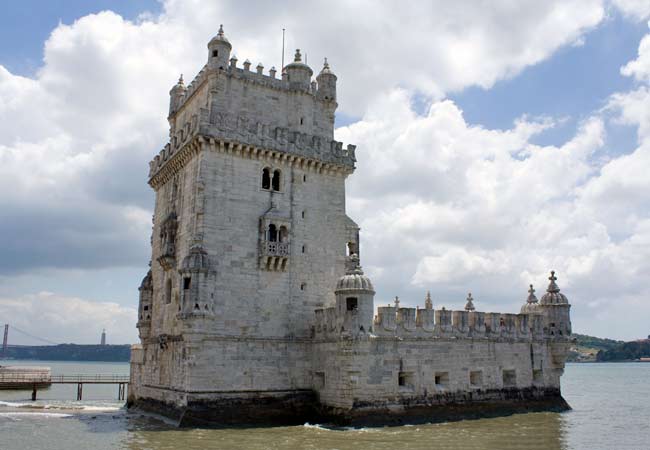 The delightful Torre de Belem once guarded the Tejo Estuary against sea-bound attack
What about Sintra?
Any tourist literature of Lisbon will include images of the stunning Palácio Nacional da Pena, which is located in the town of Sintra.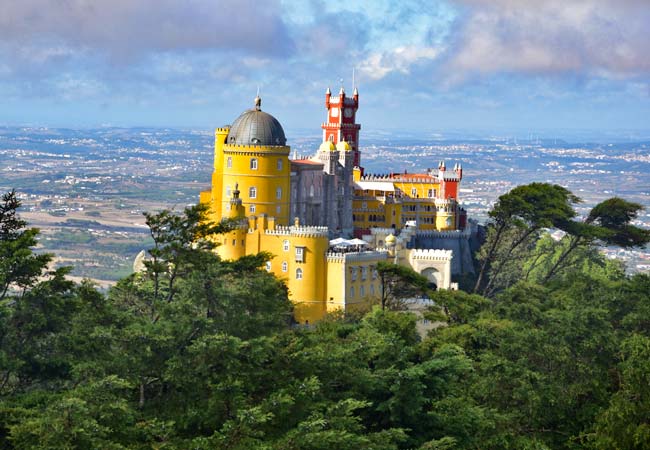 The beautiful Palácio Nacional da Pena
Sintra can be visited as a day trip from Lisbon, but if this is your first trip to the city, it is recommended to just stay within the historic centre of Lisbon.
If you do wish to visit Sintra independently, you can catch a direct train from Rossio train station, which takes 40 minutes.
A recommend day trip to Sintra would include the historic town centre, as well as either the Quinta da Regaleira or the Palácio Nacional de Sintra. For the second part of the day, catch the number 434 tourist bus up into the hills to see the Palácio Nacional da Pena. If you have time, you may also want to include the Castelo dos Mouros. The whole day trip will take around six hours.
Related articles: Guide to Sintra
Warning: Sintra gets extremely busy with tourists during the summer months - there will be long queues for everything, and the main sights will be crowded.
Insight: Tour guides will generally try to push tours of Sintra and Cascais, instead of Lisbon, as these tours cost more and make them more money. If it is your first time in Lisbon, it is advisable just to just stick with Lisbon.
Tips for getting the most from your time in Lisbon
Lisbon is an amazing city, but you must use the same common sense as you would back at home. There are opportunistic pickpockets who will target careless tourists, especially on the packed trams.
Most payments can be made with a bank card, but it is useful to have some cash with you. In addition, nowhere will accept a 50€ note. If you are travelling with a more specialist card (such as American Express), confirm a restaurant, bar, or café will accept it before ordering.
Taxis, by law, must use their meters - a fixed price journey will always be more expensive. There are also ride-hailing apps (such as Uber and Bolt), but the prices for travelling around the city centre are similar to taxis. A gimmicky mode of transport, such as a rickshaw, tuk-tuk or tourist buggy, will always cost a lot more than a taxi.
Food in Lisbon can be surprisingly cheap. A chaotic and bustling Tasca (a traditional Portuguese restaurant) will often serve better food than an expensive restaurant, and there are many Tascas within the Alfama district. A tourist-focused restaurant, with a waiter standing at the front, will generally cost 20% more for food and 40% for drinks. The Portuguese do not have a tipping culture, but if the service is good, add 10% to the bill.
The 24-hour public transport ticket provides exceptional value for money, and includes the Elevador da Glória, the Elevador de Santa Justa, and the number 28 tram. This ticket is purchased from any metro station and costs 6.60€.
Discover more of Lisbon with our most popular guides