Home Page > When to visit? > Where to stay? > 24 hours > 3 Days > 1 Week > Day trips > Beaches > Museums
Lisbon Portugal Guide - Fully Updated for 2018!
Lisbon is the stunning capital city of Portugal, and is one of the most charismatic and vibrant cities of Europe. It is a city that effortlessly blends traditional heritage, with striking modernism and progressive thinking.
As a holiday destination, Lisbon offers a rich and varied history, a buzzing nightlife and is blessed with a glorious year-round climate. This guide will provide an introduction to Lisbon, by answering some of the common holiday questions and providing links to further in-depth information.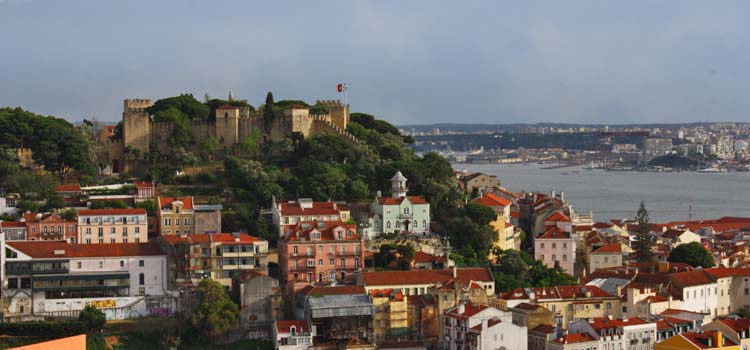 Lisbon castle, high above the river Tejo
Not what you are searching for? How about these related articles:
3 days in Lisbon - Sights & activities - 1 week in Lisbon - Lisbon day trips - Lisbon for families - Lisbon as a city break - Weather and when to go - Lisbon for budget holiday
So why visit Lisbon and Portugal?
Lisbon is a bustling and exciting city, that boasts a wide choice activities and fascinating tourist attractions. The city has a welcoming and liberal atmosphere, while still embracing its deep-rooted heritage and extensive history. Lisbon will appeal to diverse selection of ages and tourists; it can form a cultural trip, a nightlife fiesta, a family holiday, a relaxed city-break or even act as a base for a beach holiday.
The Portuguese capital is constantly recognised as one of the greatest cities in the world, a claim confirmed by the "Lonely Planet Guides", who named Lisbon one of the world's top 10 cities.
Surprisingly, Lisbon is still one of Europe's least visited capitals
, but this is rapidly changing as new visitors discover the allure of Portugal. To read more about the most popular sights and activities of Lisbon please see this guide. .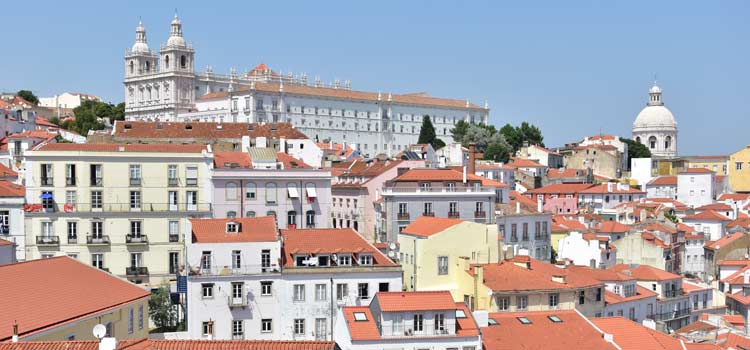 The ancient and hilly Alfama district
How long to spend in Lisbon?
Lisbon is the ideal destination for a long weekend away, as the city takes around three days to discover. A holiday to Lisbon could be extended to seven or ten days to include all of the enjoyable day trips in the surrounding region (all of which can be visited using public transport).
Close to Lisbon is a coastline of beautiful sandy beaches and a holiday to Lisbon could also include a few days relaxing on these glorious beaches. Suggested itineraries for Lisbon could include:
The magnificent Se Cathedral
When is it best to visit Lisbon?
Lisbon has long hot summers, pleasant spring/autumn seasons and mild, but unpredictable winters. It is recommended to visit Lisbon in the spring (March - May) when the days are bright and sunny, but the temperatures are slightly cooler.
The winter months (November - February) are a mixture of cloudy and sunny days, but the winter season does offer exceptional value for money. Lisbon remains active throughout the year and all tourist attractions are open year round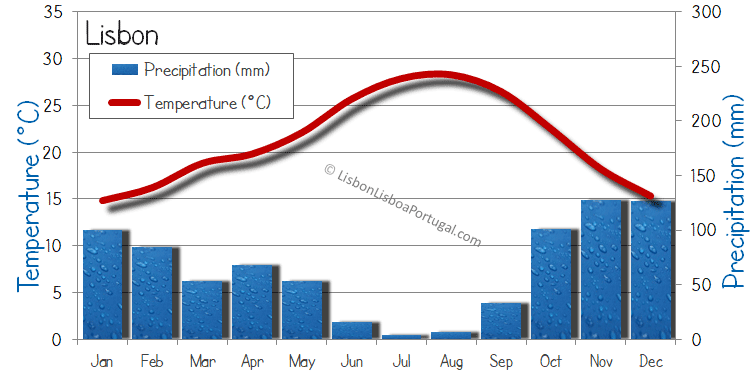 The average weather of Lisbon Portugal
Where to Stay in Lisbon?
If this is your first visit to Lisbon it is recommended to be based close to the historic centre, this includes the districts of Baixa, Chiado, Bairro Alto, Alfama and the Avenida da Liberdade.
These areas are popular with tourists and are within walking distance of the main sights and attractions. Bairro Alto and Cais do Sodre are the nightlife districts, and are ideal if you wish to party or are part of a stag/hen do.
Alfama is an ancient and characterful district, but the constant climbing of the steep hills is draining and not suited if you are less mobile. Martim Moniz and the Avenida Almirante Reis is not somewhere we would recommend to our parents, but could be a feasible option if you're backpacking.

If you are a business traveller, consider the Parque das Nações district, as there are many modern 4-5 star hotels, excellent facility for business travellers and it is close to the airport. For a full guide on where to stay in Lisbon please click here.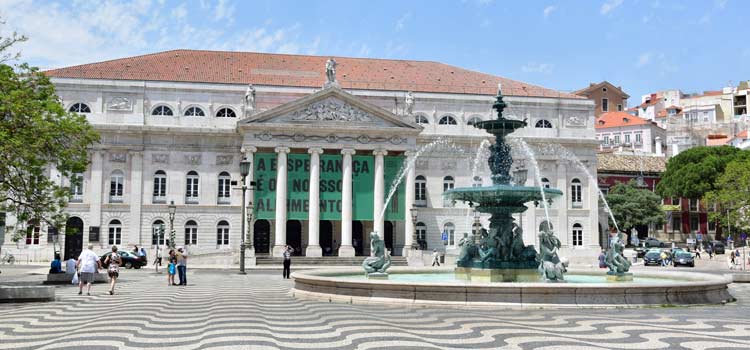 Rossio square in the Baixa district
Lisbon for 2018
After many years of being overlooked, Lisbon has been finally discovered by mass tourism; with journalist, influencers and bloggers endlessly singing its praises. Now there is a flurry of excitement about Lisbon, and the city is expecting a sell-out 2018 summer season. If you are planning to visit during these peak months (May-Sep) it is strongly recommended to book accommodation and flights well in advance. Last minute deals are now very rare, as the demand for accommodation outstrips availability. For a selection of the best hotels in Lisbon please click here.
Is Lisbon suitable for children and families?
Lisbon is good choice for a family city break or holiday. Within Lisbon there is a wide selection of children friendly tourist attractions, including the outstanding Oceanarium, the colourful trams, and Lisbon Zoo. The Portuguese have a family focused culture and young children are welcome everywhere, and this includes most restaurants. For a guide to Lisbon for children please click here.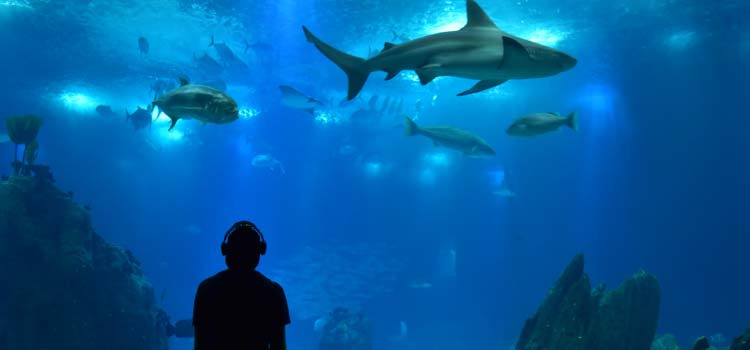 The Lisbon Oceanarium is great for children
Is Lisbon and Portugal an expensive destination?
Lisbon offers exceptional value for money for food, drink and travel. Hotels are generally cheaper than most other European cities, but the inflated peak season prices mask the overall lower costs. All entrance fees are sensibly priced and all of the major low cost airlines fly directly to Lisbon Airport.
Overall, Lisbon provides a good value holiday destination but accommodation and flights should always be booked well in-advance. For a guide of visiting Lisbon on a budget please click here or to read the average costs for a Lisbon holiday click here.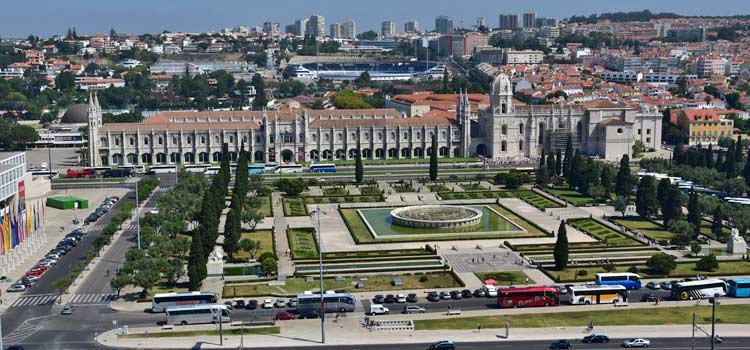 The pretty Belem district
Are there beaches close to Lisbon?
Lisbon is close to a stunning coast lined with beautiful sandy beaches, and are only a short bus or train ride away. There are two easily accessible coastal regions from Lisbon; the Cascais-Estoril region (to the west of Lisbon) and Costa Caprica (to the south of Lisbon). For a full guide to the beaches of Lisbon please click here.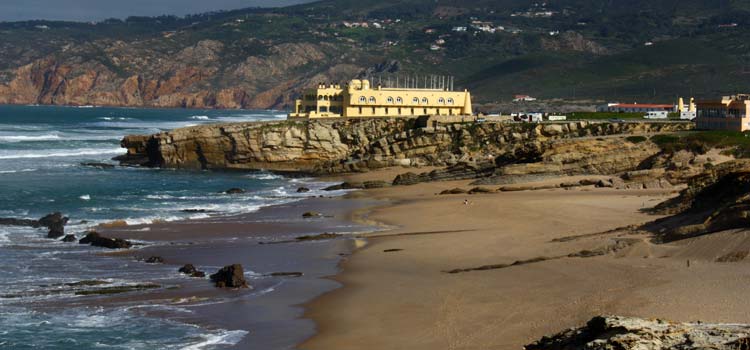 The beautiful beaches near Lisbon
What are the popular day trips from Lisbon?
There are many enjoyable day trips from Lisbon, the most popular being the charming hill-top town of Sintra and the royal fishing town of Cascais. Slightly further day trips include the pretty beach town of Sesimbra, the colossal palace of Mafra, the picturesque walled town of Obidos, and the port city of Setubal. Due to the excellent public transport network around Lisbon it is even possible to visit the Alentejo Region and Evora as a day trip. For a guide to the day trips from Lisbon please click here.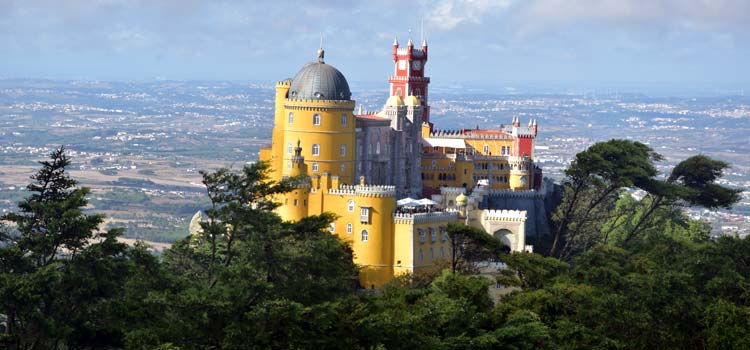 The stunning Pena Palace in Sintra Portugal
Where to fly into?
Lisbon Airport is the main international airport of Portugal and provides direct connections to all major European cities. Flying into Lisbon are the established national airlines and the, low-cost alternatives. The airport itself is conveniently located within the city limits, and onward travel is extremely easy by taking either the metro or Aerobus bus service.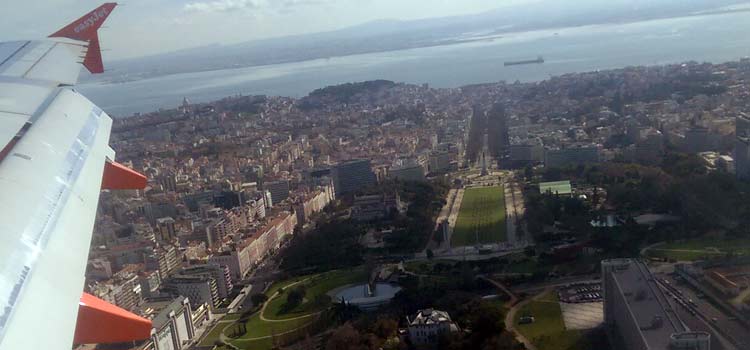 A Lisbon Easyjet flight on the approach to the airport
The airport has undergone a major expansion with the construction of a new terminal building, and this handles all of the departures (not arrivals) for the low-cost airlines.
Terminal 2 is very basic, with lots of standing around in long queues, and is only connected to the main terminal building by a limited bus service. For a guide to Lisbon airport and onward transfers or terminal 2 please click on the previous underlined links.
Will Language be an issue?
English is widely spoken by all of those who work within the tourist industry, and tourists who only speak English will not encounter any language barriers during the duration of their holiday. All transport hubs have English as their second language and this includes railway, the metro and the airport.
While dining out, most restaurants and cafes will be able to provide an English menus. The Portuguese rarely expect foreign visitors to speak any Portuguese, but are always cheerfully surprised if a few words can be spoken!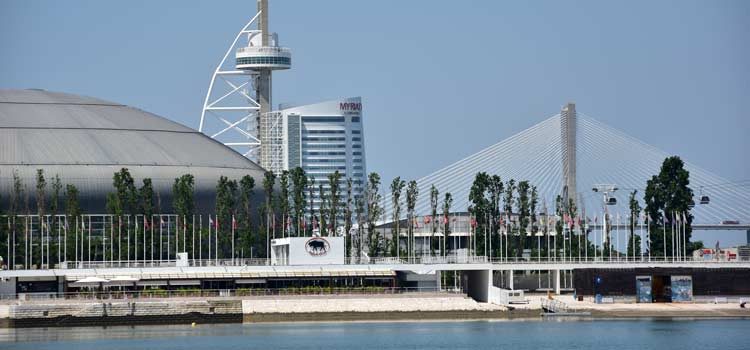 The ulta-modern Parque das Nações
Should I rent a car while in Lisbon?
Lisbon has an excellent and inexpensive public transport network and a rental car is not needed for a holiday in this region. Driving in Lisbon can be stressful demanding due to the erratic driving of the Portuguese, the poor traffic markings and the heavy traffic. Parking is also very limited and expensive.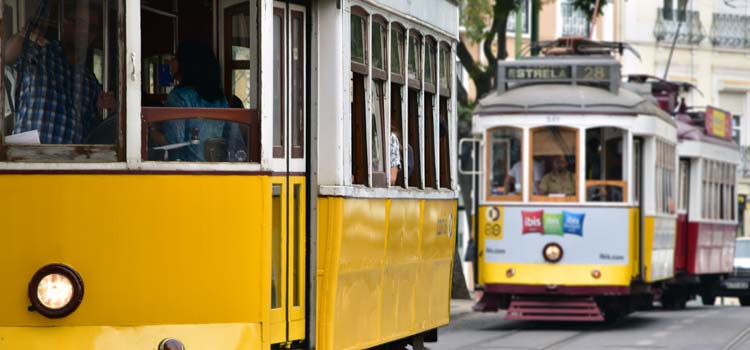 Lisbon has a great tram network
Car rental is not needed to visit the popular day trips (Sintra, Cascais or Mafra) as there is an excellent and inexpensive public transport network. However, a rental car can be useful when exploring further from Lisbon and into regions with limited public transport, such as Setubal, Sesimbra or Evora.