Lisbon, Portugal; an independent tourism guide for 2023
Lisbon is the stunning capital city of Portugal, and is one of the most charismatic and vibrant cities in Europe.
It is a city that effortlessly blends traditional heritage, with striking modernism and progressive thinking.
As a holiday destination, Lisbon offers a rich and varied history, buzzing nightlife and is blessed with a glorious year-round climate.
This article will show why you must visit Lisbon, and offers tips on how to get the most from your holiday here.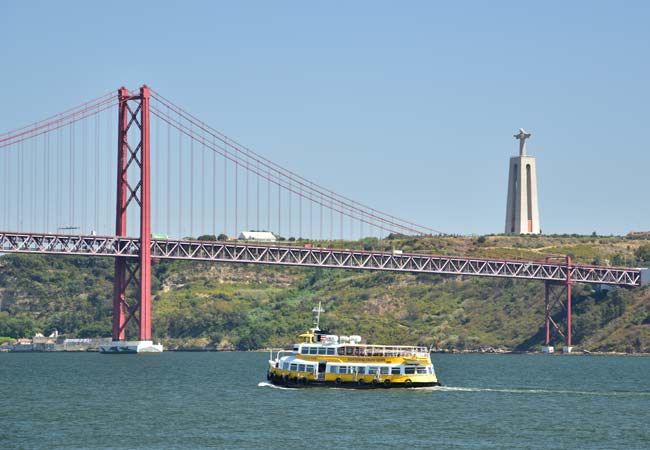 The Ponte 25 de Abril suspension bridge spanning the Tejo Estuary
Why visit Lisbon?
Lisbon is a bustling and exciting city that boasts a wide selection of activities and fascinating tourist attractions. It has a welcoming and liberal atmosphere, while still embracing its deep-rooted heritage and extensive history.
Lisbon will appeal to a diverse selection of ages and tourists; it can form a cultural trip, a nightlife extravaganza, a family holiday, a relaxed city-break or even as a base for a beach holiday.
The Portuguese capital is constantly recognised as one of the greatest cities in the world, a claim confirmed by the "Lonely Planet Guides", who named Lisbon one of the world's top 10 cities.
Surprisingly, Lisbon is still one of Europe's least visited capitals, however this is rapidly changing as new visitors discover the allure of Portugal.
Related articles: The top 10 sights and activities in Lisbon - The secret sights of Lisbon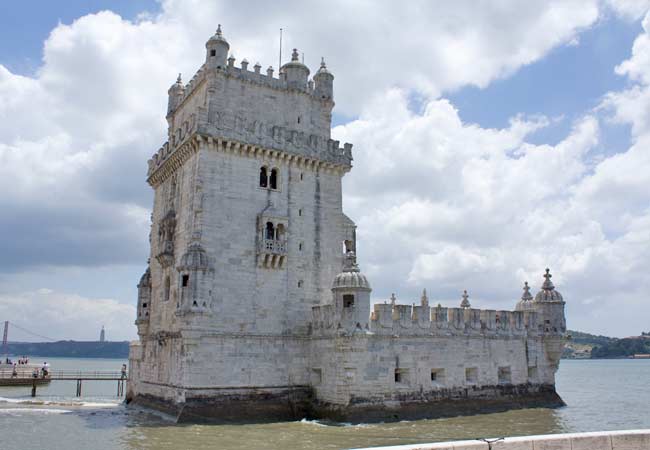 The delightful Torre de Belém once guarded the entrance to the Tejo Estuary
How long to spend in Lisbon?
Lisbon takes three days to explore fully, making it a fantastic choice for a weekend city break.
Your holiday to Lisbon could be extended to seven or ten days to include all of the enjoyable day trips in the surrounding region. These day trips could include visits to Sintra, Cascais, Obidos and Setubal, all of which can be easily reached using public transport.
Close to Lisbon is a coastline of beautiful beaches, and your trip to Lisbon could also include a few days relaxing on these glorious stretches of sand.
A suggested itinerary for your holiday to Lisbon could include:
A city-break of three days in Lisbon
Day 1 – The districts of Alfama, Baixa, Cais do Sodre and Chiado
Day 2 – The districts of Belem and Alcântara, with a night out in Bairro Alto
Day 3 – The Parque das Nações, and the Estrela and Príncipe Real districts
A week long holiday to Lisbon
Day 4 – Day trip to Sintra
Day 5 – Day trip to Cascais
Day 6 – Day trip to Setubal or Sesimbra
Day 7 – Day trip to Obidos or Mafra & Ericeira
Read our suggested itineraries: 24 hours in Lisbon - 48 hours - 3 days – 1 week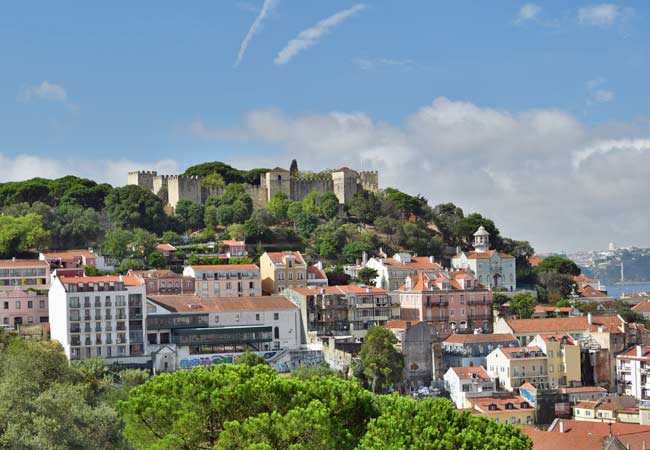 Lisbon extends over seven steep hills; expect a lot of uphill walking!
When to visit Lisbon?
Lisbon has hot dry summers, pleasant springs and autumns, and mild but possibly wet winters.
The best time of year to visit Lisbon is in late spring (May to June), when the days are bright and sunny but the temperatures are not unbearably hot.
The peak season is between June and August, so if you visit at this time of year, you should expect the city to feel very crowded. The weather is suitable for spending time on the beach from May until the end of September.
While there can be a significant amount of rain during the winter months (November to February), the city offers many activities for those wet days.
As Lisbon attracts visitors year-round, tourist attractions generally remain open for the whole year.
Related articles: When to visit Lisbon? - Activities for a wet day
Where to Stay in Lisbon?
For your first visit to Lisbon, it is recommended that you choose a base close to the historic centre; this covers the districts of Baixa, Alfama, Chiado, Bairro Alto and the Avenida da Liberdade. These areas are popular with tourists and within easy walking distance of the main sights and attractions.
The Bairro Alto and Cais do Sodre districts are the nightlife areas of Lisbon, and are an ideal choice for a party focused trip.
Alfama is an ancient and characterful district, but the narrow, steep streets can be very draining in the summer heat. The Mouraria district and the Avenida Almirante Reis provide cheaper options for backpackers and budget travellers, but this area is not a place we would recommend our parents to stay.
If you are travelling for business, consider a base in the Parque das Nações district, which contains many modern hotels and is close to the airport.
Related articles: Where to stay in Lisbon? – Baixa district – Alfama district – Belem district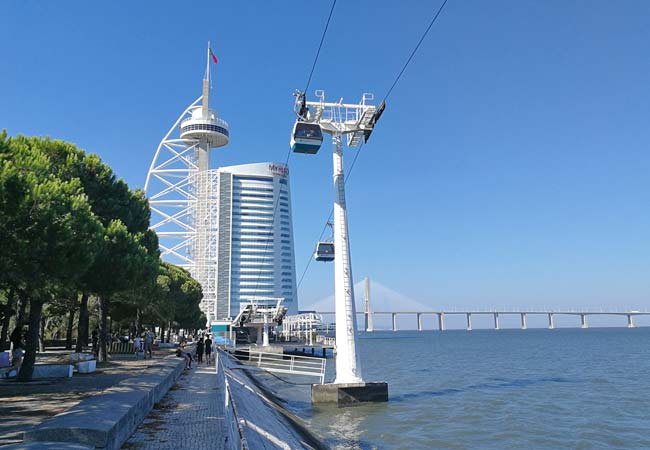 The Parque das Naçoes is the ultra-modern side of historic Lisbon
Lisbon for 2023
Lisbon is expecting a sell-out tourist season for 2023, as visitors seek safe destinations within Europe.
Because of this expected popularity, it is advisable to purchase flights and accommodation as soon as possible, before prices increase and sell out.
Being a popular weekend city break destination, Friday evening and Sunday/Monday flights tend to sell out first.
Rossio plaza is the heart of Lisbon
Are there beaches close to Lisbon?
Lisbon is close to a stunning coastline boasting beautiful sandy beaches and dramatic natural scenery. Many of the region's finest beaches are only a short bus or train ride away from central Lisbon.
There are two sandy coastlines easily accessible from Lisbon; the Cascais-Estoril coastline (to the west of Lisbon) and Costa da Caparica (to the south of Lisbon).
Slightly further (and needing a rental car to visit) are the wild beaches of the Serra de Sintra coastline and the paradise beaches of the Serra da Arrabida.
Our Opinion: The beaches of the Lisbon region are just as beautiful as the Algarve, so there is no need to travel hundreds of miles to find the best stretches of coast.
Related articles: Lisbon beach guide - Costa da Caparica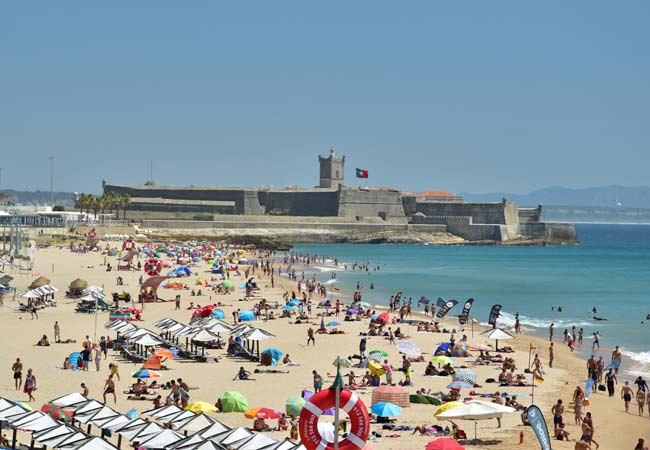 The vast Praia de Carcavelos beach, only a short train ride from central Lisbon
Is Lisbon suitable for children and families?
Lisbon is a good choice of destination if you want to take your family on a city break. There are many child-friendly tourist attractions, such as the Oceanarium, tram rides, Lisbon Zoo, or the Pavilhão do Conhecimento (interactive science museum).
The Portuguese have a family-focused culture, and children will be welcomed in all restaurants, hotels and shops. Lisbon is a relatively safe city, but the main consideration with regards to children is the very hot temperature in summer.
Related articles: Lisbon for Families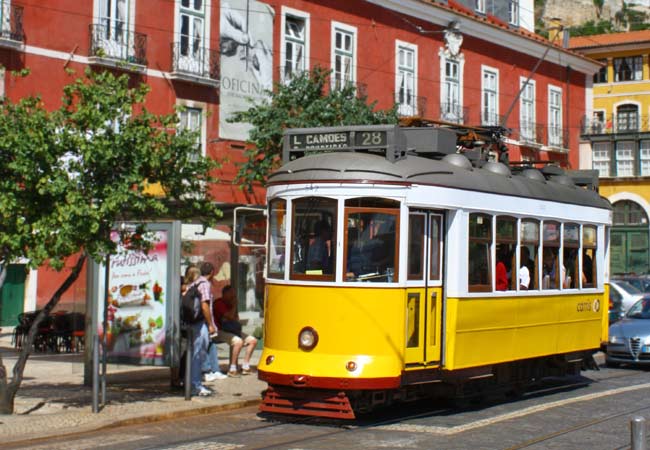 A ride on the number 28 tram will be a highlight of a trip to Lisbon
What are the best day trips from Lisbon?
There are many enjoyable day trips from Lisbon, and these can greatly extend a stay within the city. The most popular day trips are to Sintra and Cascais.
Sintra sits in the cooling hills of the Serra de Sintra and is the setting for many marvellous palaces and villas, including the Pena Palace and the Moorish castle. Cascais is a charming resort town, which has a delightful historic centre and is surrounded by beautiful beaches.
Other excellent day trips include the pretty beach town of Sesimbra, the magnificent palace of Mafra, the picturesque walled town of Obidos and the port city of Setubal. All of these destinations can be easily reached using public transport.
Related articles: Day trips from Lisbon – Sintra Guide – Cascais Guide – Sesimbra Guide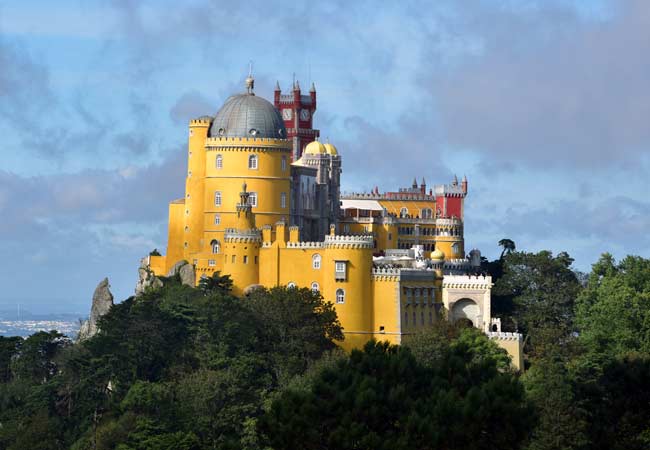 The magnificent Pena Palace in the Sintra hills
Is Lisbon an expensive destination?
Lisbon is one of Europe's least expensive capital cities, offering exceptional value for food, drink and public transport. Entrance fees to the historical monuments are sensibly priced, but gimmicky tourist activities (Tuk-tuks, bus tours) can be expensive.
There are many great value places to eat and drink, most notably the Tascas. These cheap, no-frills, family-run restaurants typically serve a 'meal of the day' for less than €7 and can be found along almost every street in Lisbon (and Portugal)!
Overall, Lisbon provides excellent value for money. However, accommodation and flights should always be booked well in advance to secure the lowest prices.
Related articles: Cost of a holiday to Lisbon - Traditional meals to try while in Lisbon
Where to fly into, for Lisbon?
Lisbon Airport is the main international airport of Portugal, providing direct connections to all major European cities and many larger cities across the world. The airport itself is conveniently located within the city limits and the onward travel is extremely easy, using the metro.
The airport has two terminals, with Terminal 1 handling international arrivals and most departures. While the building itself is quite dated, it has all the expected facilities of a major international airport. Terminal 2 handles departures only for the low-cost airlines and is very basic.
Insight: Portugal is a relatively small country with an excellent express train network connecting Porto, Lisbon and the Algarve. It is fairly easy to fly into one of Portugal's three airports (Lisbon, Porto and Faro) and travel by train to a different region of the country.
Related articles: Lisbon airport to the city centre - Lisbon airport guide - Terminal 2 guide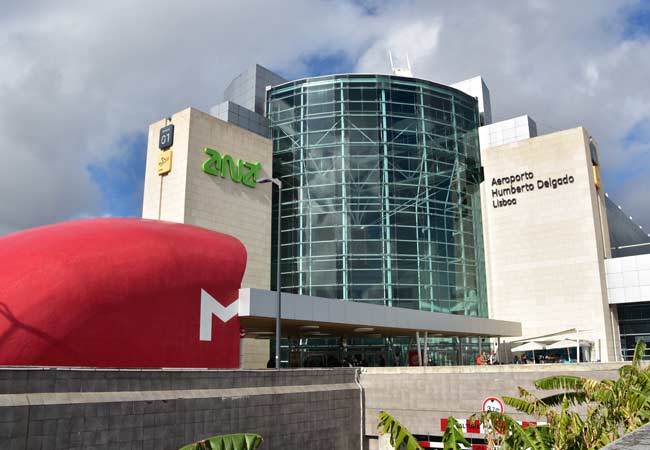 Terminal 1 at Lisbon airport and the entrance to the metro, which is the best way to travel to the city centre
Is Lisbon Safe?
Compared to many other major cities, Lisbon is relatively safe.
Tourists may occasionally encounter pick-pockets or opportunistic thieves, but if you use the same common sense that you would use back at home then you should have no issues.
Related articles: Is Lisbon safe?
Will Language be an issue?
English is much more widely spoken in Portugal than in Spain, France or Italy. Everyone who works within tourism speaks English fluently, while all transport hubs (metro, railways and airports) have English as their second language.
All restaurants have English menus, and most historical sights and attractions have descriptions in both Portuguese and English.
While it is not expected for foreign visitors to speak Portuguese, the Portuguese appreciate it if you make an effort to speak a few words in their language. Overall, it is unlikely that you will encounter any difficulties communicating in English during your holiday in Lisbon.
Should I rent a car while in Lisbon?
A car is not necessary for your stay in Lisbon due to the availability of the excellent public transportation and inexpensive taxis, Uber or Bolts. Often a car would be more of an inconvenience due to the lack of parking, heavily congested roads and erratic driving of the Portuguese.
You do not need a car for the popular day trips such as Sintra, Cascais, or Obidos, as there is good public transport to these from Lisbon. A car could be a useful option if you plan on exploring areas outside of the city, such as the Serra da Arrábida, the Serra de Sintra or the Alentejo region.
Related articles: The best driving routes of the Lisbon region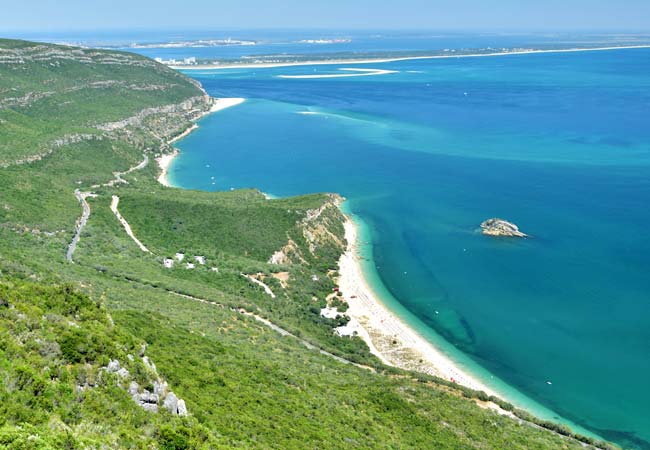 A car is needed to visit the Serra da Arrábida coastline
Discover more of Lisbon with our most popular guides