Terminal 2, Lisbon Airport – updated for 2022
Terminal 2 at Lisbon airport handles the departures of the low-cost airlines, and typifies everything that is bad with low-cost travel.
The entire terminal was constructed for efficiency, with passenger comfort an afterthought; there are basic facilities, endless standing in queues and is extremely busy during peak hours or if there are delays.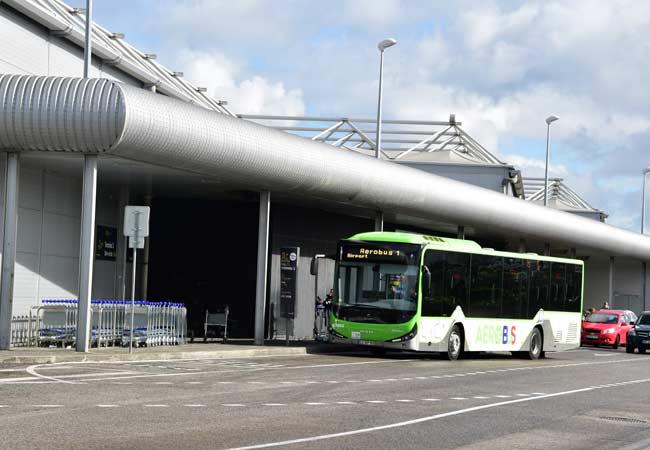 The Aerobus outside the terminal 2 building
To add to the general confusion and second-class status of the terminal, there is only a lowly bus service from the main terminal to terminal 2, with no direct connection to the metro. On the positives, the terminal is modern, very easy to navigate around (as it is just two large halls) and the staff are comparatively friendly and helpful.
This guide will provide an overview of Terminal 2, including details of how to get there, terminal facilities and other useful travel tips.
Terminal 2; an overview
Terminal 2 was constructed in 2007 to handle domestic Portuguese flights, but since 2015 it has become the departure terminal for the low-cost airlines.
Most passenger grumbles about Terminal 2 stem from this change of role. It was designed for low volumes of passengers to pass through quickly on domestic flights, not for many hundreds of weary travellers caught up in the budget airlines notorious delays.
The terminal is small and lacks the range of facilities offered by other larger airports, but it is easy to navigate, and the streamlined services provide a quick turnaround of flights.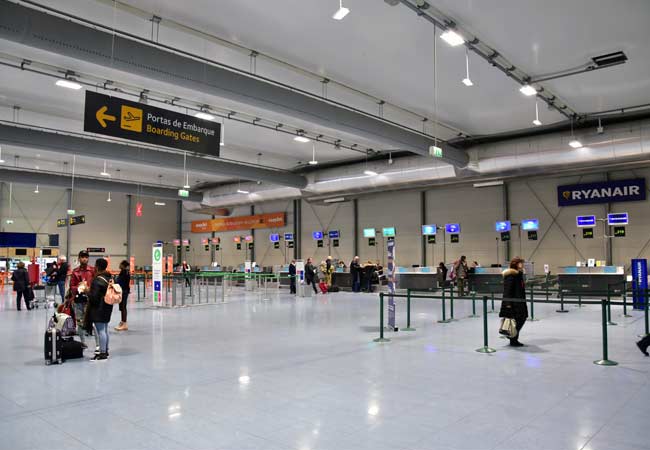 The check-in hall
Which airlines depart from Terminal 2?
All of the low-cost airlines fly out of Terminal 2, and this includes; Ryan Air, EasyJet, Norwegian and Wizz Air. The charter holiday companies (such as Tui) often use this terminal also.
Advice: Always confirm your departure terminal before heading to the airport, and this will be outlined on the ticket or boarding document.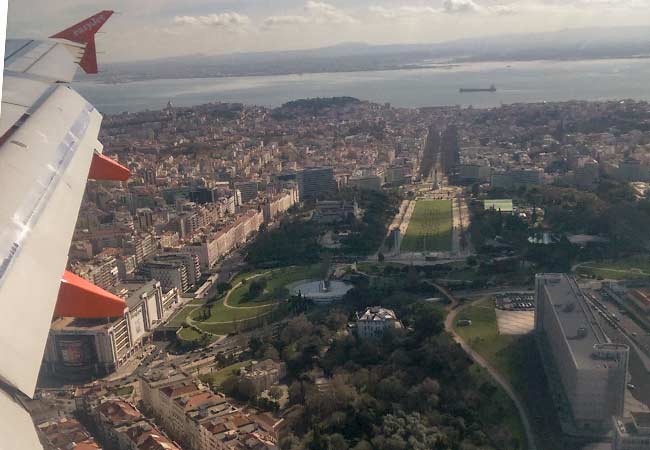 An EasyJet flight on the approach to Lisbon airport – this view is looking south along the Parque Eduardo
Hang on, I landed at terminal 1…
All incoming flights to Lisbon land at Terminal 1 - Terminal 2 is for departures only.
On landing at Lisbon, the low-cost airlines park the planes in front of Terminal 2 and then you are taken by bus to Terminal 1 for immigration and to collect luggage. This is why there is such a long bus journey from the plane to the terminal building when you land at Lisbon.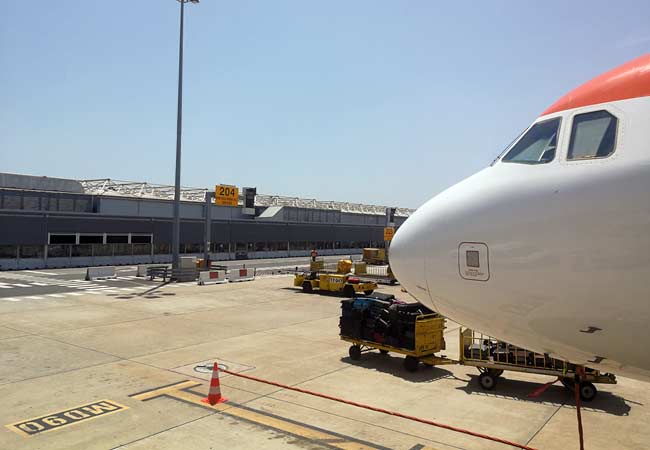 A plane parked in front of terminal 2
When you depart Lisbon via terminal 2, it is just a short walk from the terminal building to the waiting aircraft, and usually there is no need for a bus transfer.
The small terminal, short distance to the plane and having the passengers endlessly standing in queues, means that for the airlines the boarding process is quick and efficient.
How to travel from Terminal 1 to Terminal 2?
Terminal 1 is the main hub of Lisbon airport and is connected to the metro, which is the recommended means of travel to and from the airport. Terminal 2 has no connection to the metro and is 1km to the west of Terminal 1. The route between the terminals follows the exterior perimeter fence and is totally unsuitable to walk.
There is a free shuttle bus connecting the terminals, which departs from Terminal 1 departures hall (GPS: 38.76889, -9.12945) and stops outside Terminal 2 (GPS 38.76358, -9.13759).
The shuttle bus departs every 10-20 minutes during daylight hours. It tends to wait until it is completely full before leaving, and this can mean that there is standing room only.
Advice: When planning your journey to Terminal 2, always allow enough time for this additional stage of your journey. If you are taking a taxi or Uber, ask to be dropped at Terminal 2, to avoid this stage.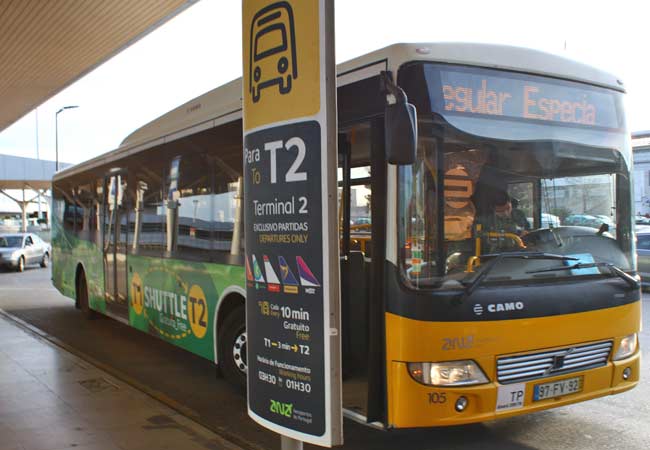 The bus to terminal 2 outside the main terminal building
If you are travelling by metro, it is just a short walk from the metro station to the bus stop. From the metro station, enter Terminal 1 arrivals building, turn left and walk up the stairs/escalator, which leads into the departures hall. From here, simply exit the hall via the main doors and the bus stop is clearly signed on the right.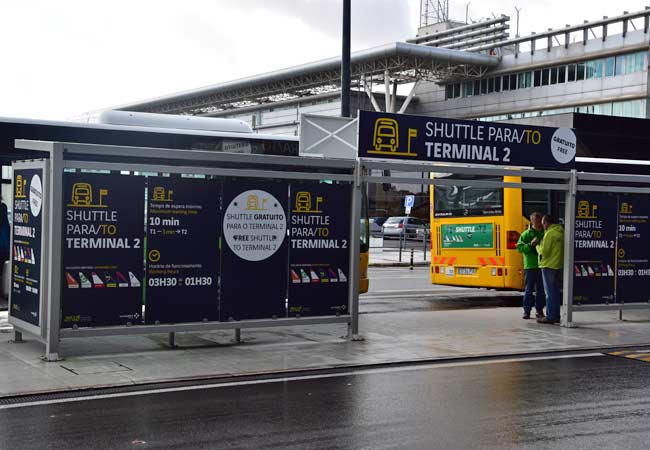 The bus to terminal 2 leaves from outside the departures hall
Onward flights and connection to Terminal 2
There are no internal transfers between Terminal 1 and Terminal 2; if you have a connecting flight that departs from Terminal 2 you must exit Terminal 1 and make your own way to Terminal 2.
Warning: This even applies if you are traveling with the same airline.
The convoluted process to catch a second flight from Terminal 2 involves; passing through immigration, collecting your luggage, catching the bus to T2, checking-in for the second flight, passing security and immigration. This is a surprisingly long process. If you have a connecting flight that departs from terminal 2, always allow for a minimum of 3 hours.
Warning: If you miss your flight the low-cost airlines will make you purchase another ticket (they will not just transfer you onto the next one), even if there was a delay with their incoming flight or delays at the airport.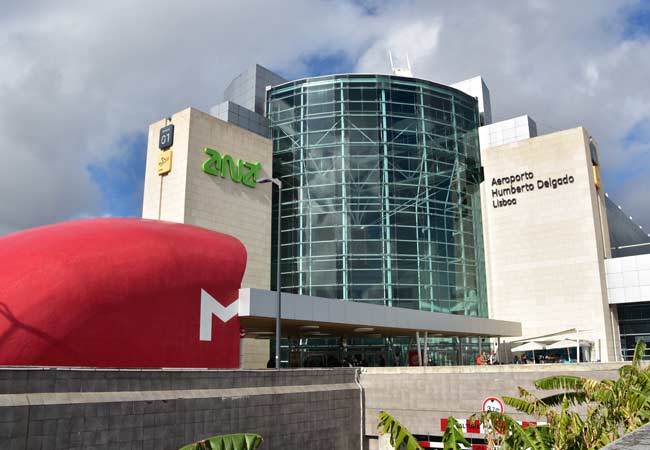 All of the main facilities are at Terminal 1, including the metro station
What's terminal 2 like to travel through?
Terminal 2 is a place of airline efficiency, and puts passenger experience as a secondary importance. Expect lots of standing in queues, tedious waiting around and little to do.
Terminal 2 was never designed for its current role as a busy airport hub, but as a low volume domestic flight terminal. The Terminal 2 building is a single large hall that is divided into two sections; one side for check-in and the other side for the post-security waiting area. The two halls are separated by a basement level security screening area, which is surprisingly efficient.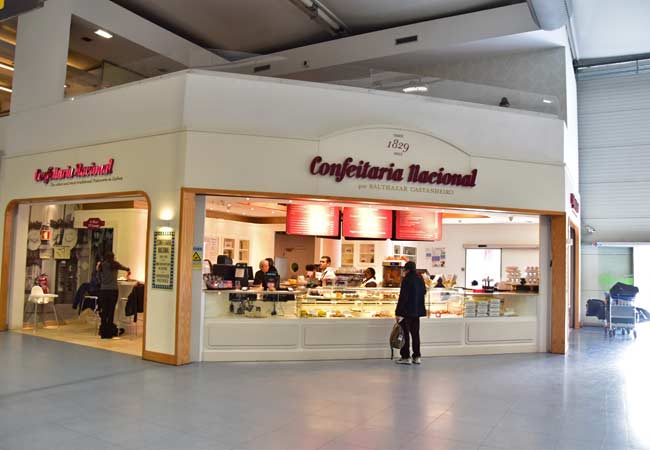 There is just a single cafe in the checking hall....
Once through security and in the waiting lounge, there is a general sense of confusion and urgent hanging around, which is often mollified by eating a McDonalds. This waiting lounge gets very busy at peak times, and there is a lack of space and seats.
On being called for the gate, there is one additional surprising queue, and this is for immigration. Portugal performs its immigration check just before boarding the plane, unlike most countries where it is checked during security. The queue for immigration can take a long time as 200 passengers suddenly rush for the gate, which is often only manned by two officials.
Depending on the airline you will be then herded onto a bus (Ryan Air) or held outside in a concrete fenced section (EasyJet) until walking to the plane.
Advice: If there was an airport to purchase Speedy/Priority/Fast Track boarding, it would be when travelling through Lisbon Terminal 2……
Facilities at Terminal 2
Terminal 2 has very basic facilities.
On the check-in side of the terminal, there is a gift shop, a café, ticket sales desk for the airlines and a row of overpriced vending machines. There is nowhere else within walking distance of the terminal for food or shopping. As there is so little in the check-in side, most passengers tend to pass on to security quite quickly.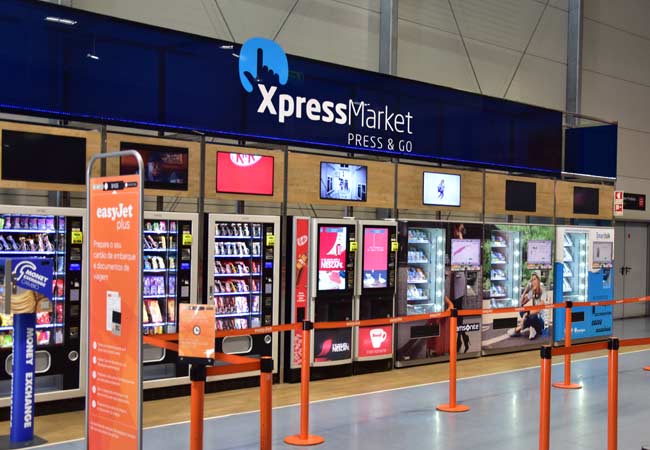 What more could you want at an airport - a wall of vending machines!
Note: If you do have a long wait, head to Terminal 1 where there are much better facilities, including a spa (with shower facilities €18), left luggage and numerous eateries.
Once through security, there is a McDonalds, a duty-free shop and a cafe. The airside waiting lounge can get very busy especially if there are delays with flights. Often there is not enough seating and there are long queues of waiting passengers that snake around the hall.
There is free WIFI to use while in the airport, but at peak times, the service can be slow due to the large number of users. Further information about the WIFI can be found here:
https://www.aeroportolisboa.pt/en/lis/services-shopping/essential-services/free-wifi
Insight: The low-cost airlines are very strict on the amount of hand luggage, and in Lisbon the rules are enthusiastically enforced by the airline staff. Small bags, including gift purchased in the shops, will be made to go into the main hand luggage.
If you have a long wait at Lisbon airport there is a left-luggage facility, but it is situated in the arrivals hall in Terminal 1. Prices for 24 hours are €3.32 (up to 10kg) €4.92 (10-30kg) and €9.74 (over 30kg).
Discover more of Lisbon with our most popular guides