Terminal 2 Lisbon Airport – updated for 2020
Lisbon terminal 2 handles the departures of all of the low-cost flights and typifies everything which is bad with low-cost travel. The entire terminal was constructed for efficiency, with passenger comfort an afterthought; there are basic facilities, endless standing in queues and is extremely busy during peak hours or if there are delays.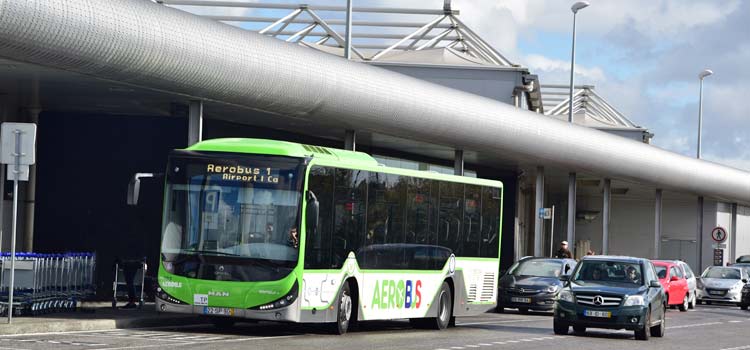 The Aerobus outside the terminal 2 building
To add to the general confusion and second-class status of the terminal, there is only a lowly bus service from the main terminal to terminal 2, with no direct connection to the metro. On the positives, the terminal is modern, very easy to navigate around (as there are just two large rooms) and the staff are comparatively friendly and helpful.
This guide will provide an overview of Terminal 2, including details of how to get there, terminal facilities and other useful travel tips.
Terminal 2 Overview
Terminal 2 was constructed to provide additional capacity for Lisbon Airport and was originally for designed to cater for domestic flights. However, since 2015 the terminal has been used exclusively for the low-cost airline flights.
Whilst this small terminal lacks the range of facilities offered by larger airports, the easy navigation and streamlined services enable this terminal to traffic passengers effectively, allowing for quick turnaround flight times.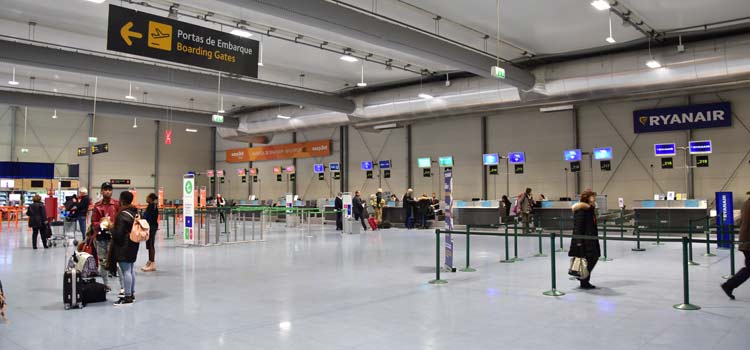 All of the check in desks in the first basic hall
Which airlines depart from Terminal 2?
All of the low-cost airlines fly out of Terminal 2, these include; Ryan Air, Easy Jet, Norwegian and Wizz Air. The charter holiday companies often also use this terminal. Always confirm the departure terminal before heading to the airport, and this will be outlined on the ticket or boarding document.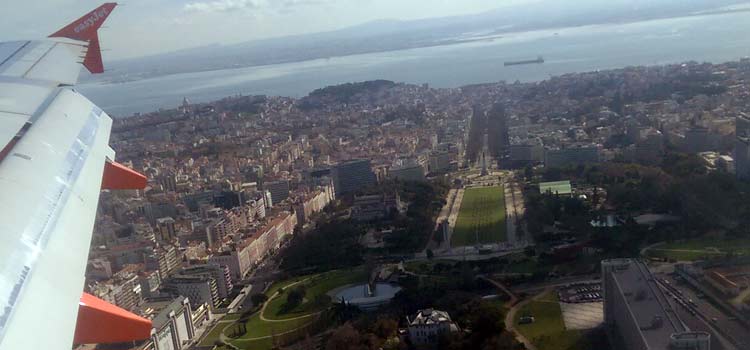 An Easy Jet flight on the approach to Lisbon airport (view is along the Parque Eduardo and Tejo)
Hang on, I landed at terminal 1….
All incoming flights arrive at Terminal 1, irrespective of the airline - Terminal 2 is for departures only. On arrival to Lisbon, the low-cost airlines taxi their planes to park in front of Terminal 2 and then passengers are taken by bus to Terminal 1 to clear immigration and collect baggage. This is why there is such a long bus journey from the plane to the terminal building when arriving at Lisbon.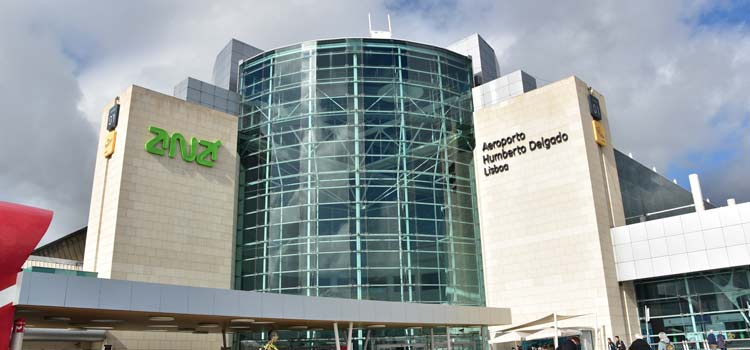 All of the main facilites are at Terminal 1
When passengers are leaving Lisbon via terminal 2, it is just a short walk from the terminal building to the waiting aircraft, and usually there is no need for a bus transfer. The small terminal, short distances and endless queuing means (that for the airlines) the processes are efficient and quick.
How to travel from Terminal 1 to Terminal 2?
Terminal 1 is the main hub of Lisbon airport and has a connection to the metro (the recommended means of travel to the airport). Terminal 2 has no connection to the metro and is 1km to the west of Terminal 1.
There is a free shuttle bus connecting the terminals, which leaves from the outside the departures hall of Terminal 1 (GPS: 38.76889, -9.12945) and stops outside Terminal 2 (GPS 38.76358, -9.13759).
The shuttle bus departs every 10-20 minutes during daylight hours and tends to wait until it is completely full before leaving, this can mean that there is standing room only. Always allow enough time for this additional stage of your journey.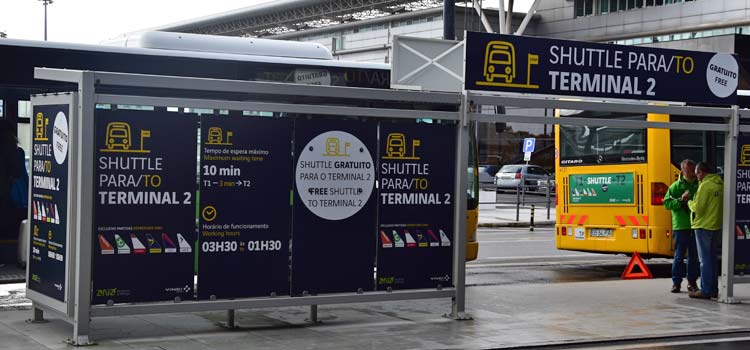 The bus to terminal 2 outside the main terminal building
The route between the terminals follows the exterior perimeter fence and is totally unsuitable to walk. If arriving from the metro station: Enter the main Terminal 1 building, turn left and walk up the stairs/escalator, which will leads to the departures hall. From here, simply exit the hall via the main doors and the bus stop is clearly signed on the right.
The Aerobus is a bus service which (via two bus routes) connects the main tourist and business areas of Lisbon with the airport. A ticket on the Aerobus costs €4, and there are departures every 20 minutes between 7h30 to 22h45, for more information, please see https://www.aerobus.pt. (link opens new tab)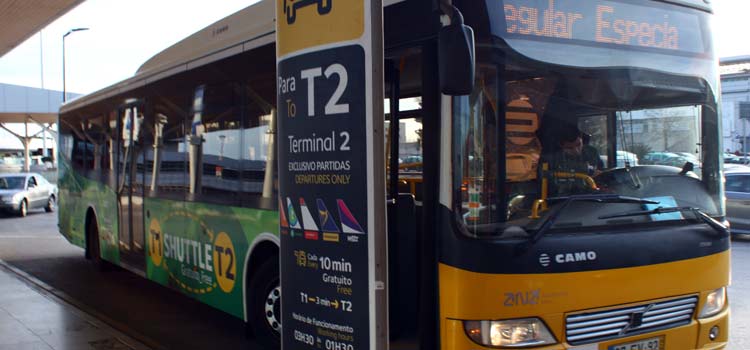 The terminal 2 bus departs from the departures hall of the main building
Onward flights and connection to Terminal 2
There are no internal transfers between Terminal 1 and Terminal 2; passengers with onward connections must exit Terminal 1 and travel independently to Terminal 2 (via the shuttle bus). This also includes passengers whose onward flights are with the same low-cost airline. This independent transfer means passing through immigration, collecting bags, catching the bus, or taxi, and then going through security and immigration again.
For all tourists with onward flights from Terminal 2, it is recommended to leave sufficient time for connections; a minimum of 3 hours is advised. It is also important to note that low-cost airlines will always insist that a new ticket is purchased if flights are missed, even if the delay is due to an incoming flight or airport delays.
What's terminal 2 like to travel through?
Terminal 2 is a place of airline efficiency, which puts passenger experience a distant second. Expect lots of standing in queues, tedious waiting around and little to do. If you do have a long wait, head to Terminal 1 where there are much better facilities, including a spa (with shower facilities €18), left luggage and numerous eateries.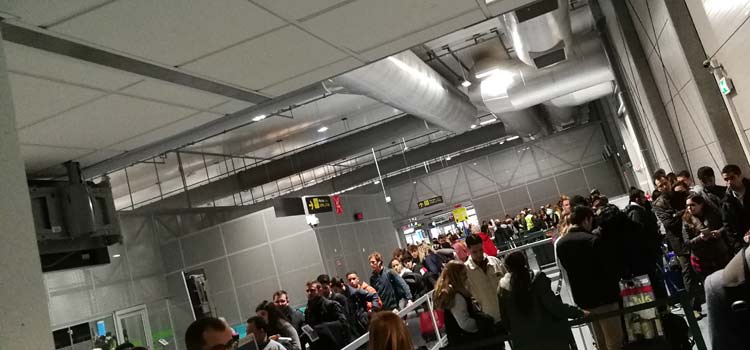 Endless queuing, this is just past immigration…
Terminal 2 building is a single large hall that is divided into two; one side for check-in and the other side is a post-security waiting area. The two rooms are separated by a basement level security screening area, and the over the top obligatory security searches.
There is so little to do in the check-in side most passengers just head to security. Once past security and in the waiting lounge there is a general sense of confusion and urgent hanging around, which is often mollified by eating a McDonalds…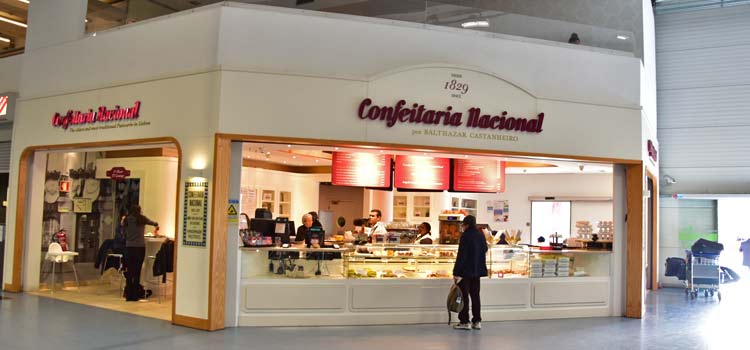 There is just a single cafe in the checking hall....
On being called for the gate, there is one additional surprising queue, and this is for immigration (why can't immigration be combined with security, as with most other countries). This immigration queue can take a long time as 200 passengers suddenly rush for the gate, which is often only manned by two officials. Once through immigration there will be yet another queue to wait for the plane to be cleaned, on the short turn around. As an added bonus there can be an additional wait outside in some concrete fenced section.
If there was an airport to purchased Speedy/Priority/Fast Track boarding it would be Lisbon Terminal 2……
Facilities at terminal 2
Terminal 2 may be very basic, but it has four important facilities that the majority of passengers are looking for; lots of seats, comparatively cheap food, phone charging points and WIFI (note that this is only free for 30 minutes).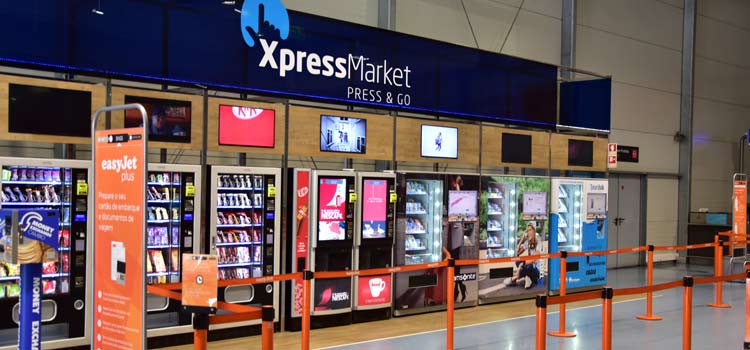 What more could you want at an airport apart from a wall of vending machines!
On the check-in side of the terminal there is a gift shop, café, airlines ticket sales desk and a row of overpriced vending machines. The check-in queues can get very long and all of the low-cost airlines are very strict about luggage weight and size.
As there is so little to see or do most passengers tend to pass through security quite quickly. Once through security there is a McDonalds, duty-free shop and a cafe. Again, there is not much to do. If needing to charge a device, note that there are electrical outlets positioned at the end of the seating areas.
Also, to access the 30-minute free WIFI an account must be created. However, do not expect a high-speed service as most passengers use this facility. More info about the WIFI can be found here:
https://www.aeroportolisboa.pt/en/lis/services-shopping/essential-services/free-wifi
(link opens new window)
The low-cost airlines are very strict on the amount of hand luggage. Small bags, including gift purchased in the shops, will be made to go into the main hand luggage or expect massive fees....
There is a left luggage, but it is situated in the arrivals hall in Terminal 1; prices for 24 hours are €3.32 (up to 10kg) €4.92 (10-30kg) and €9.74 (over 30kg).
Discover more of Lisbon with our guides