Lisbon for seniors and mature tourists in 2023
Lisbon is one of the finest cities of Western Europe, and a fantastic destination if you are a senior traveller.
The capital of Portugal boasts a rich history, many fascinating sights, delicious local cuisines and, of course, a gloriously warm climate.
Lisbon may be a bustling and vibrant city, but it is also a welcoming and safe destination, which is ideal for seniors seeking a mix of adventure and relaxation.
This guide will provide an introduction to Lisbon for senior visitors, helping you plan your trip here.
Related articles: Lisbon top 10 - Lisbon's beaches
Overview of Lisbon for older visitors
Pros for Lisbon
• Relatively safe city
• Many fascinating sights and activities
• Friendly atmosphere
• English is widely spoken by all who work in tourism
• A popular destination for senior travellers
• High standard of hotels and tourist services (tours, guides)
Cons for Lisbon
• Many steep hills
• Narrow, cobbled streets
• Incredibly hot in the summer
• Very busy in popular tourist areas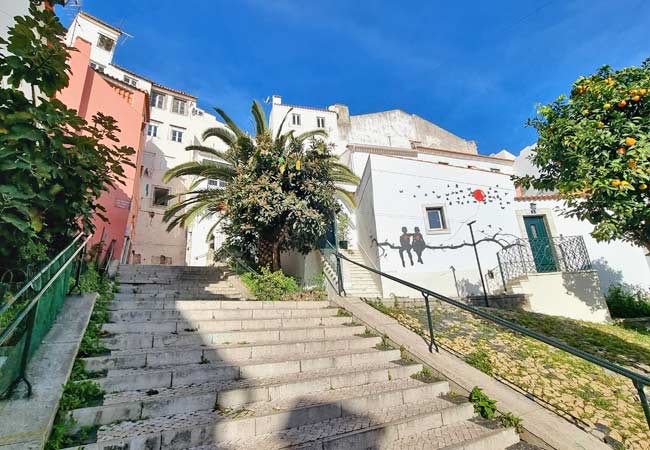 Expect to climb many hills when you explore the Alfama district
Getting started with Lisbon
If you are at the early stages of planning your trip to Lisbon, then know that the city is a wonderful destination, and you will have an amazing trip here.
Lisbon has excellent tourist infrastructure and welcomes a high percentage of senior visitors each year.
Generally, older visitors travel to Lisbon outside of the school summer holidays (July-August) when the city is slightly less hectic and without the intense summer heat. The best time of year to visit Lisbon is late spring (May/June) or in September.
A typical visit to Lisbon lasts three days (a guide can be found here), or include day trips to Sintra and Cascais for a longer stay.
Lisbon has a high standard of accommodation, and staying in mid to higher-end hotels is always advisable for senior travellers. The best area of Lisbon for your accommodation is given in a later section.
Travelling around Lisbon is easy due to its excellent public transport (details later), but the actual historic centre is relatively compact and easy to explore.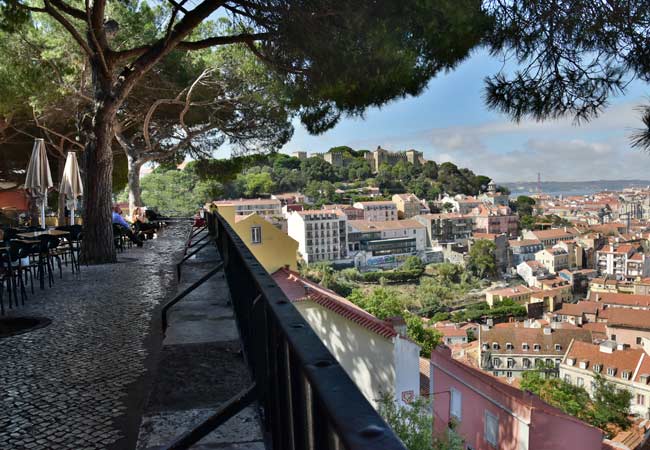 Highlights of Lisbon for mature visitors
Lisbon boasts many wondrous sights, but the unmissable ones are:
• The Alfama district - A warren of narrow streets in the oldest district of the city.
• The E28 tram - The yellow tram that trundles through the historic centre of Lisbon.
• Jerónimos Monastery - A majestic monastery that was funded by the immense wealth of the spice trade.
• Torre de Belém - The delightful fort that guarded the Tejo Estuary.
• Castelo de Sao Jorge - The ancient castle from which medieval Portugal was ruled.
• Palácio da Pena - One of Europe's finest palaces, set in the hills of Sintra.
• Praça do Comércio - A magnificent plaza at the heart of Lisbon.
• Museu Nacional dos Coches - A fascinating collection of horse-drawn coaches.
• Pastéis de Belém - The traditional home of Portugal's most famous pastry, the Pastel Nata.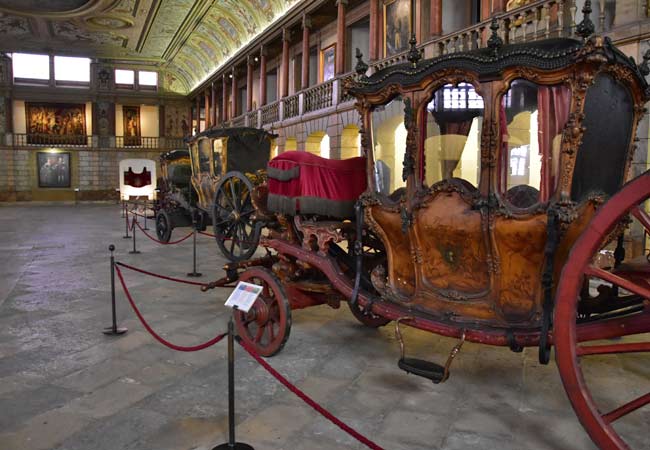 The Museu Nacional dos Coches
Where to be based in Lisbon?
Lisbon appears as a large and sprawling city on the map, but the actual area where you should be based for your first trip is relatively compact.
As a senior visitor, it is suggested to be based within the Baixa district or close to the Avenida da Liberdade.
Situated along the Avenida da Liberdade are many of Lisbon's high-end hotels, and from here, it is a gentle downhill walk into the historic centre. This area is relatively calm, and without the late-night craziness of the Bairro Alto or Cais do Sodre districts.
The Alfama district is popular with tourists, but the many steep hills can be very draining if you have accommodation here. Also, the narrow roads make it difficult for taxis (and Ubers) to do pick-ups and drop-offs.
The Belem district is also a great choice for a calmer area of the city, but you may feel that you are a long way from the centre of Lisbon.
Below is an interactive map of central Lisbon showing the locations of the best hotels. If you adjust the dates to suit your trip, it will show prices and current availability.
Getting around Lisbon
Lisbon has excellent public transport, including an extensive bus, metro and tram network, but ride-hailing services (such as Uber or Bolt) are much more convenient and are surprisingly inexpensive.
The ride-hailing cars are generally half the price of a conventional taxi. They are convenient as you can see the fare before the journey, the exact location of the car before picking you up, and the route of the car while in it. The only downside is that the app (Uber or Bolt) must be installed on your mobile phone, and you must have Wi-Fi or mobile data to call a car.
Insight: Uber and Bolt offer very similar services in Lisbon. Uber tend to have a better standard of cars and drivers, whereas Bolt is cheaper.
If you prefer to use public transport, it is advisable to purchase the 24-hour unlimited ticket (€6.60) from any metro station. This exceptional value ticket allows the use of all trams, metros and buses, including the E28 tram, the Elevador de Santa Justa, and the Elevador de Glória.
Warning: Be careful of pickpockets when travelling on busy trams and metros. Always keep valuables concealed and wear backpacks on your front.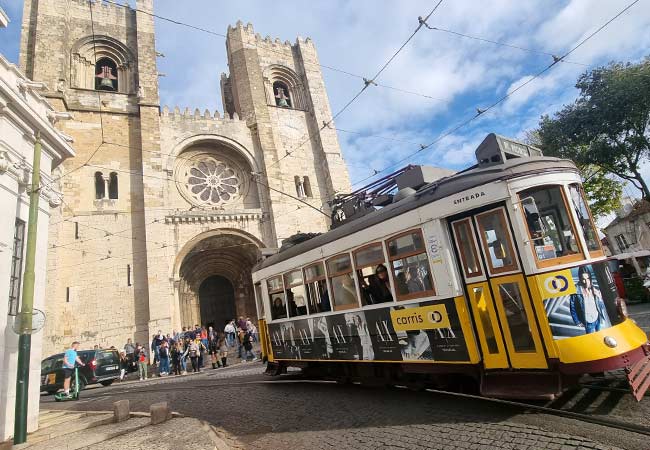 The number 28 tram in front of the cathedral
Health and safety tips for senior travellers
The key point for a worry-free trip to Lisbon is to always have good insurance that you can rely on in case of any issues.
Portugal has excellent private health care, while the public health care system is underfunded and in high demand. Good travel insurance is always recommended.
Lisbon has no major hazards, but it is always advisable to use the same common sense as you would back at home, such as:
• Avoiding long exposure to the hot summer sun
• Staying hydrated
• Wearing comfortable shoes
• Avoiding excessive amounts of alcohol
Regarding crime and theft, Lisbon is no worse than any major city, with the majority of crimes being opportunistic when tourists have been careless. When out, there is no need to carry a vast amount of cash (more than 40 Euros or the cost of a meal) or important documents such as passports and all of your bank cards.
Often the best situation is to avoid any dodgy-looking people and politely say no if asked for anything.
Insight: While in the city centre, expect to be approached by people selling drugs. If asked, just say no - these are not real drugs (just crushed paracetamol and herbs), and the police have limited powers to stop them.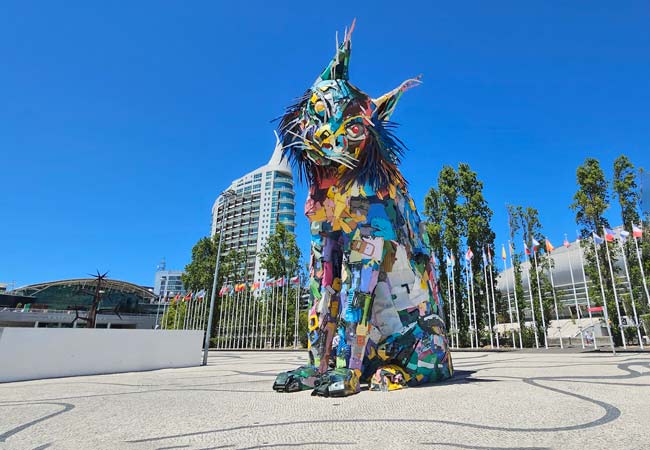 The Parque das Nações district is the modern side to Lisbon
Tours and guides
When exploring Lisbon, there is no real need to join a tour or have a private tour guide. They can be useful to gain an insight into the country and it's history, but it is easy to explore Lisbon without one.
A good choice is to join one of the many free walking tours (but they expect a tip at the end) that leave from Rossio Plaza (GPS: 38.713945, -9.139467) or the Praça do Comércio (GPS: 38.707709, -9.136754) at 10am and 2pm. There are always tour guides with their distinctive umbrellas standing in both plazas.
Tuk-tuk tours are a fun way to see the city, but are very expensive for a couple (typically 60 Euros for 90 minutes). The open-top tour buses allow you to see much more of the city, but the commentary is always poor.
Insight: If you have a wet day during your trip, a Portuguese cooking class is a fun daytime activity.
An organised tour is highly recommended if you wish to visit Sintra. A tour removes the hassle of public transport when travelling to Sintra, while the beautiful Pena Palace is at the top of a hill above the town.
Insight: If you are a solo traveller, then an organised tour is a fantastic way to meet fellow visitors.
Is Lisbon walkable?
The historic and interesting centre of Lisbon covers a relatively small area, but this does include many steep hills. The steepest hills are in the Alfama and Bairro Alto districts, and it is possible to have a very enjoyable trip to Lisbon by avoiding these areas and being based in the Baixa district or along the waterfront.
Related articles: Is Lisbon walkable?
Senior discounts
There are many discounts for mature travellers, and it is typical for museums to have a 50% discount for visitors over 65 years old. To claim a discount, you may be asked to show some identification that displays your date of birth.
Dishes to try while in Lisbon
With over 5,000 different restaurants and cafes throughout the city, it is almost impossible to recommend restaurants to eat at. A much better approach is to look for specific dishes on menus and confirm that their chef is Portuguese. Some of the best dishes to try while in Lisbon include:
Bacalhau à Brás: A Portuguese favourite that combines shredded, salted cod, onions and thinly sliced potatoes, all bound together with scrambled eggs. It is usually garnished with black olives and chopped parsley.
Polvo à Lagareiro: A tender octopus grilled or roasted in a flavourful olive oil, garlic and herb marinade. It is typically served with boiled potatoes and a generous drizzle of olive oil.
Cozido à Portuguesa: A filling stew made with a variety of meats, including pork, beef and sausages, mixed with beans and vegetables. It is slow-cooked to bring out the rich flavours - ideal after a long day of sightseeing.
Arroz de Pato: A rich, duck rice dish, combining tender duck strips with rice, Chouriço, onions and aromatic spices. The dish can appear dry, but the oils from the duck help to make it a favourite with the Portuguese.
Bitoque: A traditional lunchtime meal comprising of a pan-fried steak served with a fried egg, chips and rice, often accompanied by a white wine and garlic sauce.
Bacalhau com Natas: A unique dish of flacked salted cod (Bacalhau), onions and potatoes drenched in a rich béchamel sauce and baked until golden. This meal is traditionally eaten on Christmas Eve.
Sardinhas Assadas: Sardine season is from June until the end of October, and the smell of grilled sardines can often be detected throughout the city. The sardines are seasoned with coarse sea salt and grilled over charcoal, giving them a delicious, smoky flavour.
Bifanas: The Portuguese equivalent of fast food, with thinly-sliced, marinated pork cutlets served in a papa seco bread roll. A popular lunchtime snack or food from the market.
Discover more of Lisbon with our most popular guides