Home > Top 10 > Undiscovered Lisbon > Where to stay? > Costs > How long? > 24 hours > 3 Days > 1 Week > Day trips > Beaches
Monumento aos Restauradores Lisbon Obelisk
The Monumento aos Restauradores is an obelisk monument that stands in the centre of Praça dos Restauradores square in the Baixa district of Lisbon. The tall white monument commemorates the independence of Portugal from 60 years of Spanish rule in 1640. The grand obelisk stands at stark contrast to the soft pastel colors of the surround buildings and adds a majestic atmosphere to one of Lisbon's lesser squares.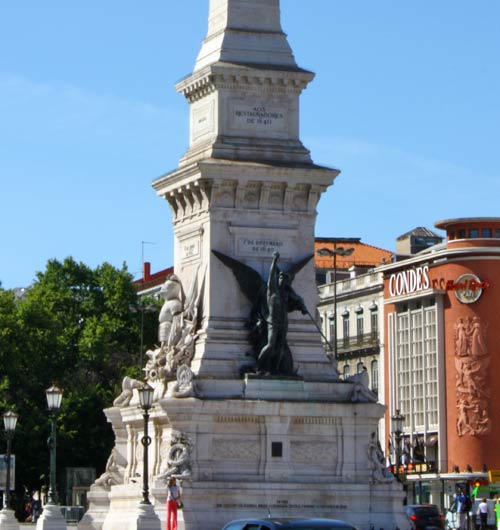 The Monumento Restauradores Lisbon Obelisk
Lisbon Obelisk History and Details
The Monumento aos Restauradores translated into English means the Monument to the Restorers and celebrates all of the solders who died during the struggle for independence. This volatile stage of Portuguese history was the gradual transition from the Habsburg density and the rise to power of the House of Braganza who ruled Portugal until the revolution of the monarchy in 1908.
Monumento aos Restauradores Details
The height of the Restorers Monument is 30 meters with the main obelisk standing half of this height. Positioned on the base pedestal are two angels representing independence and victory. Along the side of the monument are brass panels which commemorate the major battles of the War of the Restoration. These battles were Linhas de Elvas – The Lines of Elvas (1659), Ameixial (1663), Castelo Rodrigo – Castle of Rodrigo(1664) and Montes Claros - Clear Hills (1665).
Lisbon Obelisk Interesting Facts
The most interesting historical feature of the monument is the method that the finances were raised to fund the construction. The funding came from a public subscription of semi-wealthy families both in Portugal and Brazil and not from the monarchy or government.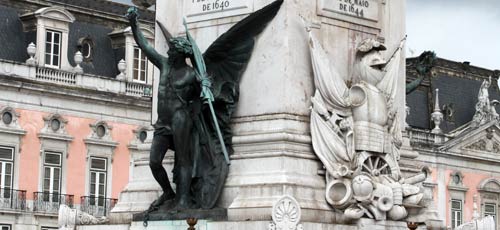 The Pink Foz Palace and the Restauradores Obelisk
The whole collection process was organized by the Marquis de Sá da Bandeira who then commissioned Antonio Tomás da Fonseca to create the obelisk monument which was inaugurated in 1886. The monument was the first official location that the republic Portuguese flag was unveiled. The flag was first flown on the 1st December 1910 and the flag is the same as the one used today.