Home > Top 10 > Undiscovered Lisbon > Where to stay? > Costs > How long? > 24 hours > 3 Days > 1 Week > Day trips > Beaches
Sao Carlos Theatre, Lisbon
The Teatro Nacional de Sao Carlos (Saint Carlos Theatre) was specifically constructed in the 19th century to be Lisbon's sole opera house and today the grand theatre maintains an excellent reputation for attracting quality companies who perform both classical and contemporary works.
The Sao Carlos Theatre Lisbon has excellent acoustics and any visitor lucky enough to have one of the 1,150 seats is set for a musical treat. The Sao Carlos theatre is the home of the Portuguese nation orchestra, the Orquestra Sinfónica Portuguesa and local listings will detail performance and ticket prices.
History of the Sao Carlos Theatre Lisbon
The Teatro Nacional de Sao Carlos sits upon the site of the old royal opera house, the Tejo Opera House which was destroyed during the 1755 earthquake. The opera house remained in its damaged state until in 1792 funding was arranged by wealthy business men.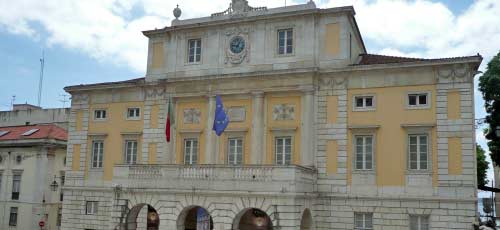 The Sao Carlos Theatre Lisbon
The architect of the Teatro Nacional de Sao Carlos was José da Costa e Silva, who based his inspiration on the Italian opera houses, Scala in Malian and the Naples opera house. Outside the styling was simplistic but elegant with the walls painted in the traditional yellow of Lisbon. Inside the concert hall there are five circles, which provide a total seating for 1,150 and a grand royal box.
Teatro Nacional de Sao Carlos construction was completed in only 6 months and the first opera, La Ballerina Amante, was staged on the 30 July 1793 and watched Queen Maria I of Portugal. Previous the opera had been funded by the royal court, but with business backing it was able to attract fashionable and cutting edge operas, that during that era originated from Italy. The influx of Italian operas and cast enhanced the reputation of the opera house during the 19th century and this good reputation remains to today.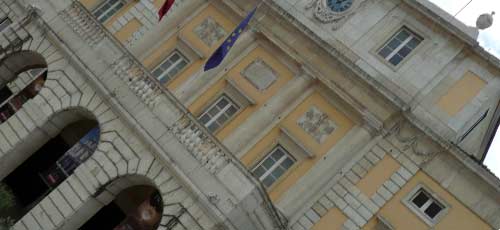 The Sao Carlos Theatre was set away from many other buildings, managed to survive the major fire which ravaged the theatre district of Chiado in 1985. A resident opera company was established in 1979 and in 1990 extensive building work was completed to improve the backstage and back of house areas.