Cafe Brasileira Lisbon
The Cafe Brasileira is one of the oldest and most famous cafes in Lisbon and is the original home of the Bica - a very strong espresso. The Cafe Brasileira historically attracted intellectuals, poets and writers who would debated the issues of the era in the smoke laced cafe. Today the cafe attracts an entirely different crowd - exhausts tourists.
The cafe is a great place for an energy enhancing shot of intense caffeine that has not altered since the first drinks were served here over a hundred years ago.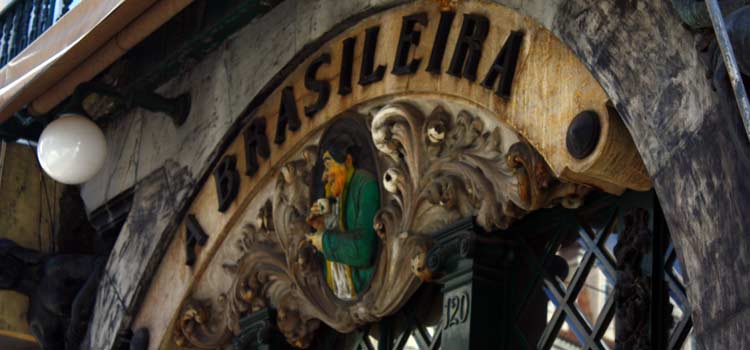 Cafe Brasileira Lisbon Tourist Guide
The Cafe A Brasileira is located in the Chiado district of Lisbon. The Art Deco interior of the Cafe a Brasileira has remained unchanged since opening in 1905, with wooden booths, mirrored walls, brass fittings, and a long oak bar. The Bica is as popular as ever with the Portuguese, drinking their "dark tar" after meals.
History of the Cafe Brasileira Lisbon
During the early years of the Brasileira the proprietor, Adriano Telles, offered a free cup of coffee for every kilogram of ground coffee purchased, and as the coffee was freshly imported from Brazil the cafe was quickly established. Struggling artist were able to hang their works on the walls making the Brasileira the cultural centre of Lisbon during the first quarter of the 20 century.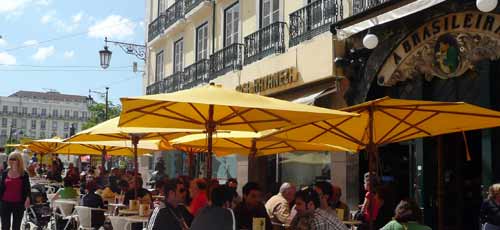 The cafe Brasileira is a popular place for a drink
To commemorate the influence of the Cafe Brasileira by attracting Portugal's intellectuals, a bronze statue of the poet Fernando Pessoa was placed outside the cafe in 1988. Fernando Pessoa was a highly regarded Portuguese poet but he came to the Brasileira not for the Bica but for the hallucinogenic Absinthe of which he drunk copious amounts keeping his creative mind active.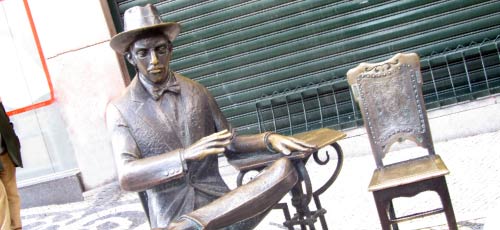 The statue of Fernando Pessoa
Today the Cafe A Brasileira suffers as a popular tourist attraction, the prices are over inflated, the service rushed and there are always more tourist than chairs, but with each sip of the excellent coffee you are tasting a slice of Portuguese history. The Cafe A Brasileira is within walking distance of the Baixa-Chiado metro stop on the green line.
How about a small group tour?
One of the best ways to discover Lisbon and to meet fellow travellers is to join a guided tour. We have worked with Getyourguide.com for the last six years, and some of the best tours of Lisbon include:
Discover more of Lisbon with our most popular guides