The Portuguese World Exhibition of 1940
The Portuguese World Exhibition (Exposição do Mundo Português) was hosted in Lisbon between the 23rd June and 2 December 1940. This grand exhibition was staged to promote Portugal's superiority that coincided with two significant events in Portugal's history; the foundation of the country in 1140, and the restoration of independence from Spain in 1640.
The event was created as to rival the 1939 world trade fair hosted by New York which attempted to boast the failing 1930s economies of the United States. In the 1940 fair there were major exhibits from all of the colonies Portugal controlled and Brazil was the only independent country invited.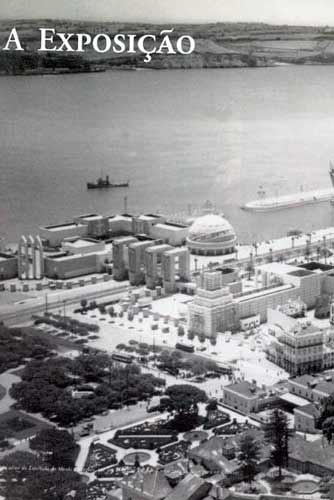 Aerial view of the 1940 World Exhibition
The World Exhibition of Lisbon attracted over 3 million visitors and was widely praised by most visitors. The actual event was a shameless piece of propaganda by the relatively new and weak Portuguese "New State" government but there were lasting effects which have continued through to today. The western side of Lisbon under went major rejuvenation and the foundations for Lisbon airport originate from the 1940 World Exhibition. Portugal did indirectly gain from the exhibition as it confirmed Portugal's neutrality and spared the country entering the war.
The site of the trade fair was located between the northern bank of the river Tagus and the Jeronimos Monastery. Today this area covers the Belem Cultural Centre and the gardens directly in front of the Jeronimos Monastery. The marina of Lisbon was purposely constructed for the fair. The centre piece monuments were the Padrão dos Descobrimentos monument and a replica of seventeenth century galleon. The exhibition was inaugurated on June 23 of 1940 by the Head of the Portuguese State, Marechal Carmona and the soon to be dictator Oliveira Salazar who held the position of President of the Council.
Discover more of Lisbon with our most popular guides