Home > Top 10 > Where to stay? > Costs >24 hours > 3 Days > 1 Week > Day trips > Beaches > Museums
Lisbon's Population
Lisbon as a city has a population of just over half a million (545,000 at the 2010 census) but this value is greatly increased when the entire metropolitan area of Lisbon is counted. This area metropolitan includes Sintra, Cascais and the southern commuter districts of Almada and has a total population of 2,800,000.
Lisbon Population Growth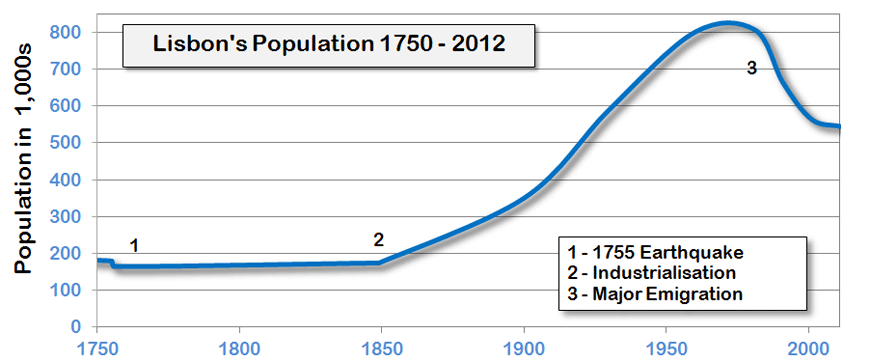 The population growth of Lisbon from 1750 to 2012
The devastating earthquake of 1755 was one of the worst natural disasters to hit Europe and killed so many that it appears on the population graph of Lisbon. Lisbon's population slowly grew until the start of the industrial revolution and continued well into the 21st century. The population declined in the 80s due to mass emigration to either the suburbs of Lisbon or as families sought better employment in other counties. The modern population growth of Lisbon is steady and predicted to slowly increase.
Lisbon's Early Population Growth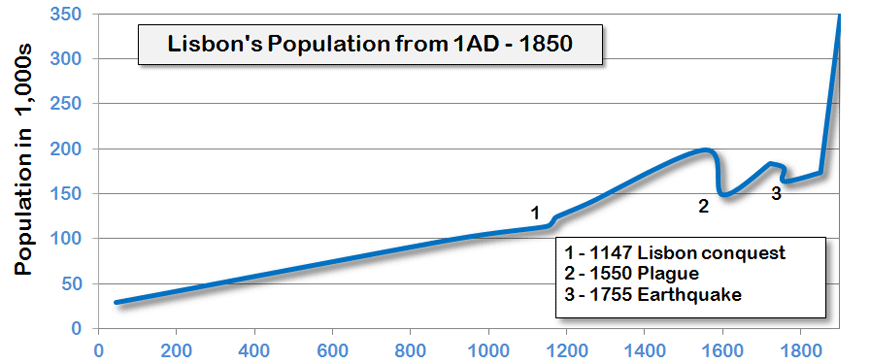 The population growth of early Lisbon
Lisbon had slow steady population growth during the city's early history. After the Christian invasion of Lisbon in 1147 there was a small reduction then rapid growth. Lisbon's population was hit by three waves of plague but the 16th century plague decimated the population and drove many to the countryside. The earthquake of 1755 killed tens of thousands in a matter of days.