Gago Coutinho Biplane Seaplane, Belem
Gago Coutinho was an early Portuguese aviation pioneer who is commemorated in Lisbon by a monument of his biplane, the Santa Cruz. Gago Coutinho along with Sacadura Cabral were the first pilots to fly across the South Atlantic Ocean. Their flight of 8,400km departed from Lisbon on the 24 March 1922 and arrived in Rio de Janeiro 79 days later on the 6th June 1922.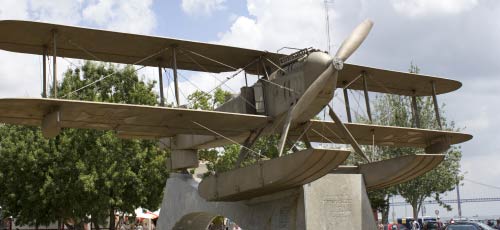 The Statue of Gago Coutinho Sacadura Cabral Plane in Lisbon
The seaplane monument in Belem recalls this perilous voyage and is an exact replica of their Fairey seaplane. The monument of the Santa Cruz biplane is located in the Belem district, close to the Torre de Belem, as it was from this parkland the plane took off from.
Gago Coutinho's Atlantic Flight
The Santa Cruz Fairey seaplane used by Coutinho and Cabral for their transatlantic flight did not have the fuel capacity to make the entire trip unaided so various stops were required along the route. The aviators were shadowed by a support ship, called the República. On the journey down the Brazilian coast a heavy rain storm caused the aircraft's engine to fail and they were forced to ditch into the Pacific Ocean.
Realizing that something was wrong, the support boat República sent out a distress signal asking other ships in the area to look out for the seaplane. After a worrying period in the water, the pilots were found by a British freighter.
The rescued Coutinho and Cabral were distraught as they had lost their plane so close to their final destination (and an incredibly long time flying!) Coutinho and Cabra after a heated negotiation a new air craft was loaned from the British with which they were able to complete their journey.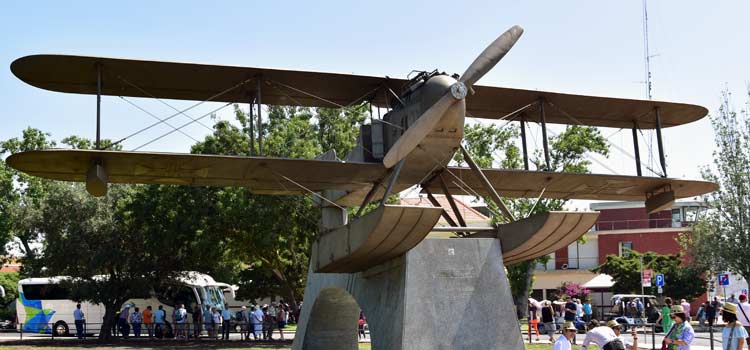 The Statue of Gago Coutinho Sacadura Cabral Plane in Lisbon
Gago Coutinho Other Contributions to Early Aviation
Gago Coutinho contributions to aviation were not limited just to mad cap distance flying, he also invented a sextant that incorporated two spirit levels which provided an artificial horizon. This adaptation of the traditional marine sextant allowed navigation without visual reference to the real horizon, particularly useful when flying through heavy fog or cloud.
How about a small group tour?
One of the best ways to discover Lisbon and to meet fellow travellers is to join a guided tour. We have worked with Getyourguide.com for the last six years, and some of the best tours of Lisbon include:
Discover more of Lisbon with our most popular guides