The Costa da Caparica Mini Train
The Costa da Caparica mini train provides a regular public transport service that connects the main resort town of Costa da Caparica to the stunning 30km coastline of the Setubal Peninsular. The train service opens up many of the deserted and remote beaches that would be otherwise inaccessible without a car. This guide will provide an overview of the Costa da Caparica train, including the timetable and fares.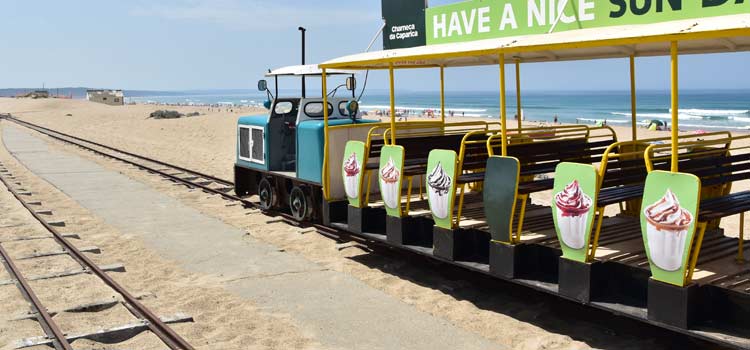 The mini train waiting to leave..
Train Service Details
The train unfortunately operates during the summer brief Portuguese summer season from 1st June until the 30th of September. Outside of this time there is no convenient public transport along the coastline and a rental car is required.
The train service extends from Costa da Caparica at the northern end of the line down to the small village of Fonte da Telha approximately 10km to the south. There are two departs from either end of the line every hour, one on the hour and at 30 minutes passed the hour. The train runs from 9:30 until 19:30, with the busiest period late afternoon.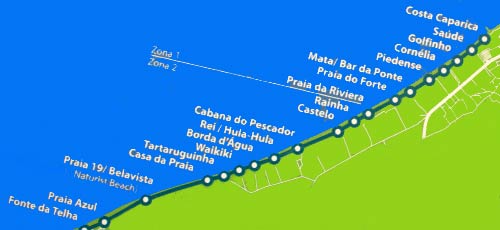 The Costa da Caparica train route
The mini train tickets are purchased from the conductor and there are two separate fare zones. The first zone extends from Costa da Caparica to the Praia da Riviera beach and a ticket costs €3.00/5.00 (single/return). The second zone is from Rainha beach to Fonte da Telha beach and the tickets costs €5.00/8.00 (single/return). The Praia 19, the gay and nudist beach is located in the second fare zone.
Visitors who wish to visit the southern side of the Costa da Caparica and who are traveling from Lisbon are recommended to catch the ferry to Cacilhas and then catch the 127 bus from Cacilhas to Fonte da Telha. This route is much faster and cheaper as removes the necessity to go via Costa da Caparica.
Fonte da Telha is a popular destination with Portuguese families but equally has a number of funky and trend bars. The remote beach bars along the Costa da Caparica mini train route are famed for their late night beach parties that attract top DJs. To find out latest events look out for fliers and posters.
Discover more of Lisbon with our most popular guides