Home > Top 10 > Undiscovered Lisbon > Where to stay? > Costs > How long? > 24 hours > 3 Days > 1 Week > Day trips > Beaches
Feira do Relogio (Market of Clocks), Lisbon
One of the largest markets of Lisbon is the Feira do Relogio (Market of Clocks) which occurs every Sunday morning in the north east of Lisbon. The market is a chaotic mix of stalls selling a range of products and goods, ranging from traditional foods through to intricate decorated statues of the popular saints
.The narrow alleys of the Market of Clocks are crowded with shoppers and the voice of the traditional gypsies can be heard above the clamour calling out to the potential customers. The Feira do Relogio market is an exciting place to visit with the opportunity to grab bargains and experience the traditional Portuguese method of shopping.
Feira do Relogio Tourist Guide
The Feira do Relogio market is located to the north of Bela Vista metro station on the red metro line. The market is held every Sunday and starts early with many of the stalls closing by 1pm. The Market of Clocks is approximately 2km long and there is no particular arrangement to the order of the stalls along the two main alleys. This does mean that the entire market can be viewed in one long walk.
Due to crowded nature of the alleys of the Feira do Relogio market and the "diverse" population spread always keep an eye on wallets and never take expensive items. The local joke is that any item removed from a tourist will be sold back to them by the end of the visit to the Feira do Relogio market!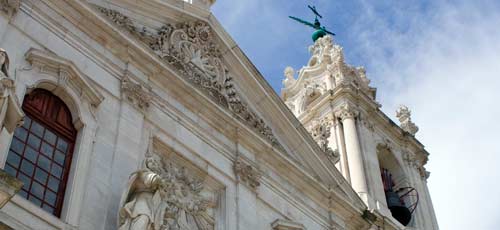 The Estrela Basilica
The market culture is still very popular within Portugal when the trend is dying out across the rest of Europe, this is mainly due to the fact that the majority of Portuguese simple cannot afford to shop in the expensive stores which line the streets of Lisbon. The Feira do Relogio market provides an inexpensive method for produces to sell directly to the public and many veg/fruit/food marketers' exist.
Many of the stalls are run by Portuguese gypsies selling items of questionable quality, Portuguese gypsies women can be easily identified as they dress in traditional black clothes and wear excessive gold jewellery. The trip to the Market of the Clocks along the red metro line which is also the main route to Parque das Nações (expo park) so both sites can be easily combined for an eventful Sunday.
Sights Around the Market
At the south entrance of the Feira do Relogio market is the large Ferra Nova supermarket, though distinctly Portuguese, is not markedly different from any other major out of town shopping centre.
On the hill to the south west of the Feira do Relogio market is one of the poorer districts of Lisbon, Chelas. As an experiment to improve the standard of the neighbourhood the central government decided to repaint the drab blocks of apartments of Zone J. This idea was taken to the extreme and the colours chosen where vivid and classing, purple and green, orange and blue, yellow and blue. Unsurprisingly the colours failed to improve the standard of the neighbourhood and even infuriated older residents. Over the last 10 years the some of the apartments have been slowly converted back to the original white colour, but some of the lurid colours still remain.