Sao Juliao da Barra Fortress
The Sao Juliao da Barra is a massive 16th century coastal defence complex situated on the headland between the Praia de Carcavelos and the Praia da Torre.
The Juliao da Barra fort is the largest sea defence structure in Portugal and was primary constructed to guard the Tagus River and Lisbon from sea bound invasion. The fort also marks the mouth of the Rio Tejo.
Sao Juliao da Barra Portugal Overview
The Sao Juliao da Barra came to known as the "Shield of the Kingdom" but the history of the fort is not as glorious as the mighty fortifications indicate.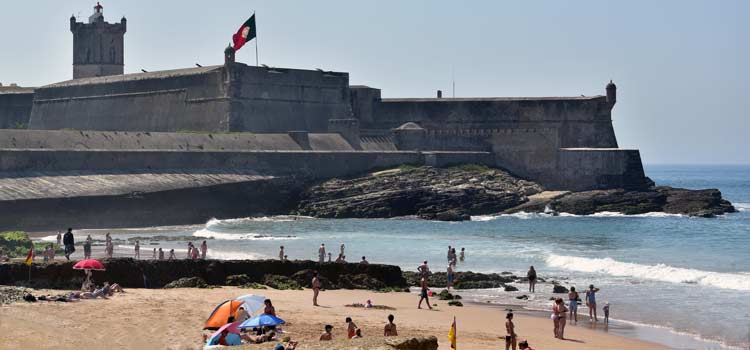 The fort was involved in just a single battle and was easily defeated as the 1808 attack by the French came from the rear landside not from the highly defended seaside. Today the Sao Juliao da Barra fort is no museum relic and is maintain by the Portuguese Defence Department as their national headquarters but this does mean that little of the fort is open to the general public.
Sao Juliao da Barra History
The fort was constructed on the site of an ancient watchtower and construction began in 1556 under the direction King John III who wished to have the mouth of the Tagus river sufficiently protected from invaders.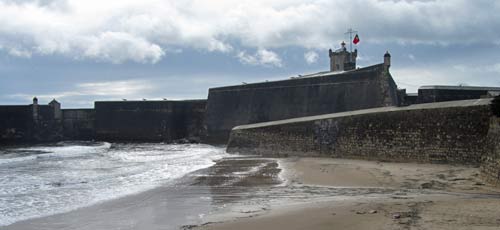 The Sao Juliao da Barra worked in conjunction with the Forte de Sao Lourenço Bugoi on the south bank of the Tagus River and both provided full coverage over the mouth of the river. The fortress was used as a political prison both at the end of the Portuguese monarchy and during the Salazar dictatorship with prisoners held in awful conditions.
Sao Juliao da Barra Architectural Details
The structure was constructed primary for defence and lacks any artistic beauty with the solid walls constructed from drab stone and masonry plaster.
The entire complex follows an irregularly pentagonal design with the landward side defended by two moats with access via a drawbridge. Inside the Juliao da Barra fort is the eastern stronghold of the Prince D. Fernando and to the western side overlooking the coast is the tower of Santo Antonio.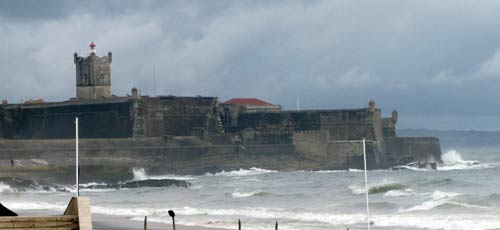 The Sao Juliao Barra Fortress on a stormy day
Discover more of Lisbon with our guides