Home > When to visit? > Where to stay? > Costs > 24 hours > 3 Days > 1 Week > Day trips > Beaches > Museums
A tourist guide to Lisbon for the 2018 Eurovision Song Contest
On the 8th, 10th and 12th of May the eyes of the world will be focused on Lisbon, as it hosts the 2018 Eurovision Song Contest. The competition will be staged in the Altice Arena (GPS: 38.7683, -9.0939), which is located in the ultra-modern Parque Das Nações District.
This flamboyant music contest could not have chosen a more welcoming and liberal city than Lisbon and, thanks to Salvador Sobral, those attending the Eurovision extravaganza will soon discover why Lisbon is one of the hottest holiday destinations for 2018. The thriving Portuguese capital is gearing up to make the 63rd festivities the most memorable yet. Get set Eurovision fans, to be charmed by the buzzing nightlife, lively culture, artisan scene and glorious beaches.
This article is designed to give those attending the 2018 Eurovision Song Contest a guide to what's going on and how to make the most of your time in Lisbon.
Everything you need to know about 2018 Eurovision Song Contest…
What to expect at Eurovision Lisbon 2018
As usual, the contest is split into two knock-out style semi-finals where international acts will sing songs to represent their respective countries. This year, 43 countries will battle it out on 8th and 10th for the chance to then perform again in the grand final, which will be televised around the world on 12th May.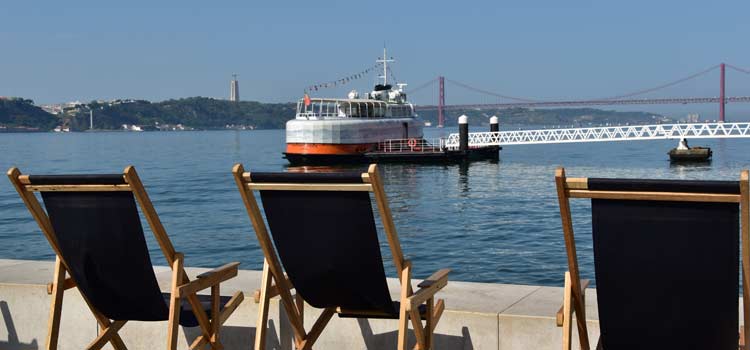 Lisbon is a great place for taking things slowly......
Every year the country hosting the Eurovision Song contest gets to make-over the contest theme and this year the Portuguese have not disappointed: The 2018 contest theme is an "All Aboard" and visitors can expect a traditional nautical focus fused with distinctive modern Portuguese design.
This year will also see a 'girl-power' all-female presenter line-up of Portuguese celebrities consisting of Catarina Furtado, Sílvia Alberto, Daniela Ruah and Filomena Cautela.
Key dates in the Eurovision 2018 calendar
The 63rd Eurovision competition is set to bring an extravaganza of events to Lisbon. Below is a list of key events not to be missed:
6th May = Eurovision Opening Ceremony at MAAT Complex in Belem District
8th May = 1st Semi Final at the Altice Arena
10th May = 2nd Semi Final at the Altice Arena
12th May = Grand final at the Altice Arena
Altice Arena, Meo Arena or Pavilhão Atlântico - where is the contest being hosted?!!?
All three names (Altice Arena, Meo Arena or Pavilhão Atlântico) are for the same arena (GPS: 38.7685, -9.09402), and the current name is the Altice Arena. When the arena was constructed for expo 98' it was named the Pavilhão Atlântico (Atlantic Pavilion) and this is still affectionately used by the Portuguese.
During the economic collapse and mass selling of Portuguese infrastructure, the arena's branding was sold to Meo (a mobile phone company) and the MEO Arena was the name from 2013 till last year. Just as everyone was starting to use MEO instead of Pavilhão Atlântico, Meo got acquired by Altice and the stadium had to changed it's name again. This new Altice new branding only came in effect in October 2017, so there is a natural lag until everyone adjust, or the arena gets rebranded again…..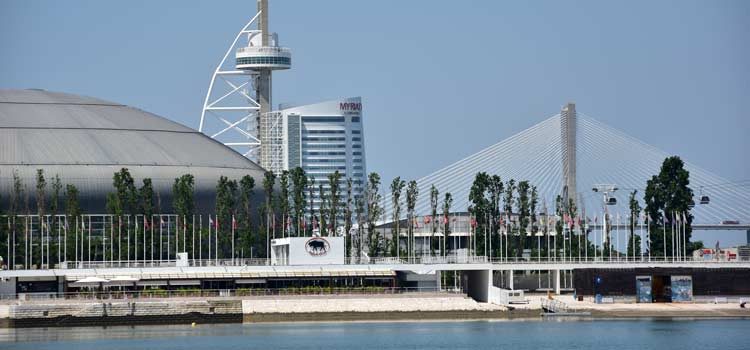 The Meo (no, the Altice Arena -on the left) in the centre of Expo Park
How do I get to the Altice Arena?
The Altice Arena has a capacity of 20,000, and there will be an outstanding atmosphere each evening, but there will be also be lots of guest heading to the arena so it is best to plan a route in advance.
The best option of travel is by the metro and the arena is served by the Estação do Oriente metro station (GPS 38.7675, -9.0989), which is on the red metro line - for a full guide to Lisbon's metro please click here. The number 728 bus is also a good option for visitors based in Belem, Baixa or the edge of Alfama, which connects them to the Parque Das Nações complex. The Estação do Oriente is the main train station of Lisbon and there are direct services to Porto or the Algarve for those coming from these regions.
Is there anything else to see or do around the Altice Arena?
The colossal venue is situated within the Parque Das Nações, which itself has undergone a massive transformation and now houses an aquarium, casino and a whole host of other fun tourist attractions. For a detailed guide to the district please click here.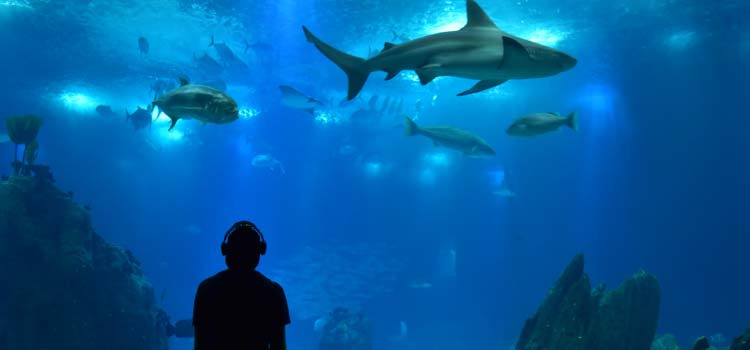 The Oceanarium is mesmerising
Where to get food before the Eurovision contest starts?
For those in need of food before heading into the Arena, it is recommended to head down to one of the many restaurants that line the Tagus Estuary for a sit-down Portuguese dinner. For those on the run or in need of a cheaper alternative; head to the food court in the Vasco da Gama shopping centre. Here there is a range of places to have a meal for less than 7€, including a drink.
Best alternative places to watch Eurovision 2018 in Lisbon
For those who want to join in the atmosphere but do not have venue tickets, do not despair as the whole city will be in Eurovision fever. The contest will also be televised live on TV station of Portugal, RTP (Rádio e Televisão de Portugal), so many of the bars and clubs in Lisbon will have screens set up.
However, for those needing a full-on flamboyant Eurovision fix, it is recommended to head to the Eurovision Village. Here, fans of Eurovision and those just wanting to join in the craziness, can dance the night away to DJs, special acts and even view the actual event live on big screens.
This year the village is located at Lisbon's magnificent Praça do Comércio, which is located centrally on the bank of the Tagus River. This iconic location also makes the Eurovision Village a great warm-up location for those heading off to the arena or an excellent place to start a Lisbon night out. Praça do Comércio is a major transport hub and revellers can reach it via either Blue metro line.
Will there be a Euroclub venue this year?
For those in the know, and with connections, the place to be seen in amongst all the live events will be the Euroclub, which event organisers have confirmed will be within the Cais do Sodré District this year. Event organisers are yet to be announce the actual location but, as it is expected that this venue will be constantly at capacity, there also numerous alternative nightlife spots to visit in this lively city.
Other top 'post-Eurovision' nightspots
Lisbon has a vibrant, party-loving nightlife and Eurovision revellers can make the most of this after the show by heading to the main nightlife district of Lisbon, which is called Bairro Alto (GPS: 38.7117, -9.1439). This area is characterised by small, friendly bars that line the cobbled streets. Here the drinks, music and laughter flows until around 2am when bars close.
For those wishing to carry on, simply follow the hoards of locals down the hill to the district of Cais do Sodré (GPS 38.7067, -9.1436) and its famed Pink Street. For Eurovision fans looking to continue their fix of 'euro-pop', it is recommended to head to Trumps. This gigantic club contains two floors of pop, cheese and house music, which are guaranteed to hit the right notes for Eurovision fans.
How long to stay in Lisbon for the Eurovision song contest
Generally, it is recommended to stay in Lisbon for at least three days to soak up all of the main attractions and a visit can easily be extended to seven or ten days if you are interested to see some of the wowing local day trips. For a detailed guide on all Lisbon has to offer do visit:
• Suggest itinerary for three days to Lisbon
• Recommended itinerary for a week's holiday to Lisbon
• Guide to the most popular day trips from Lisbon (all by public transport)
• If you only have 24 hours in Lisbon, pick the highlights out of this article
• For a guide of where to stay and which district to be based in please see this guide.
Lisbon is a forward-thinking, liberal city, which has an open and active gay scene. The main centre for the LGBT community in Lisbon is the Principe Real district. Top nightspots to visit include Bar 106 (Lisbon's oldest gay bar) or Trumps nightclub (two floors of pop and house, which is always banging at the weekends).
Will the weather be warm enough for the beach?
In mid-May the weather is just warm enough to head to the beach for a day's relaxing before or after the festivities. The best beach, which is easily accessible from Lisbon, is Praia de Carcavelos (30 minutes by train) other options include Costa da Caparica (40 min bus) or the pretty resort town of Cascais (45 minutes by train). For a guide to the beaches of Lisbon please click here.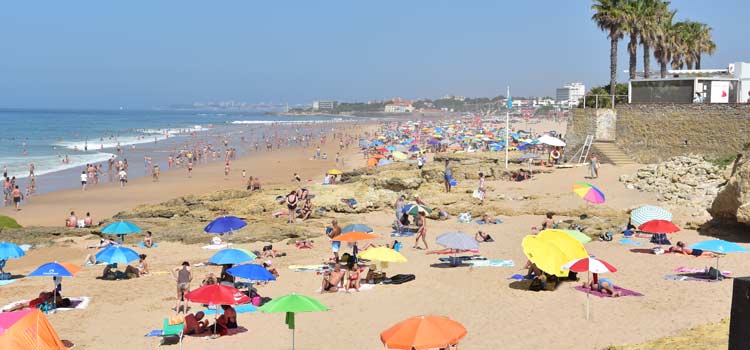 The Praia de Carcavelos
Should I hire a car during my trip?
Lisbon has excellent and inexpensive public transport, and often a rental car is more hassle than benefit. Driving in Lisbon is never a fun experience as the roads are busy, there is limited car parking, and Portuguese drivers are known to drive erratically. If you do hire a car, be aware of the extra "optional" CDW insurance (about €15 per day), which covers the massive excess (usually around €800) for most minor damages.
What are the best day trips from Lisbon?
1) Sintra, 2) Cascais, 3) Obidos (or Evora), 4) Setubal 5) Mafra & Ericeira. 6) Sesimbra
Sintra is a picturesque town situated within the Serra de Sintra Hills and is the best daytrip from Lisbon, but expect it to be crowded with other likeminded tourists. Cascais is a charming fishing town which is close to excellent beaches. Certain tours try to combine both Sintra and Cascais in one day, they deserve one day each.