Home > Top 10 > Undiscovered Lisbon > Where to stay? > Costs > How long? > 24 hours > 3 Days > 1 Week > Day trips > Beaches
Palacio Nacional de Belem, Lisbon Guide
The Palacio Nacional de Belem was the home of Portuguese Royal family since 1723 and today it is the official address of the Portuguese president. The palace is painted a distinctive pink colour and is one of the grandest buildings of Belem but disappointing the place is not open to the public. Though the Belem National Palace is the official residence few presidents have lived here with most preferring to stay in their own homes.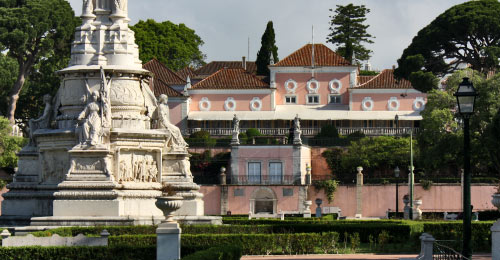 The pink Palacio Nacional Belem
The entire palace complex incorporates 5 buildings but the main 17th century palace is L shaped with one end facing over the Praça Afonso de Albuquerque which can be viewed from the Rua de Belem. The main entrance is further along the Rua de Belem towards central Lisbon and it is identified by a pink guard house and black iron gates which are guarded by military sentries in traditional uniform.
History of the Palacio Nacional de Belem
The Palacio Nacional de Belem was initially constructed during the 16th century by Manuel a rich merchant on a small hill overlooking the Rio Tejo (River Tagus) beach. The area in front of the palace over the 500 years has undergone major transformations some influenced by man other by nature. The Rio Tejo beach was dredged to form the docks and harbors of Belem then later siltation and changes with currents expanded the northern bank.
The Palacio Nacional de Belem was transferred into the royal court when King John V purchased the palace in 1723 as a holiday retreat. This was in an era when the nobility were escaping the issues of living in an urban area during the 18th century and the area of Belem became fashionable. The palace survived undamaged during the 1755 earthquake along with the king's grand renovations of the interior unlike the Ribeira Palace which was completely destroyed.  The palace remained a royal residence and towards the end of the 19th century was used to housing foreign visitors.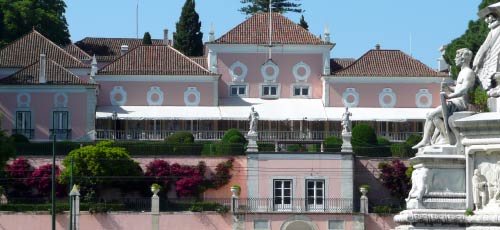 The pretty national palace of Belem
With the removal of the king in 1912 the Palacio Nacional de Belem became the official residence of the President, though most preferred to stay in their own private residence. More recently President Ramalho Eanes lived in the Palace but both Mário Soares and Jorge Sapaio used it merely as a work place.