Praia da Rainha, The Queen's Beach of Cascais
The Praia da Rainha is the smallest beach within the vicinity of Cascais but it is by far the most picturesque. So beautiful was the small cove that it was chosen by a queen as her private beach, thus the name Praia da Rainha, the queen's beach.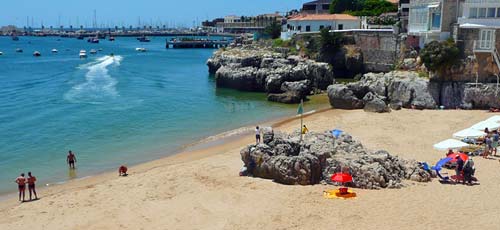 The beautiful but small Praia da Rainha Cascais
It is easy to understand how the small strip of golden sand that lies right in the center of Cascais captivated queen Dona Amelia. The beach is surrounded by jagged rocks and looks over the fishing harbour of Cascais but unfortunately today some of the magic is lost due to the large number of visitors who crowd the beach.
Praia da Rainha Tourist Information
You cannot get any more central than Praia da Rainha as it lies behind the main street of Cascais, the Rua Frederico Arouca and is the closest beach to Cascais train station, only a 200m walk. The waters of Praia da Rainha are very clam and clean, perfectly suited for families and there is a lifeguard on attendance during the summer season.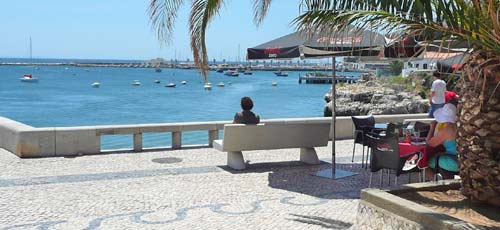 A cafe overlooking the beach and harbour
The main disadvantage of the beach is its small size and over looked feel from surrounding bars restaurants. As the beach is in the center of Cascais there are good amenities with numerous shops, bars and cafes but there are no showers directly on the beach.
Praia da Rainha Further Information
This beach is so beautiful that queen Dona Amelia, the last queen of Portugal, claimed it as her own and therefore named it Praia da Rainha, beach of the queen. The queen choose well as the small 50 meter long beach is completely secluded from the main centre of Cascais which is only meters away.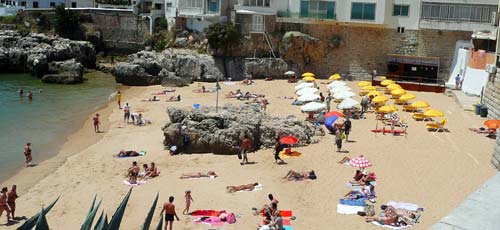 The queens beach is in the heart of Cascais
Praia da Rainha beach has golden sand and the waters are very calm perfect for families with young children. There is a lifeguard who patrols the beach during the summer months. Praia da Rainha beach should be viewed to appreciate the beauty that is contained within Cascais but, less you are very fortunate, space is limited. Instead have a refreshing drink from the bar above.
Discover more of Lisbon with our guides