Praia de Tamariz Beach Estoril
Tamariz Beach (Praia de Tamariz) is a pleasant family orientated beach in the resort town of Estoril that is overlooked by a medieval styled castle. Tamariz is is the largest beach within waking distance of Estoril and is a good choice of beach during the busy summer weekends for visitors who do not wish to travel far from their resorts.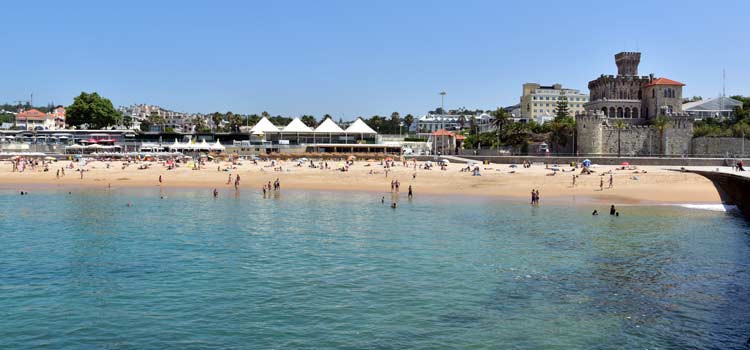 The Praia de Tamariz Close to Estoril
Though Praia de Tamariz has a good wide and long strip of sand, it is far from the most picturesque beach in the region but it is surround by many good bars and restaurants. Tamariz Beach is best suited for families, due to the very calm and non-tidal sea, and tourists who just want to lie and sap up the sun. During the weekends Praia de Tamariz (and the whole of the Cascais-Estoril region) gets very busy so expect to share the beach with many others.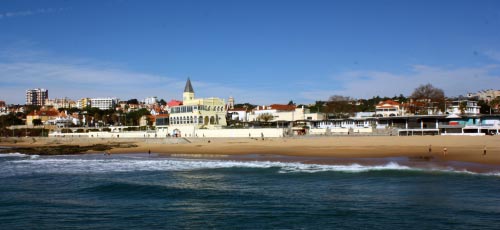 The Praia de Tamariz Close to Estoril
Praia de Tamariz Tourist Information
Praia de Tamariz is centrally located in Estoril, opposite from the Jardim do Estoril park and Estoril casino. The main train station of Estoril, Estacao Ferroviária do Estoril lies between the park so traveling from Lisbon is very simple. From Cascais the coastal footpath passes along the beach and is only a 15 minute walk.
Travel by rental car is not as easy as there is no car park on the beach and parking is a nightmare at the weekends. Praia de Tamariz is well suited for families and is popular with Portuguese families, as the waters are very calm, with no tidal currents and the water is clean as is well away from the Tagus estuary.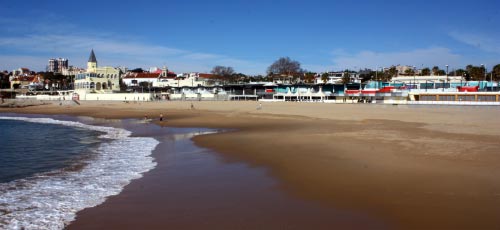 The beaches of the Estoril coastline
There is lifeguard supervision during the tourist season and the beach does not allow pets on the beach. The main complaint with the beach is the highly inflated price for parasol/ chair rental which during the 2015 season topped €15 for the day. To the eastern end of the beach is a ocean swimming pool (Piscina Oceânica do Estoril) which has slightly warmer temperatures than the sea. The jetty again at the southern edge is popular with Portuguese amateur fishermen who will happy spend a day sat here.
Further information about Praia de Tamariz
Praia de Tamariz, Estoril is bound by Praia da Poça (to the east) and Praia das Moitas (to the west). The medieval styled Chalet Barros is situated at the small head hand to the eastern edge of the beach and was constructed on the site of the Antonio da Cruz fort.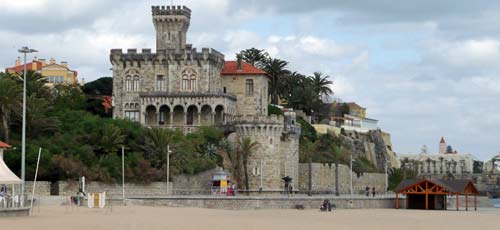 The Chalet Barros close to the beach
Little of this fort remains and the present day intriguing designed building only dates from the 1890. It was was constructed as a medieval palace for a terminally ill daughter of a industrial capitalist, the building is more visually interesting than historically significant.
Discover more of Lisbon with our guides