Lisbon taxi guide
The taxis in Lisbon are surprisingly good value for travelling around the city and are convenient for tired tourists or late-night revellers. Lisbon's taxis are painted a distinctive black and green colour (older taxis are cream coloured) and they can be hailed from the street or from specially marked bays.
Lisbon taxi drivers are all registered, and it is safe to ride them, even late at night. Most taxi drivers speak a little broken English, and all use satellite navigation to find the final destination. By law, all taxi fares are calculated using a taximeter, so always insist on the metre, as a set price will usually be more expensive than the metered journey.
Uber has a strong presence in Lisbon, but fares are similar to regular taxis, and there are taxi hailing/payment/rating apps which work as well as Uber. This article will provide a guide to Lisbon's taxis, and includes 2021 fare prices, taxi information, discusses Uber and information about travelling from the airport.
Tip: Have the name of the location (or hotel) you wish to travel to written down on a piece of paper, and show this to the taxi driver, this is always much easier and saves the issue of miscommunication.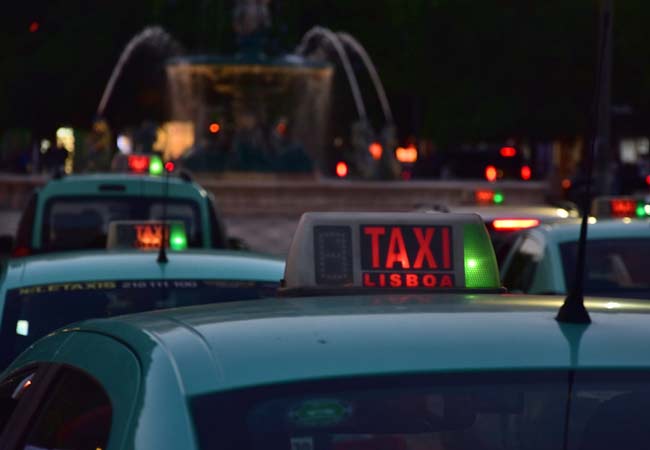 Taxis waiting for the nightly rush in Rossio plaza
Lisbon Taxi Fares and surcharges
The basic Lisbon taxi fare is €0.47 per km, and there is a minimum fare of €3.25. The taxis charge €14.80 per hour for waiting (or €0.25 per minute stuck in traffic!). At night (9pm-6am) the fares increase by 20% - €0.56 per km with a minimum fare of €3.90, but interestingly, the waiting rate is still the same at €14.80 per hour.
There are additional supplements: €1.60 for luggage (all luggage not per piece) and €0.80 for telephone bookings (if your hotel phones for a taxi). Wheelchairs and prams are free of charge. All of the fares are clearly displayed on the taxi window.
Note: The luggage fee applies even if you do not place the larger item in the boot of the taxi.
If you take a taxi out of the city limits (to Sintra, Cascais or Sesimbra) the rates are significantly more expensive, and if you travel on the toll expressways, the toll is charged to you.
Note: These fares are for a conventional four-seater taxis, with three people sat in the rear and one in the front.
For business travellers: All taxis can provide receipts, (these are hand-written paper receipts) and the Portuguese word for receipt is "Recibo" (link to google translate,for the pronunciation of recibo)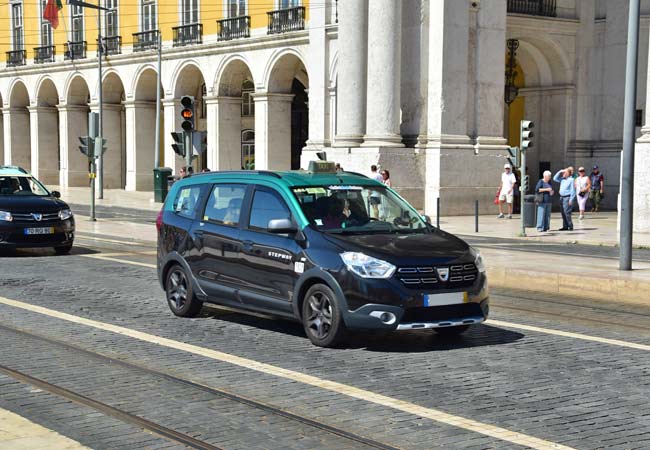 The Taxis in Lisbon are painted a distinctive black and green colour
Larger taxis (5+ seats)
There are higher fare rates for taxis with more than four seats. A seven-seater taxi is 20% more expensive, although the taxi supplements (luggage/phone call/tolls) remain the same. This higher taxi fare for larger taxis is irrespective of the number of occupants; a couple travelling in a larger taxi will pay the same as if seven people were taking the same route.
If a larger taxi is at the front of a taxi rank, you can choose the next smaller taxi, but a law requires the smaller taxi to offer the larger one first, to which can be declined. If you require a larger taxi, it is always best to pre-book it by phone (see contact numbers later on) or use an app - trying to hail a larger taxi from the street can be difficult.
Ordering a Taxi
In the majority of the tourist areas of Lisbon, taxis can be hailed from the street or are found waiting at taxi ranks. When a taxi needs to be called, Radio Taxis (Tel: 218119000, 969531660 or 919781000) is the largest company and have callers who speak English. An alternative company is Coop Taxis (Autocoope) (Tel: 217932756).
Info: A taxi signifies it already has a fare by illuminating a light on the top of the taxi.
Info: For 90% of tourist taxi journeys a taxi can be easily hailed from the street. Apps and phone calls adds another level of complexity which generally is not needed. If in the tourist areas you are struggling to find a taxi (usually on a Friday or Saturday night or after a big event) then the apps and telephone bookings will have long waits, while Uber will be at it's higher rates…
How about a small group tour?
One of the best ways to discover Lisbon and to meet fellow travellers is to join a guided tour. We have worked with Getyourguide.com for the last six years, and some of the best tours of Lisbon include:
Are Lisbon's taxis safe?
Yes, Lisbon's taxis are safe. All drivers have to be registered and their registration card, which includes a photo of the driver, will be clearly displayed in the car. By law the condition of the taxis are regularly inspected.
Certain visitors may be alarmed by the fast, erratic or swerving nature of the taxi drivers. This is not a reflection on the driver, who has probably been driving around Lisbon's roads for many years, but the general poor driving standard of the Portuguese.
Should I tip?
Tipping the taxi driver is not an expectation, but a tip of €1-2 helps with the meagre wages and high living cost of Lisbon. My Mother-in-Law who is Portuguese, has a minimum wage job and lived in Lisbon all her life, will always leave at least €1. If she does, you should too……
Uber…
Uber has arrived in Portugal much to the disgust of conventional taxi drivers. There have been protests, strikes and court rulings but Uber is firmly established in Lisbon and is popular with tourists. Uber's rapid global growth has been down to it's cheaper pricing structure, but in Lisbon there are neglectable price differences between a normal taxi and Uber.
We use taxi apps/Uber, when we are in the smaller towns of the Algarve, and it is difficult to find a taxi, but in Lisbon there is simply no need.
Tuk-tuks and auto rickshaws
Lisbon's tuk-tuks are purely designed for tourists and tours; they are not intended for general travel, as with many Asian countries. Never take a Tuk-tuk instead of a taxi, as it will always be significantly more expensive.
Travel from Lisbon Airport
Lisbon airport is within the city limits and is only 7km from the popular tourist districts of Baixa, Alfama and Chiado. The airport is connected to the metro network by the red line, and a single journey costs €1.90. An alternative is the Aerobus bus service, which costs €4.00. For most visitors, the metro is the best option for travelling to their hotel.
A taxi fare from the airport to the city centre will cost €10-15 depending on traffic and luggage. When you get a taxi from the airport always check that the meter is switched on. If a taxi driver demands a fixed price, then they are technically breaking the law, but any fare below €15 is acceptable.
If you are travelling outside of the city limits, for example to Sintra, Cascais or Sesimbra, always pre-book a transfer, as a taxi will be very expensive.
Discover more of Lisbon with our most popular guides