Home > When to visit? > Where to stay? > Costs >24 hours > 3 Days > 1 Week > Day trips > Beaches > Museums
Torre de Belem, (Belem Tower) Lisbon
The Torre de Belem is a small fort that was constructed in the centre of the Tejo Estuary to guard Lisbon from seafaring raiders. For such a trivial role the fort was lavished with beautiful and intricate details that include North African Moorish styled watchtowers, shield shaped battlements and the first European stone carving of a Rhinoceros.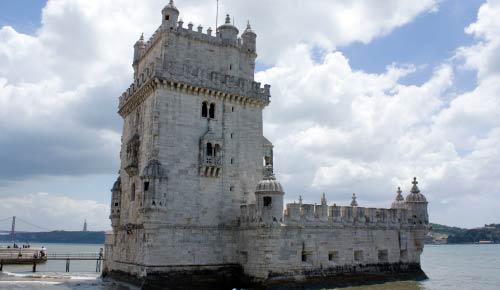 The charming Belem fort
Changes with the flow of the estuary extended the northern bank, so that now the Belem Tower stands on the edge of the river and allows visitors to walk up to the charming little fort. The exterior of the Torre de Belem is significantly more interesting than the interior but it is still one of Lisbon's finest tourist attractions.
Torre de Belem Lisbon Tourist Guide
The Torre de Belem is located in the Belem district of Lisbon approximatly 2.5km from central Lisbon. The best method of travel is to catch the 15E tram from Praça da Figueira to Algés, there are five departures every hour and a single costs €3.00. The adult entrance fee to the Belem Tower is €6.00, with children up to 14 free to enter. On Sunday mornings (up until 2pm) there is no entrance fee. There is a combination ticket of the Torre de Belem and the Jeronimos Monastery for €12. The opening times are 10:00 - 18.30 (Summer Months) and 10:00 - 17.30 (Winter Months).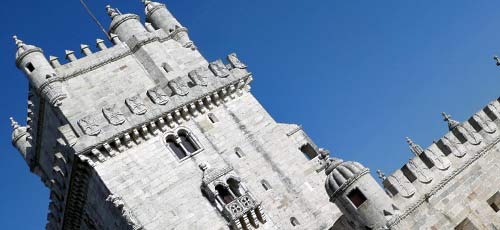 There is beautiful detail on the fort
The Torre de Belem is actually best viewed from the banks of the Rio Tejo as much of the fine Manueline stone detail is visible from the exterior while the interior is a little sparse. The lower floors were the old prison and the middle floors stored ammunitions and the armoury. The best carvings and decorations cover the top floors, which were the royal residences and offer visitors wonderful views over the Tejo River.
Torre de Belem Further Information
The Tower of Belem was constructed as part of a line of defences to protect Lisbon's early harbour and was positioned in the middle of the Rio Tejo (River Tagus) on a small outcrop of rocks which also proved to be hazardous to shipping. The Torre de Belem was completed in 1521 and was much more than a defensive position for the sailors who crossed the Atlantic or rounded the Cape of Good Hope to India.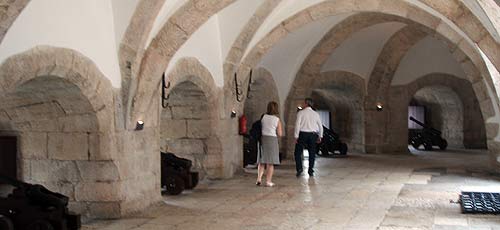 The interior of the Belem Fort
The Tower of Belem was the first sign of home and became a symbolic icon for the intrepid explorers or conscript crews. The slow flow of the River Tejo combined with tectonic movements (such as the 1755 earthquake) have narrowed the mouth of the Tejo so that now the Tower of Belem lies on the edge of Belem's green parks. The fort is known affectionately by Lisbon's residence as the Torre de Belem but the towers official name is the Torre de Sao Vicente.